Birth of Raoul Wallenberg
Birth of Raoul Wallenberg
Humanitarian and diplomat Raoul Gustaf Wallenberg was born on August 4, 1912, in Lidingö Municipality, Sweden.
Wallenberg was born to a prominent family of bankers, industrialists, and diplomats.  After high school, he spent eight months in the Swedish military before going to Paris to study. 
After a year in Paris, Wallenberg transferred to the University of Michigan to study architecture.  Though he came from a wealthy family, he worked a variety of odd jobs.  Among them was a rickshaw handler at Chicago's Century of Progress. Wallenberg also used his school breaks to travel the US by hitchhiking.  He claimed that because it kept him alert at all times and in contact with new people, it provided excellent training in diplomacy and tact.
Wallenberg graduated in 1935, but found when he returned to Sweden that his degree didn't give him the qualifications to work as an architect there.  Over the next few years, he worked for a construction company in Cape Town, South Africa, a bank in Haifa, Israel, and a trading company in Stockholm. 
Wallenberg was one-sixteenth Jewish and worked with Kalman Lauer, a Hungarian Jew.  In the years leading up to World War II, Hungary began passing laws restricting Jewish people from working in certain professions.  This led Wallenberg to serve as Lauer's personal representative, traveling out of the country for business.  These experiences gave him an up-close look at the Nazi government that he would later put to use.
In 1944, Wallenberg was appointed as a special diplomatic envoy to the Swedish Mission in Budapest, Hungary.  He had been recruited by the War Refugee Board to provide aid to the Hungarian Jews.  Although more than 400,000 Hungarian Jews had already been deported by this time, Wallenberg immediately sought to rescue the thousands of remaining Jews assigned to Nazi death camps.
Often using his own money, Wallenberg established "safe houses" under the Swedish flag where Jews could find food, shelter, and safety from persecution.  In addition, he also distributed Swedish passports and false identification papers to over 20,000 Jews.
Soviet authorities arrested Wallenberg on January 17, 1945 for alleged espionage.  A Soviet report claimed he died of a heart attack on July 17, 1947.  However, reports that he was alive somewhere within the Soviet prison system continued to circulate through the 1980s.  In 1981, President Ronald Reagan declared Raoul Wallenberg an honorary US citizen.  Tom Lantos, one of the thousands of people Wallenberg saved, introduced the bill that led to this.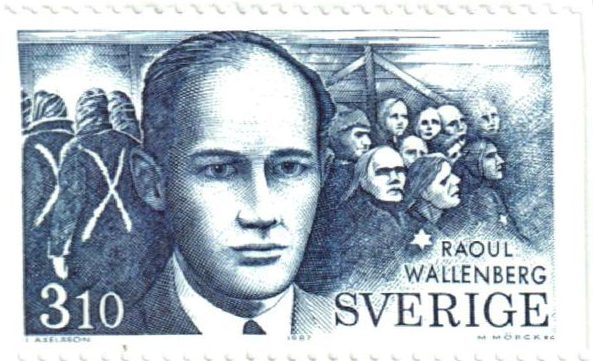 Wallenberg was the first person to be granted honorary Canadian citizenship and made an honorary citizen of Hungary, Australia, and Israel too.  The US has also established the Raoul Wallenberg Committee, to "perpetuate the humanitarian ideals and the nonviolent courage of Raoul Wallenberg."  They give out an award to people that carry on Wallenberg's ideals. 
Click here to see what else happened on This Day in History.
Did you like this article? Click here to rate: