Most Frequently Asked Questions
Our Customer Service Representatives talk to hundreds of collectors each day.  Often, the callers have questions like these.  So we're sharing the answers to these common questions here, hoping you find them helpful.
Your offer mentions stamps "on approval."  What does "on approval" mean?  Mystic sends stamps "on approval" that we think our collectors might enjoy.  It's a small selection of stamps for you to examine in your home without any obligation.  After you receive the selection, think it over for 21 days, and decide if you want to purchase some, all or none.  Return the stamps you do not want along with the reply form in the postage-paid envelope we've enclosed.  Mystic's approval service is customer friendly and risk free.  If you have questions on this unique service, you can email us at info@MysticStamp.com.
What's the difference between the Heritage and Heirloom supplements? Mystic's Heritage collection pages illustrate U.S. commemorative stamps.  The Heirloom collection pages illustrate both commemorative and definitive issues.
How do I remove the paper off self-adhesive stamps? We do not recommend attempting to soak off self-adhesive stamps.  Instead, trim the backing paper or envelope to within about 1/8″ around the stamp perforations.
How do I tell the difference between a coil stamp and a booklet stamp? A coil stamp has perforations on either the top and bottom or both sides.  A booklet stamp has perforations on 3 or 4 sides.
What does "hingeless" mean? Hingeless pages have clear drop end mounts attached to them.  They're convenient, saving you the time of affixing mounts.
How do I know what size mounts to use for my stamps? Mounts are measured in millimeters.  Just measure your stamps' width and height.  Add 5 millimeters to each measurement, then refer to our Mystic mount list to find a corresponding size.  Or go to Mystic's website and enter the stamp's description or Scott number in the search box.  Mount sizes are listed on each stamp's page (see the lower right corner of this image.)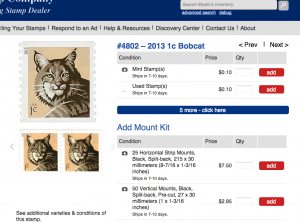 What supplies would you recommend for someone just starting to get into stamp collecting? We recommend our free Stamp Collecting Guide, your choice of mounts (MM500) or hinges (LS120), round tip tongs (LS150), magnifying glass (LS161), perforation gauge (LS130) and our Heirloom Album (M8104) for U.S. stamps or Voyager Album (M270) for worldwide issues.
How do I know what the value of a certain stamp in my collection might be? We suggest you go to your local library and look it up in the Scott Catalogue which is usually located in the reference section.  If you're not able to find the stamp listing, contact the ASDA for information on a dealer in your area who might be able to examine the stamp for you.
What is the difference between an album and a binder? An album is a binder with the pages.  A binder does not come with pages.