Now Available – Self-Adhesive Mounts!
The Quick and Easy Way to Protect Your Collection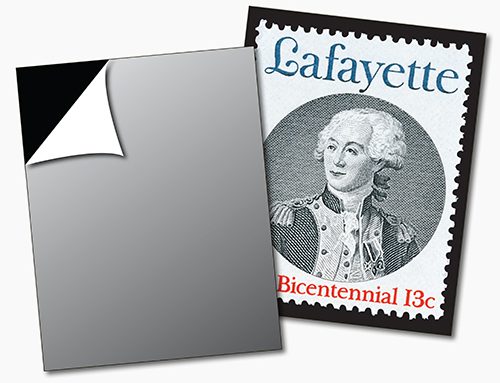 Protecting your collection is easier than ever with convenient self-adhesive mounts. With these high-quality mounts, there's no need to moisten the backside as with traditional mounts. You simply peel off the backing paper and affix the mount to your album page. It's so easy and convenient.
The correct mount size depends on the height of your stamp.  For example, a stamp measuring 36 millimeters in height requires a 41-millimeter mount.  We've added a small extra margin of space to protect your stamps.  If your stamp falls between two sizes, select the larger sized mount.  For your convenience, you can also measure in inches, round your measurement to the nearest 1/16th of an inch, and match it to the nearest mount size.
Pick the mount set that's right for you!  Just click on the Order Number to add the mounts you want to your cart.


450ct. Mount Value Pack
50 mounts of every size below
$44.00 – SAVE $2.25
Horizontal Mounts
50 pre-cut mounts per package

Width
Height
Fits
Price
Order #
30mm
1.18″
27mm
1.06″
Definitives
$3.75
MM5604
45mm
1.77″
30mm
1.18″
Commemoratives
$4.25
MM5601
46mm
1.81″
36mm
1.42″
Commemoratives
$5.75
MM5605
55mm
2.17″
36mm
1.42″
Commemoratives
$6.75
MM5608
​
Vertical Mounts




50 pre-cut mounts per package

Width
Height
Fits
Price
Order #
27mm
1.06″
30mm
1.18″
Definitives
$3.75
MM5603
30mm
1.18″
34mm
1.34″

Famous Americans


Commemoratives
$4.25
MM5607
30mm
1.18″
45mm
1.77″
Commemoratives
$4.25
MM5602
36mm
1.42″
46mm
1.81″
Commemoratives
$6.75
MM5606
36mm
1.42″
55mm
2.17″
Definitives
$6.75
MM5609