Birth of U.S. Army's Medal of Honor
Birth of U.S. Army's Medal of Honor
The Medal of Honor was created by legislation signed by President Abraham Lincoln on July 12, 1862.
Although awards had been given for military service since 1782, the first steps in creating the Medal of Honor as we know it were taken in 1861. It was at that time that Edward D. Townsend suggested to Commanding General of the U.S. Army, Winfield Scott, to introduce a medal for individual valor.
Although Scott refused the proposal, Iowa Senator James W. Grimes took the idea to the Senate to "promote the efficiency of the Navy" after the general retired. The bill passed successfully and President Abraham Lincoln signed it on December 21, 1861. The bill allowed for the creation of 200 Medals of Valor "which shall be bestowed upon such petty officers, seamen, landsmen and marines as shall distinguish themselves by their gallantry in action and other seamanlike qualities during the present war (Civil War)."
Two months later, Massachusetts Senator Henry Wilson created a similar bill, giving the president the authority to "distribute medals to privates in the Army of the United States who shall distinguish themselves in battle." The wording of the bill changed over time to read, that the president is "authorized to cause two thousand "medals of honor" to be prepared with suitable emblematic devices, and to direct that the same be presented, in the name of the Congress, to such non-commissioned officers and privates as shall most distinguish themselves by their gallantry in action, and other soldier-like qualities, during the present insurrection (Civil War)." President Lincoln signed the bill into law on July 12, 1862.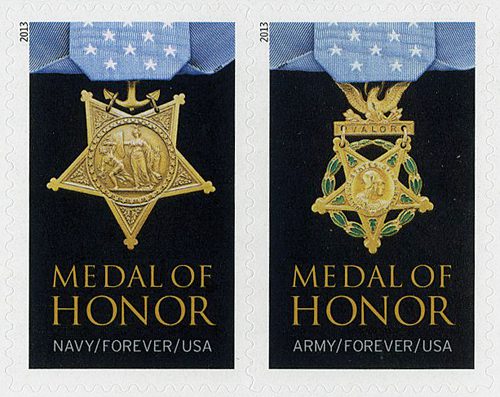 On February 13, 1861, Army Assistant Surgeon Bernard J.D. Irwin rescued 60 soldiers at Apache Pass, Arizona. This was the first heroic act for which the medal would later be awarded. The first medals ever awarded were given to members of Andrew's Raiders (of the Great Locomotive Chase) in March 1863. In that action, they commandeered a train, cut telegraph wires, and destroyed sections of a Southern railway for the Union cause.
Though Lincoln had initially approved the Medal of Honor as an award for Civil War service, in 1863 it was made a permanent military honor. Since its creation, more than 3,500 medals have been awarded, with a little less than half of them going to Civil War soldiers. By the end of the Civil War, 680 Medals of Honor were awarded. A total of 1,520 were awarded for Civil War heroics by the end of the nineteenth century.
When a recipient is wearing the Medal of Honor, current members of the armed forces are encouraged to salute, even if they are a higher rank than the medal winner. It is a show of respect for the heroic deeds performed by those who willingly put themselves in danger for the good of their country.
Click here to view last year's discussion about This Day in History.
Did you like this article? Click here to rate: