Dag Hammarskjöld Invert Controversy
Dag Hammarskjöld Invert Controversy
On October 23, 1962, the US Post Office Department unknowingly issued an unknown number of inverted Dag Hammarskjöld error stamps.  The fallout from this issue became known as Day's Folly (after Postmaster General J. Edward Day).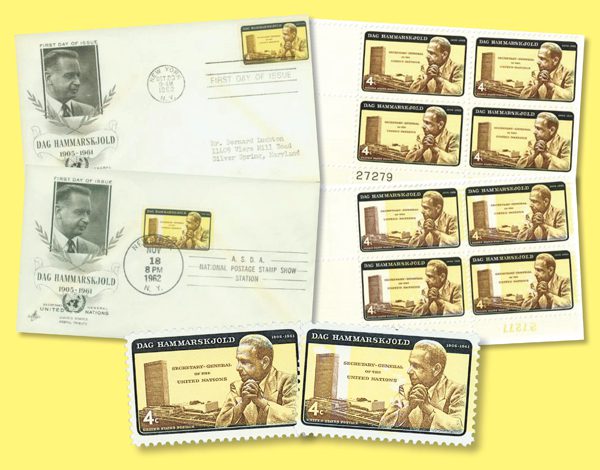 Dag Hammarskjöld was the second secretary-general of the United Nations, serving from April 1953 until his death in a plane crash in September 1961. President John F. Kennedy called him "the greatest statesman of our century."  To honor Hammarskjöld's life and works, the US Post Office decided to issue a stamp in his honor the year after his death.
The stamp, US #1203, was issued on October 23, 1962.  However, shortly after its issue, Leonard Sherman, a New Jersey jeweler, discovered a sheet of the stamps with an error.  His stamps had the yellow background inverted, creating a white "shadow" next to the United Nations building.
Upon hearing of the error, Postmaster General Day decided that they should produce a special printing of the stamp with the yellow intentionally inverted, to prevent individuals from profiting off the postal service's mistake.  As Day explained, "The Post Office Department is not running a jackpot operation."
Sherman then filed an injunction to stop the reprint, but it was too late as they had already begun production.  An eventual court decision ruled that their actions were illegal.  Sherman received an affidavit from the postal service certifying that his was an original error.  He eventually donated his sheet to the America Philatelic Society.
The special printing stamp, #1204, was issued on November 16, 1962.  There were 40 million stamps issued.  It's virtually impossible to identify an original error stamp from a special printing stamp, so they all have the same value.  However, First Day Covers and covers dated before November 16 prove they are the earlier issue and carry significant value.  Additionally, there are three varieties of the special printing stamp, which you can read more about here.
Click here to see what else happened on This Day in History.
Did you like this article? Click here to rate: