The Distinguished Servicemen series honors our nation's military heroes.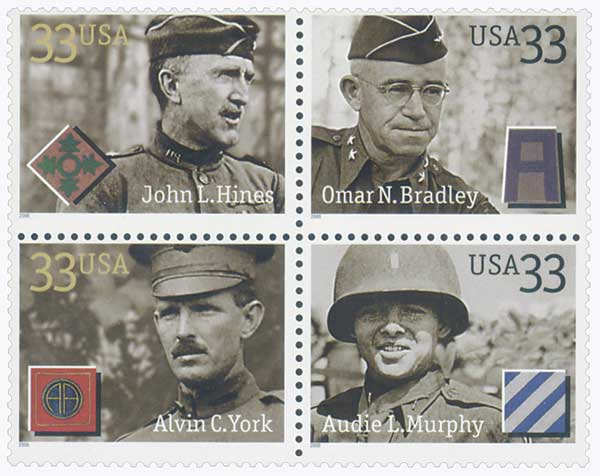 John L. Hines' (1868-1968) superior leadership skills were recognized by General John J. Pershing, commander of the American Expeditionary Forces in Europe during World War I. During World War I, Hines successively commanded a regiment, brigade, division, and corps in combat. Prior to Hines, the last leader to accomplish such a feat was Lt. Gen. Thomas "Stonewall" Jackson, during the Civil War.
Omar Nelson Bradley (1893-1981) commanded the largest U.S. battle force ever. The one million men he directed during World War II saw action in France, Belgium, the Netherlands, Germany, Austria, and Czechoslovakia. Bradley was one of the most-respected wartime commanders because of his leadership qualities and concern for the troops.
Alvin Cullum York (1887-1964) was a World War I hero. On October 8, 1918, York was among a patrol of 17 soldiers ordered to destroy a German machine gun emplacement. The patrol lost half its men after crossing into enemy territory, forcing York to attack the enemy alone. York returned to the American front with 132 prisoners.
Audie L. Murphy (1924-1971) was the most decorated U.S. combat soldier of World War II. Murphy served with the Army in North Africa and Europe. On January 26, 1945, his unit was attacked by Germans in France. Under heavy gunfire, Murphy ordered his men to retreat while he stayed back on a burning tank destroyer. He used the tank's machine gun to stop the attack and saved his unit and himself. Murphy later became a movie star.
Lejeune was determined to make the Marine Corps into an important amphibious force for expeditionary use by the Navy. As Major General Commandant of the Corps from June 1920 to March 1929, Lejeune emphasized equipping and training the Marines to be instantly ready to support the naval fleet in time of war, in the air, on land, and sea.  Lejeune served more than 40 years with the Marines. He is often called "the greatest of all leathernecks." Camp Lejeune, North Carolina, is named in his honor.
Lieutenant General Lewis Burwell Puller (1898-1971) led native troops against bandits in Haiti and Nicaragua, where he won two Navy Crosses – the second-highest award for combat heroism.  Puller earned a third Navy Cross on Guadalcanal in World War II. In one action alone, his Marines killed 1,400 hostile troops, held ground until reinforcements arrived, and suffered fewer than 70 casualties.  Puller's fourth Navy Cross was awarded for action on Cape Gloucester, New Britain, in 1944. When the leaders of two battalions were wounded, he took over and moved through heavy fire to command their units.  The fifth and final Navy Cross Puller earned was in the Korean War during the bitter Chosin Reservoir battle. Although surrounded, he led the Marines out, fighting continuously in sub-zero weather, bringing fallen and wounded men and vital equipment with them.  Puller earned more than 50 decorations. When he was retired in 1955, Lieutenant General Puller was the most decorated man in Marine Corps history.
In the 1942 battle of Bloody Ridge on Guadalcanal, Gunnery Sergeant John Basilone (1916-45) commanded two machine-gun emplacements defending an airfield. When the Japanese attacked and one gun crew was wiped out, Basilone rolled back and forth over the ground, firing first one gun, then the other. When ammunition got low, he went back through enemy fire for more. Basilone saved Henderson Airfield by valiantly holding off an advancing Japanese regiment until reinforcements arrived.  Basilone was awarded the Medal of Honor for extraordinary heroism above and beyond the call of duty. He returned home a hero, but refused a commission and asked to return to the Pacific to rejoin his men.  When the Marines landed on Iwo Jima on February 19, 1945, Basilone single-handedly destroyed a Japanese blockhouse, allowing his unit to capture an airfield. Minutes later, an enemy shell killed him.  Basilone was awarded the Navy Cross posthumously.
Sergeant Major Daniel J. Daly (1873-1937) enlisted in the Marine Corps and was sent to the Asiatic Fleet.  For his brave conduct, Daly was awarded the Medal of Honor.  During the Mexican-American War in 1914, Daly saw action in Haiti. His patrol of 35 Marines was ambushed by approximately 400 rebels. Daly received the Medal of Honor for fighting off the rebel ambush against overwhelming odds.  Sgt. Daly is often remembered for his unflinching charge against German soldiers at the World War I battle of Belleau Wood in France. Outside the village of Lucy le Bocage, outnumbered, outgunned, and pinned down, Daly ordered an attack, leading his men. "Do you want to live forever?" he yelled. He and his small group of Marines surged forward and captured the town.
Compared with navies of other nations, it was an underpowered U.S. Navy that entered the 20th century. Through innovation and resilience in the face of events such as the attack on Pearl Harbor, America rose to become the strongest naval force in the world.
With innovators like Admiral William Sims, the U.S. Navy became strong enough to project power nearly anywhere in the world. Sims' keen mind developed tactics that defined Navy strategy for decades. Battle leaders like Admiral Arleigh Burke put that power to use in establishing U.S. dominance on the high seas.
The fighting spirit of men like John McCloy and Doris Miller was just as important as the skill of the commanders. McCloy is one of just 19 two-time Congressional Medal of Honor winners. He demonstrated valor during China's Boxer Rebellion while protecting the U.S. embassy, and during the invasion of Vera Cruz during U.S. intervention in the Mexican Revolution. Miller's normal duties of serving meals and doing laundry on the U.S.S. West Virginia changed to rescuing wounded and shooting down Japanese planes during the attack on Pearl Harbor. His courage won him the Navy Cross.
Distinguished sailors such as Sims, Burke, McCloy, and Miller helped establish the U.S. Navy as the powerful force for peacekeeping that it is today. Their examples of courage and intellect are a high standard for today's American sailor.