Why Choose Mystic?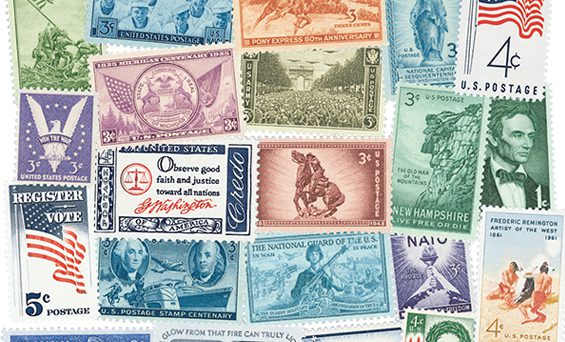 Hi – We're Mystic and we'd like you to know a little more about us…
Our mission is to bring the joy of stamp collecting to the world.  And over the years, it's this goal that has helped us grow into America's leading stamp dealer.
For almost 100 years we've been helping people discover all the fun and challenge of stamp collecting.  
What does a century of experience in the stamp world mean for you?  Every time you choose Mystic, here's what you'll get.  We know you're going to love it:
The highest-quality stamps and supplies. Mystic stands behind every stamp we sell –so you can be confident you're receiving exactly the stamp quality you've paid for.  Our standards are the strictest in the stamp world because your satisfaction is our top priority.  Doing business with Mystic means you'll avoid dealers with lower condition standards – those who may try to sell you a lower condition for more money to turn a quick profit.  Find out more about our grading guidelines here.


One of our friendly Customer Service Representatives

Industry-leading customer service. A dedicated, friendly, full-time, US-based Customer Service team handles all your questions.
Generous 90-day money-back guarantee. Mystic works hard to make sure you get the quality stamps and supplies you deserve.  In the unlikely event you need to return an item or have it replaced, our 90-day hassle-free policy covers every stamp and supply you order from Mystic.  Click here for more on Mystic's return policy.
A Personal Stamp Advisor to help build the collection of your dreams. Need help finding a special stamp?  Not sure what to collect next?  Contact us and a Personal Stamp Advisor will give you advice – it's free!


Mystic's FREE US Stamp Catalog

Buying stamps your way. Mystic lets you buy stamps in whatever way works best for you.  Know what you need?  Our website and catalog are simple and easy to use.  Want to inspect your stamps for up to 21 days before you pay?  Your Personal Stamp Advisor will send stamps you're interested in to examine in the comfort of your home.  Looking to build a topical collection without spending time shopping?  Our stamp clubs send a new shipment of stamps to your mailbox each month, with no obligation to purchase.
Helping the stamp-collecting hobby and community. Your business allows Mystic to support our great hobby.  Whether it's sponsoring new members to the American Philatelic Society, donating stamps to give young visitors at the National Postal Museum, or offering rewards for famous missing stamps, Mystic is constantly working to ensure the future of stamp collecting.
Supporting small-town America values. Mystic is a 100% employee-owned company in the small town of Camden in upstate New York.  We employ 150 full- and part-time colleagues thanks to the loyalty of our valued customers.  And we always keep our small-town values at the forefront of our business.  We treat people the way we want to be treated.  Read Mystic's full story here.
When you become a Mystic collector, you become an important part of the Mystic family.  It's as simple as that.  Our stamp knowledge and collecting expertise gained from 100 years in the stamp world are at your disposal.  We want you to enjoy every moment of your collecting experience.  And we're here to help make that happen.
What's Mystic all about?  Click here to read our core values.
Want to learn how Mystic became America's leading stamp dealer over the past century?  Click here to read Mystic's story.