How to Measure Stamps for Mounts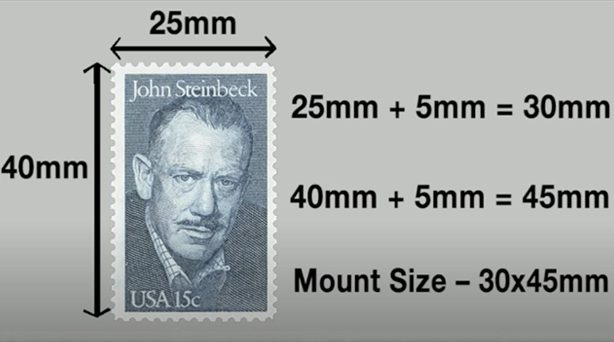 Getting the right sized mount for your stamps is easy with the guides shown below.  You'll learn how to measure accurately and find the correct mount size for traditional, water-activated and self-adhesive stamps on backing paper.
Mystic offers various types of mounts and mount sizes.  Choose from Black Split-Back Mounts, Clear Drop-End Mounts, Black Self-Adhesive Mounts or Scott Mounts.  We even have a special Mount Kit to provide you with a variety of options to get started.
Don't want to measure your stamps?  Mystic makes it easy to order the correct sizes.  Simply enter a Scott number into the search bar and click on the stamp you'd like to buy mounts for.  Underneath the conditions offered, click the blue "Mounts" button and the correct sizes will appear!  OR use our handy Mount Finder Tool and enter the US Scott number there.  We also have a Printable Mount Guide you can keep on your desk for easy access.
Not sure how to measure self-adhesive stamps?  It's easier than you might think.  Your stamps will always be on some form of backing paper*, whether it be the original paper the stamp came on (for mint stamps) or an envelope that went through the mail (for used stamps).  In either case, take a pair of good sharp scissors and trim around the stamp beyond the tips of the perforations, as close to the perfs as possible without cutting into them.  Ideally, you'll have 1 mm or less of space between the edge of the perforations and the edge of the backing paper/envelope.
*We do not recommend attempting to soak off self-adhesive stamps.  While it can be done using certain chemicals, these can be hazardous to your health if not used in a well-ventilated area, or can even damage the stamps.  It's much safer to simply trim off the excess paper and use a slightly larger mount than might otherwise be needed.  We've taken this into account when selecting the mount size in our Mount Finder Tool.