Mystic Trades its Z Grill for the Legendary Inverted Jenny Plate-Number Block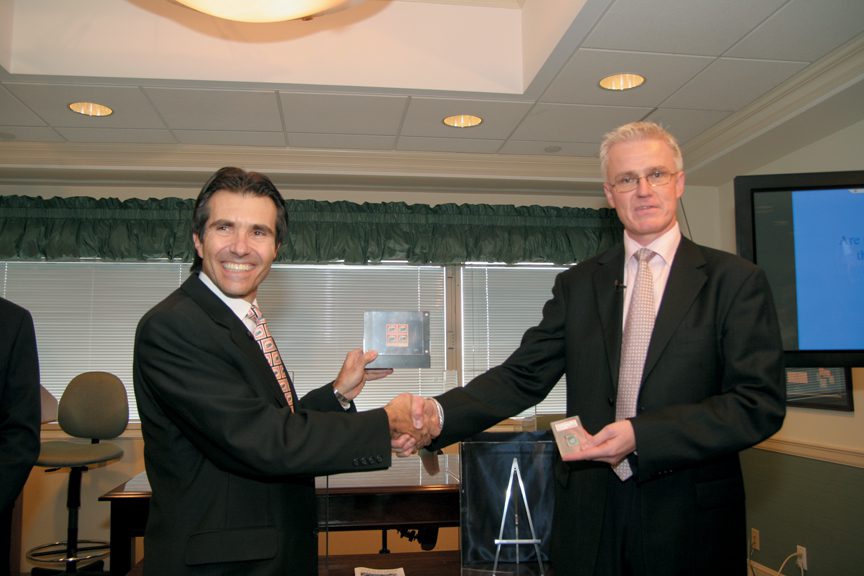 Mystic Trades its Z Grill for the Legendary Inverted Jenny Plate-Number Block
Mystic made stamp history on November 2, 2005, when we traded our 1¢ Z Grill for the unique Inverted Jenny Plate Number Block.
These are the rarest, most famous and valuable U.S. stamps.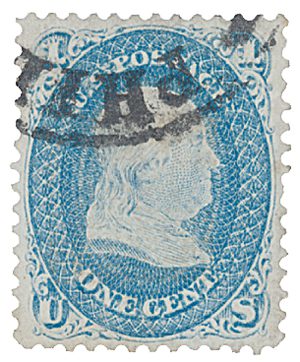 Mystic acquired the 1¢ Z Grill in 1998 for $935,000, setting a record price paid for a U.S. stamp. Interestingly, famous collector Bill Gross (who later purchased the Jenny block) was Mystic's stiffest competitor in the heated bidding for the Z Grill. Two 1¢ Z Grill stamps exist but Mystic's was the only that a collector could own. The other 1¢ Z Grill is on display at the Smithsonian National Postal Museum Gross Gallery. (Stop by and see it when you are in Washington D.C.)
On May 14, 1918, William Robey, an office clerk of modest means, purchased the only known sheet of 100 inverted Jenny stamps at the post office, fulfilling his dream of making such a once-in-a-lifetime discovery. He sold the sheet days later for $15,000. The sheet was sold again to Colonel Green, son of Heddy Green (the witch of Wall Street) heir to a whaling and investment fortune. The stamps were then lightly numbered and separated, with the plate-number block of four being owned by some of our hobby's most famous collectors. The sales price rose sharply each time a Jenny invert entered the philatelic market, and many record sales prices were broken.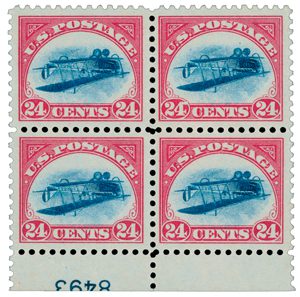 After spending decades sequestered in private collections, the Jenny Invert Plate-Number Block was purchased by collector Bill Gross for a record-shattering $2.97 million on October 19, 2005. The philatelic world buzzed with speculation about the rarity and the implications of the sale on stamp collecting. But before the talk faded, collectors around the world were shocked and intrigued by a second announcement – a one-for-one trade of the Jenny plate block and the Z Grill.
The Z Grill was the only stamp Mystic owned that wasn't for sale. Then Charles Shreve, president of Shreve Philatelic Galleries, approached Mystic's president, Don Sundman, with a unique proposition. Shreve's client, Bill Gross, had nearly succeeded in acquiring a complete 19th century U.S. stamp collection. Mystic had the one stamp that Gross lacked to meet this remarkable goal – the only known 1¢ Z Grill available to collectors. If Gross acquired the Jenny Invert Plate-Number Block at the upcoming auction, would Mystic trade the Z Grill for it?
Although ownership of the Z Grill was a source of great pride, Sundman ultimately decided the trade would be fun, historic, and make a great story for stamp collectors everywhere. And he was right. News of the unprecedented, one-to-one trade on November 2, 2005, made newspaper headlines around the world (including the New York Times) and was featured on television. Right after the trade National Public Radio interviewed Don Sundman for All Things Considered.
Thousands of people – collectors and non-collectors alike – discovered the history, romance, and intrigue of stamp collecting. You can listen to the story here
https://www.npr.org/templates/story/story.php?storyId=4986770
And read the New York Times article here:
https://www.nytimes.com/2005/11/02/us/2-collectors-set-to-swap-rare-stamps.html?_r=0
Did you like this article? Click here to rate: