American Design Series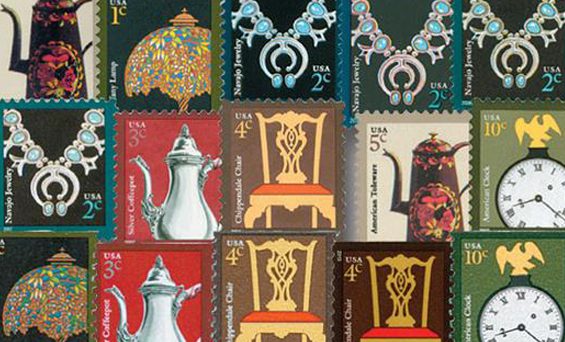 The USPS introduced the American Design series in 2002.  In it, "form meets function in works of decorative art: Chippendale chairs, toleware coffeepots, and banjo clocks.
The first in the American Design Series, the American Toleware coil stamp shows traditional Pennsylvania folk art hand painted on a tin coffeepot. Toleware was also seen on the 1979 Folk Art issues.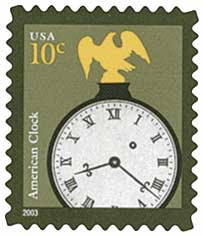 Using simple hand tools, the early American clockmakers created masterpieces that kept time with precision.  After crafting the mechanism, clockmakers frequently commissioned cabinetmakers to make cases to conceal the pendulum and weights.  The result was a functional yet beautiful piece of furniture.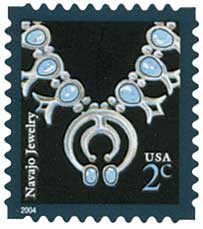 The Navajo Indians began silversmithing in the mid-1800s. The silver and turquoise squash blossom necklace on this stamp is a traditional Navajo motif called nazhah, which means "curve."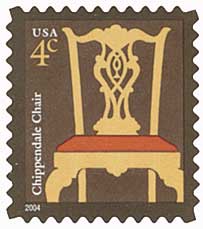 Thomas Chippendale (1718-79) was a British cabinetmaker whose designs – including this style chair – were published and copied on both sides of the Atlantic.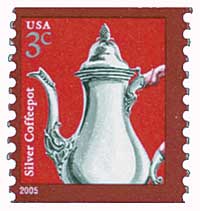 Brewed tea, coffee, and chocolate became enormously popular in the late 17th and the 18th centuries. Wealthy patrons asked silversmiths to craft beautiful pots to serve these beverages.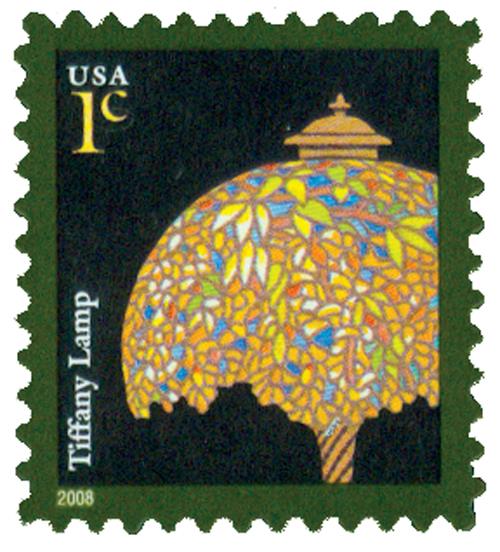 With the vision of an artist, Louis Comfort Tiffany created lamps unique in their design and in the process of making the stained glass.