American Folklore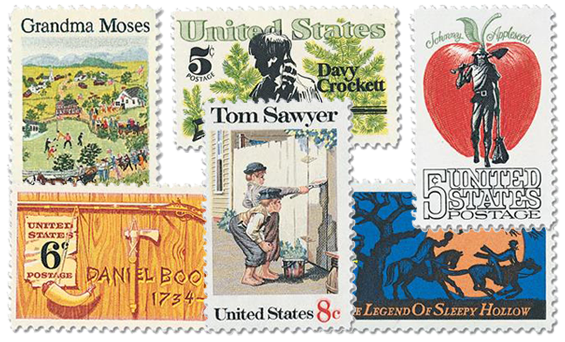 According to Wikipedia, folklore "consists of legends, music, oral history, proverbs, jokes, popular beliefs, fairy tales, stories, tall tales, and customs included in the traditions of a culture, subculture, or group."  With the American Folklore stamp series, the USPS captured the things that make our nation unique.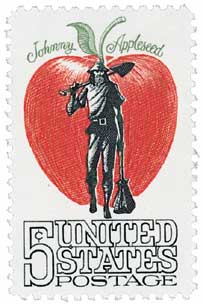 John Chapman, popularly known as Johnny Appleseed, is honored with this stamp. Chapman, while voyaging the Ohio River with two canoes filled with apple seed, traveled over 100,000 square miles planting apple orchards.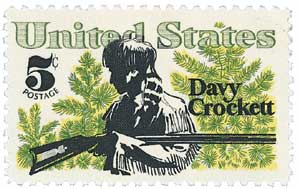 Many legends surround Davy Crockett, who was a master storyteller with a gift for exaggeration.  Crockett told a story about a raccoon that gave up when he spotted him on a hunt.  He also claimed to kill 105 bears in just seven months.  One fictionalized account of Crockett claimed he could "run faster, jump higher, squat lower, dive deeper, stay under longer, and come out drier than any man in the whole country."  Crockett was killed at the Battle of the Alamo.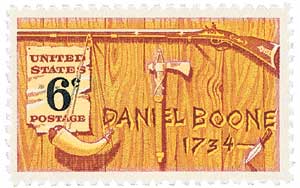 Boone is one of the greatest pioneers in American history.  This frontiersman paved the way for settlement of Kentucky by leading settlers from North Carolina through the Cumberland Gap into that territory.  Boone founded Boonesborough there, near present-day Lexington.  Boone's exploits as a frontiersman, hunter, and trapper have earned him a special place in American folklore.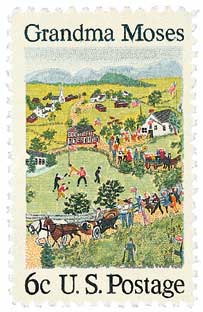 Born Anna Mary Robertson in Washington County, New York, Grandma Moses (1860-1961) began painting when she was in her 70's. With no formal art training, Grandma Moses painted simple, yet realistic, scenes of country life. Critics praised her paintings. Her autobiography, My Life's History, was published in 1952.  This stamp was issued to coincide with Senior Citizen's Month. Its design is based on a painting completed in 1951, when Grandma Moses was 91 years old.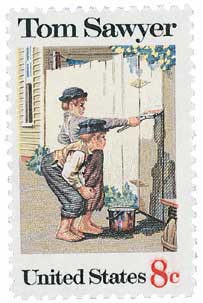 This stamp salutes Tom Sawyer, who "lived" along the Mississippi River about 1845. Created by Mark Twain, Tom represented the typical adventurous American boy. Twain, who settled in Hannibal, Missouri, as a child, also wrote Huckleberry Finn.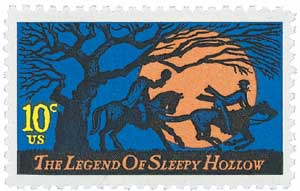 This stamp was issued just in time for use on Halloween mail. The stamp pictures a scene from Washington Irving's famous folk tale, "The Legend of Sleepy Hollow," in which poor Ichabod Crane, the timid schoolteacher, is being chased by the dreaded Headless Horseman.