American Treasures Series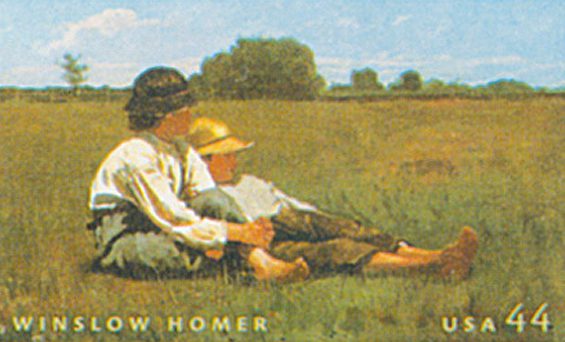 Introduced in 2001, the American Treasures stamp series honors "fine works by skilled hands, from Amish quilts to idyllic paintings by American masters."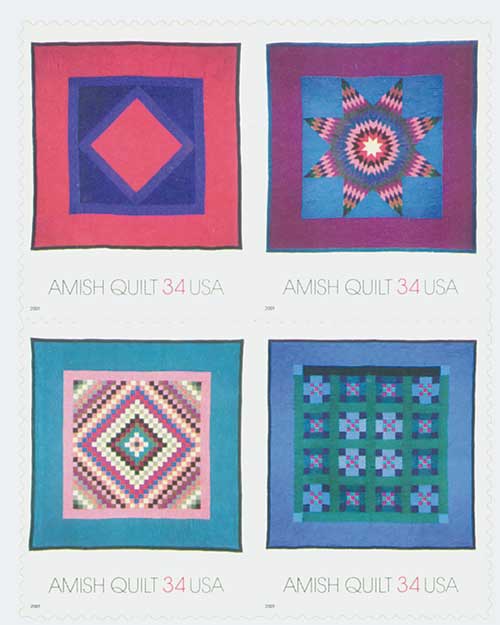 The simple, geometric shapes and colors of Amish quilts produce an infinite variety of dramatic, vibrant combinations. Once made only for family use and gifts, Amish quilts are now prized by the outside world. The Amish quilts featured on this stamp se-tenant are traditional designs from Lancaster County, Pennsylvania.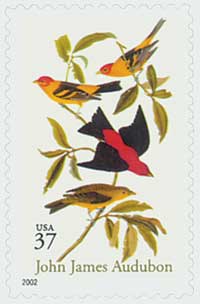 John James Audubon (1785-1851) had a dream of drawing each American bird in "its natural size and colouring." In "The Birds of America," Audubon captured 1,065 individual birds on 435 hand-colored plates.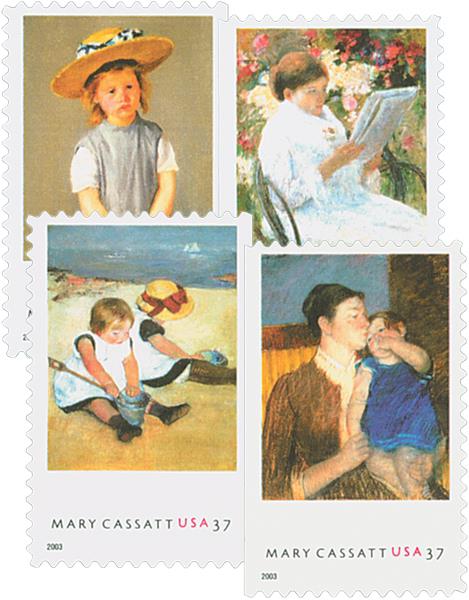 Mary Cassatt used light, bright colors that she spread with rapid, animated brushstrokes. Many paintings feature everyday, affectionate scenes between mothers and children.  The  se-tenant is the third installment of the American Treasures series. Four of her paintings are featured: "Young Mother" (1888), "Children Playing on the Beach" (1884), "On a Balcony" (1878/79), and "Child in a Straw Hat" (circa 1886).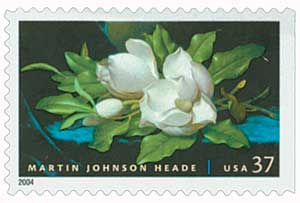 Martin Johnson Heade (1819-1904) had the longest career and possibly the most varied body of work of any American painter of the nineteenth century. Heade's love of nature led him to specialize in sea coast and marsh landscapes and floral still lifes.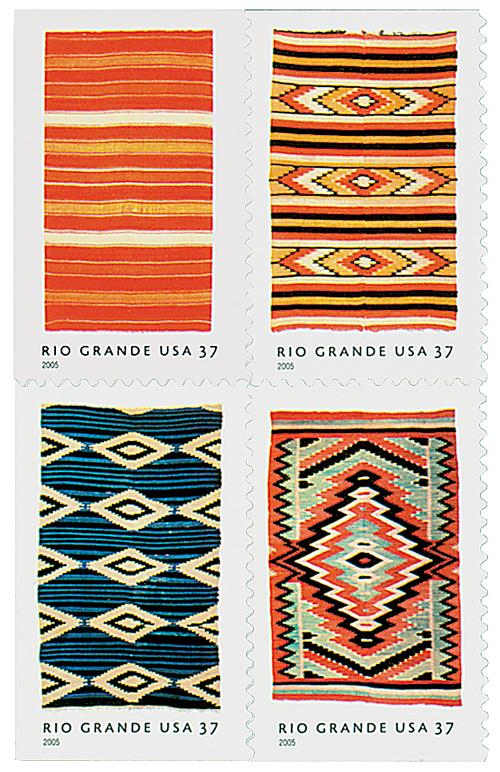 In Rio Grande blankets, the weft, the yarn across the width of the fabric, carries the visible pattern. The warp, the yarn running the length of the blanket, shows only at the ends. The designs, as seen on the Rio Grande Blankets stamps, were mainly stripes and diamond motifs copied from the weavings of Saltillo, Mexico.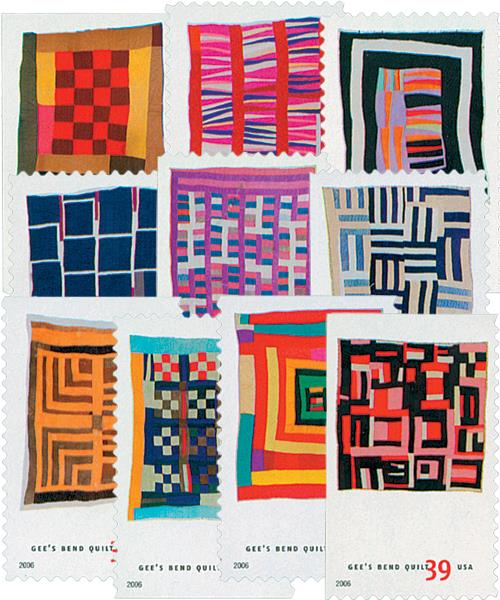 Gee's Bend is a small, isolated, rural community in southern Alabama. Joseph Gee had a cotton plantation there that he sold to Mark Pettway in 1845. After the Civil War, Pettway's freed slaves became tenant farmers. Many bought their farms in a 1940s' New Deal program.  The women of Gee's Bend made dozens of quilts. They were needed for warm bed coverings. Quilts were hung on walls to keep out drafts and laid on floors for children to sit on. The quilters passed their skills down through generations. They pieced together recycled fabrics in a bold, geometric style more like modern abstract paintings than familiar quilt patterns.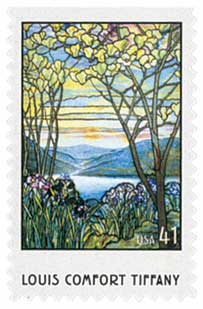 Louis Comfort Tiffany (1848-1933) is best known for his creations of stained glass windows and lamps. He established a glassmaking firm in 1885 that became known as Tiffany Studios. Early examples of Tiffany's work include a remarkable chapel interior, exhibited at the 1893 World's Columbian Exposition in Chicago.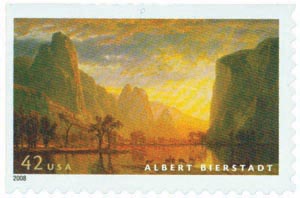 Bierstadt captured the majesty of the American West in paint, glorifying its pristine landscapes, wild animals, and Native Americans.  Using a technique called Luminism, Bierstadt bathed water and sky in exaggerated light, portraying America as the new Garden of Eden.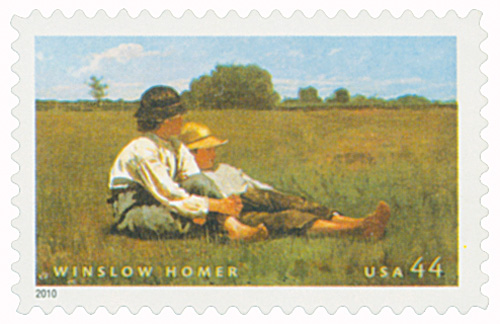 For more than half a century, Winslow Homer (1836-1910) produced over 450 paintings conveying his vision of man's relationship with nature. He showed exceptional talent from an early age, impressing his first teacher, his mother. Homer spent the first few years of his career as a lithographer's apprentice, but left at the age of 21 to do freelance work. He spent about 20 years illustrating for various magazines, including Harper's, who sent him to the front lines of the Civil War. There he sketched scenes of quiet camp life but also violent battles. Solemn after witnessing the brutalities of war, Homer's art focused on the innocence of childhood and farm life.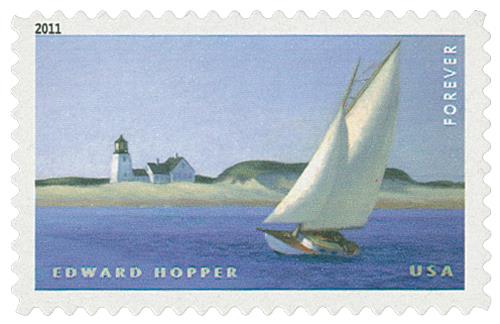 The oil painting by Edward Hopper pictures Provincetown Harbor's historic Long Point Lighthouse.  A solitary sailboat glides across the waters off Cape Cod, Massachusetts.  The lonely lighthouse, calm waters, and gentle sails portray a sense of peace, seclusion, and tranquility.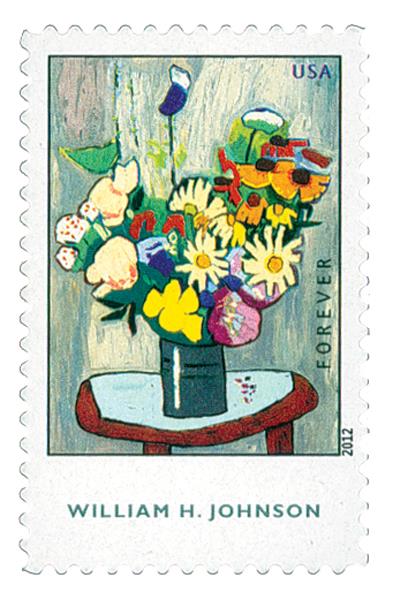 Johnson returned to America in 1938, after spending almost a decade abroad. Hebegan working in a "primitive" style, with bright, contrasting colors and two-dimensional figures. As Johnson's work gained attention, his wife died in 1944. He traveled briefly and painted until 1947, when mental illness took hold and he was institutionalized until his death.
The so-called Hudson River School of Landscape Painting emerged in the United States in the late 1820s as an artistic celebration of nature in its purest form. As artists began painting portrait subjects in front of backgrounds of hills, streams, and trees, the natural settings took over as the focal point. Landscape painting became a major style of art in itself.  Many of the artists worked or lived near the Hudson River area of New York City and often would travel to the country for inspiration. The vast, unspoiled landscapes of the mid-19th century Hudson River Valley and Catskills regions offered perfect subject matter for the new artistic focus.