Artists Series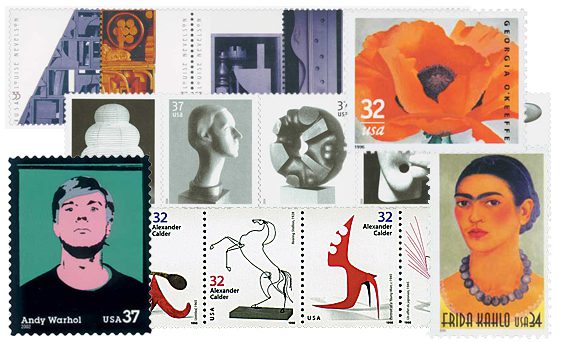 Entitled simply "Artists," this series honors "painters and sculptors whose distinctive brush strokes and compositions made an indelible impression."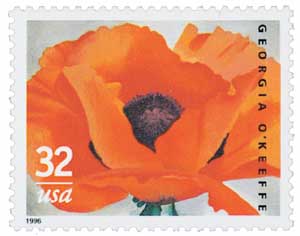 One of America's leading artists, Georgia O'Keeffe is known for her sensitive, semi-abstract paintings derived from nature. Linked with the first generation of American modernists, her impressive career spanned the entire history of modern art. While much of the modernist work showed a strong European influence, O'Keeffe developed her own unique style, reducing and simplifying forms to an abstract study of color and light. Her best-known subjects included flowers, animal bones, and rocks.

Alexander Calder is considered one of the most well-known artists of the twentieth century. Primarily a sculptor, Calder created several different abstract works of art. He is most famous for his sculptures known as mobiles. Mobiles are balanced arrangements that move using wind currents. One such work, "Black Cascade, 13 Verticals," is pictured on one of these stamps.

Louise Nevelson's contemporary sculptures were influenced by her childhood in Maine and her experiences in New York City. She prowled the streets of Manhattan in search of discarded packing materials, boxes, crates, and scraps of wood and metal to transform into her own distinct works of art. Chair legs, broom handles, and cabinet doors often found their way into her pieces. Expansive, three-dimensional walls of wood painted black, white, or gold are trademarks of Nevelson's style of artwork.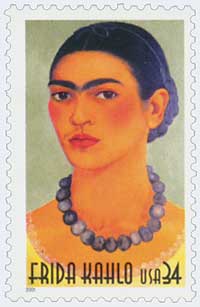 Frida Kahlo (1907-54) is widely regarded as one of the most important twentieth-century female artists in the Americas. Kahlo rejected European-based art and culture in favor of Mexican folk art and the foundations of ancient Mexico. Many of her paintings are self-portraits, such as the one on this stamp.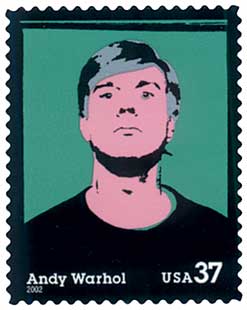 Warhol (1928-87) was a leader of the 1960s' Pop Art movement. Pop artists focused on familiar commercial images that had become part of the popular culture. Warhol became famous in 1962 with silkscreen prints of Marilyn Monroe, dollar notes, and Campbell's Soup Cans.

Using many media, Noguchi created a broad range of works, like dance sets for Martha Graham, playgrounds, plazas, furniture, gardens, busts, and abstract forms. The "Isamu Noguchi" postage stamps feature a variety of sculptures by this remarkable artist.