In 1978, the U.S.P.S. introduced the Black Heritage Series.  Today, it's one of the longest-running and most popular U.S. stamp series.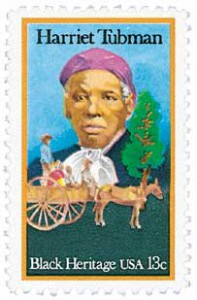 Harriet Tubman was born a slave in Bucktown, Maryland. Tubman escaped to Philadelphia in 1849 via the Underground Railroad, a network of Quakers and abolitionists. In a series of daring trips, Tubman helped lead members of her family and hundreds of others to freedom. Tubman assisted John Brown in organizing the raid on Harper's Ferry and served as a nurse, cook, and spy for the Union Army. After the Civil War, Tubman was active in the women's suffragette movement.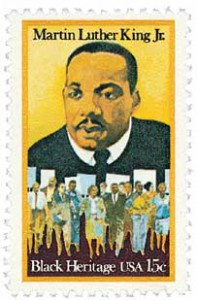 This stamp honors the memory of Martin Luther King, Jr., Nobel Prize winner and champion of non-violence.  A Baptist minister, King sought equality for all Americans and fought for peaceful solutions to racial issues. He was assassinated in 1968.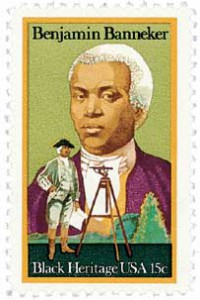 U.S. #1804 honors the self-educated mathematician and astronomer who correctly predicted a solar eclipse in 1789. The following year, Banneker was appointed to the committee in charge of planning Washington, D.C.  He was the first black man to be appointed to such a committee.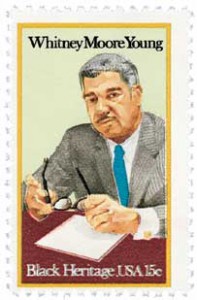 Whitney Moore Young (July 31, 1921-March 11, 1971), served as head of the National Urban League from 1961 until his death.  Through this organization, Young helped thousands of black Americans get jobs.  He started on-the-job training programs and established Head Start and tutoring centers.  Young also served on several federal commissions concerned with social welfare and race relations.  Born in Lincoln Ridge, Kentucky, he authored several books, including "To Be Equal" (1964).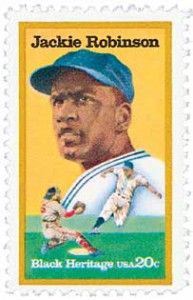 Born in Cairo, Georgia, Jackie Robinson was the first black person to play modern major league baseball. By breaking the "baseball color line," Robinson helped bring an end to racial segregation in professional baseball. His outstanding play earned him the Rookie of the Year award in 1947. In 1949, he took the National League's Most Valuable Player Award and its batting championship.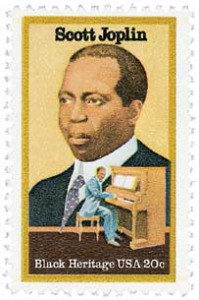 The sixth stamp in the Black Heritage Series, this stamp honors composer Scott Joplin. Known as the "king of ragtime," Joplin wrote several ballets and even an opera. However, because these did not sell, Joplin died penniless in a New York City Hospital.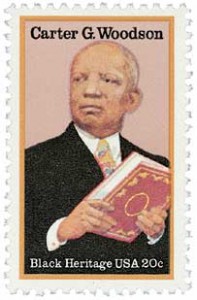 This commemorative issue honors the "Father of Black History." Woodson (1875-1950) overcame economic and social barriers to become the person most responsible for researching, writing, and teaching about the heritage of black Americans.  In 1926, Woodson pioneered the acknowledgment of the second week in February as " Nego History Week.  Today, the celebration has been extended throughout the entire month and February is known as Black History Month.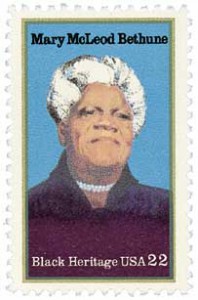 Issued in conjuntion with the 50th anniversary of the National Council of Negro Women, this stamp honors educator Mary McLeod Bethune. Bethune (1875-1955) organized the Council in 1935 and also served as an advisor to President Franklin D. Roosevelt as a member of his "Black Cabinet." Upon Bethune's death, columnist Louis E. Martin said, "She gave out faith and hope as if they were pills and she some sort of doctor."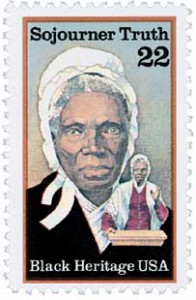 Sojourner Truth (1797-1883) was an abolitionist and a women's rights activist.  Born into slavery, Isabella (as she was named) finally acquired her freedom and moved to New York City, where she found it nearly impossible to earn a living. In 1843, she changed her name to Sojourner Truth and began traveling, lecturing, and educating former slaves. She was considered one of the greatest orators of her time.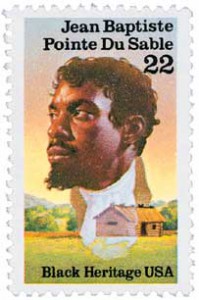 This addition to the Black Heritage Series features Jean Baptiste Pointe Du Sable, the founder of the city of Chicago.  Born in Haiti, Du Sable became an educated man who prospered in his Chicago surroundings as a general merchant, fur trader, and farmer. His trading post included a 40'x20′ dwelling – a size almost unheard of in the wilderness – 2 barns, a mill, a bakehouse, a poultry house, and large livestock holdings.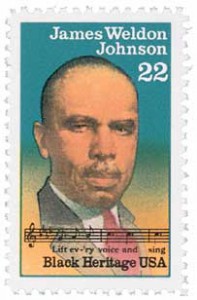 Born in Florida in 1871, James Weldon Johnson was representative of both the intellectual and creative worlds, being an educator, author, diplomat, lawyer, and lyricist.  A graduate of Atlanta University, Johnson was the first African-American accepted to the Florida bar. Johnson held several public offices, served as the executive secretary of the National Association for the Advancement of Colored People, and was a prominent figure in the Harlem Renaissance. However, he is best known for his writing, which includes poems, novels, and the lyrics of Lift Ev'ry Voice and Sing (also known as the Black National Anthem).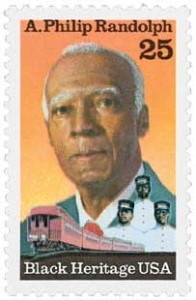 The twelfth stamp in the Black Heritage Series honors A. Philip Randolph (1889-1979), a respected and outspoken proponent of the rights of minority labor.  He was greatly feared by his opponents, not because of his temperament, but because of his power to create change.  He was named Vice-President of the AFL-CIO in 1957. Randolph was also the founder of both the March on Washington Movement and the Brotherhood of Sleeping Car Porters, which helped organize African-American labor.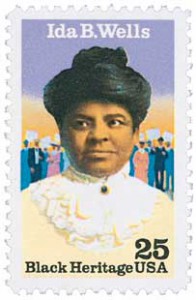 The thirteenth stamp in the Black Heritage Series honors Ida B. Wells, who was born a slave in 1862. She devoted her entire life to educating people about the horrors of racial discrimination. In 1909, she helped found the National Association for the Advancement of Colored People.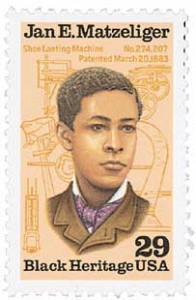 The fourteenth stamp in the Black Heritage Series pays tribute to this immigrant from Dutch Guiana (Surinam), who revolutionized the shoe industry with various labor-saving machines.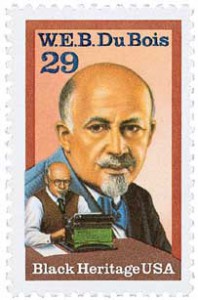 A noted writer, historian, and educator, William Edward Burghardt Du Bois joined other distinguished African-Americans as part of the Black Heritage series. A leader in the early movement for equality for African-Americans, he founded the Niagara Movement in 1905. This organization later evolved into the National Association for the Advancement of Colored People (NAACP). The stamp was issued in conjunction with the first day of Black History Month.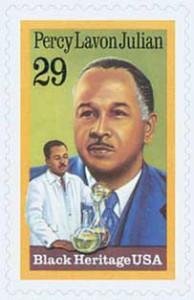 A research chemist known for his many contributions to science, Percy Lavon Julian (1899-1975) joined other noted black Americans as part of the Black Heritage Series.  Julian was one of the first African Americans to receive a doctorate in chemistry., and the first to be inducted into the National Academy of Sciences. A pioneer in the chemical synthesis of drugs used in medicine, Julian developed synthetic physostigmine for glaucoma, cortisone for arthritis, and the female hormone progesterone.  He also owned more than 100 chemical patents, many for products made from soybeans, including a soya protein used in fire extinguishers during World War II, and still used in paper manufacturing today.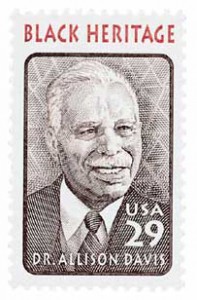 A noted psychologist, educator, and author, Dr. Allison Davis (1902-83) helped raise national awareness of the civil rights issue through his books, lectures, and conferences. Graduating as valedictorian from Williams College in 1924, he went on to earn two master's degrees from Harvard, where he directed various research projects.  In 1942, Davis received his doctorate from the University of Chicago, where he served as a faculty member for the next 40 years. A sharp critic of intelligence testing, he challenged the cultural bias of the testing system and fought for the understanding of human potential without regard to race or class.  Widely acclaimed, he received numerous awards. The University of Chicago's John Dewey Distinguished Service Professor of Education, he was also named Educator of the Year in 1971. During the 60s, Dr. Davis served on the President's Commission on Civil Rights and later as vice chairman of the Department of Labor's Commission on Manpower Retraining.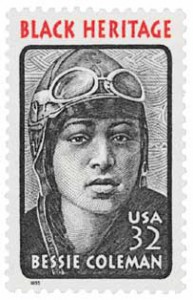 Born in 1892 and raised in the cotton fields of Texas, Bessie Coleman dared to dream that one day she would become someone history would remember. Working as a manicurist in Chicago, she was inspired by tales of female aviators in France during World War I, and decided to become a pilot. When no one in America would teach her how to fly, she traveled to France. In 1921 she received her license from the prestigious Fédération Aéronautique Internationale in 1921.  Coleman returned to America a celebrity. Flying in exhibitions and lecturing on the potential of both flight and her race, she inspired others with her positive attitude and determination to succeed. Coleman hoped to open a flying school for other African-Americans and was close to achieving that goal when, in 1926, she died in the crash of a flimsy World War I Army surplus plane.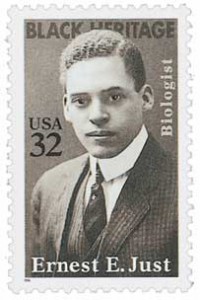 Ernest E. Just was an internationally renowned zoologist, known primarily for his work in marine biology. He did pioneering research in the process of fertilization in marine invertebrates and in the study of cell surface development in organisms. Just was recognized for his work as the first recipient of the NAACP's Spingarn Medal, awarded annually to an African-American for outstanding achievement in their field. Throughout the 1930s Just conducted research in institutes and marine laboratories in Berlin, Paris, and Naples. From 1912 to 1937 he published 50 papers based on his findings, as well as two books: The Biology of the Cell Surface and Basic Methods for Experiments on Eggs of Marine Animals.  Just taught at Howard University from 1907 to 1941, serving as head of the department of physiology at its medical school from 1912 through 1920, and head of the zoology department from 1912 until 1941. He was one of the four founding members of the Omega Psi Phi Fraternity – which now has 900 chapters.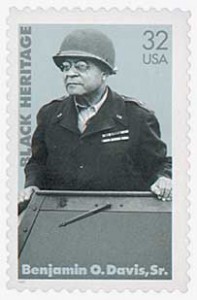 The first black brigadier general and a driving force in the eventual integration of the U.S. armed forces, Benjamin Oliver Davis, Sr. became the 20th American honored in the Black Heritage Series.  Born July 1, 1877, in Washington, D.C., Davis devoted much of his life to a distinguished military career that spanned 50 years. Enlisting as a private in the military service on July 13, 1898, he rose through the ranks, and in 1905 received a promotion to first lieutenant. That same year he also began teaching as a professor of military science at Wilberforce University in Ohio. He later taught at the Tuskegee Institute in Alabama as well. Promoted to colonel in 1930, he went on to become the first black soldier to achieve the rank of general in 1940.  During World War II Davis served in the European theater. As an adviser on race relations, he championed the idea of all-inclusive armed services. On July 26, 1948, six days after Davis retired, President Truman issued the order ending racial discrimination in the military.  The stamp shows Davis at the height of his career, on an inspection tour of the American front in France in 1944. His son, Benjamin Oliver Davis, Jr., commander of the famed Tuskegee Airmen, went on to become the first black three-star lieutenant general in the U.S. armed forces.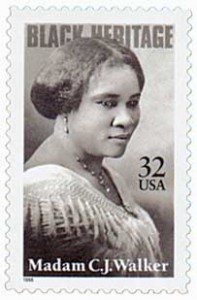 The twenty-first stamp in the Black Heritage series honors the success and generosity of a self-made businesswoman from the beginning of the 20th century. Madam C.J. Walker is recognized for overcoming social and economic barriers. She is also generally known as the first black female millionaire.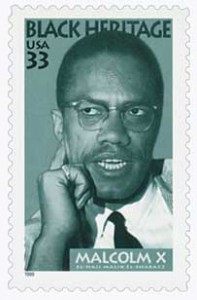 Born in 1925 in Omaha, Nebraska, Malcolm was the son of preacher Earl Little, a follower of Marcus Garvey. The family broke up after the suspicious death of Malcolm's father in 1931. He dropped out of school after eighth grade and headed for a life of crime.  Malcolm was sent to jail for burglary at the age of 21. There he met Elijah Muhammad, leader of the Nation of Islam. Muhammad's teachings had a strong impact on Malcolm, and he became a loyal disciple of the movement. It was during this time that he adopted "X," symbolic of a stolen identity, as his last name.  Tensions within the Nation of Islam led Malcolm to leave the group in 1964. He traveled to Mecca, Saudi Arabia, Islam's holy city. There he learned that orthodox Muslims preach equality, which led him to abandon his belief that white people are devils. After the pilgrimage, he adopted the name El-Hajj Malik El-Shabazz. In 1965, while speaking at a rally in New York City, Malcolm X was killed by three men, allegedly Black Muslims.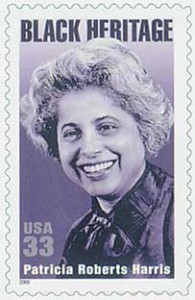 Patricia Roberts Harris' overwhelming number of accomplishments. She became the first black woman to serve as an American ambassador in 1965 when she was appointed by Lyndon Johnson. This was just one of the many firsts Harris achieved.  Harris (1924-1985) graduated first in her class at George Washington University law school. In 1969, after completing her role as ambassador, Howard University made her the first woman to head a U.S. law school. In 1970, Harris became a partner at a Washington, D.C., law firm. Soon after, companies including International Business Machines and Chase Manhattan Bank chose her to sit on their board of directors, making her the first black woman to do so.  Harris became the first black woman in the cabinet in 1977, and one of the few Americans to hold three cabinet positions. At different times in her career, she served as Secretary of Housing and Urban Development; Health, Education, and Welfare; and Health and Human Services.  Harris' numerous other achievements include being the first black woman to lead a national political party committee, and the first black woman to serve as the U.S. representative to the United Nations. Harris ran for Mayor of Washington, D.C., in 1982.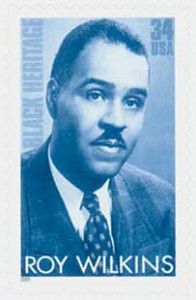 Children attend integrated schools today due partly to the efforts of Roy Wilkins, honored on the 24th stamp of the Black Heritage Series. Wilkins was executive secretary and executive director of the National Association for the Advancement of Colored People for twenty-two years. He helped win the 1954 Supreme Court decision that ended segregated education. Wilkins believed that racial equality could be achieved through non-violent, legislative actions.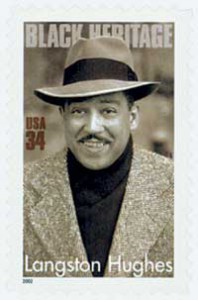 Known best for his work during the "Harlem Renaissance," Langston Hughes was an American poet, playwright, newspaper columnist, and author. Hughes' work focused on the strength, courage, and humor of African-Americans. Hughes opposed U.S. involvement in World War II and embraced some socialist ideals. His views were a result of racism rather than politics, and Hughes later distanced himself from some of his early writings.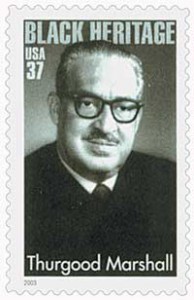 Thurgood Marshall (1908-93) is the 26th honoree of the Black Heritage Series. He was legal director of the National Association for the Advancement of Colored People (NAACP) from 1940 to 1961.  President John F. Kennedy appointed Marshall to a federal judgeship in 1961. In 1967, President Lyndon Johnson named Marshall to the Supreme Court, making him the first African-American to serve on the High Court. He served on the court for 24 years.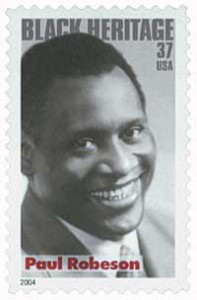 Actor, singer, scholar, athlete, humanitarian, and civil rights activist Paul Robeson (1898-1976) was the son of a former slave. Robeson used his deep baritone voice and theatrical talent to promote African and African-American history and culture. The Paul Robeson stamp is the 24th in the Black Heritage Series.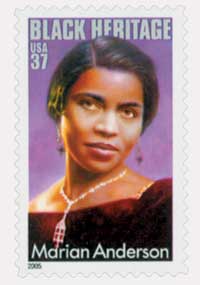 Anderson is best remembered for her inspiring performance at the Lincoln Memorial in Washington, D.C., before a crowd of 75,000. That 1939 concert was arranged by Eleanor Roosevelt after the Daughters of the American Revolution barred Anderson from singing in Constitution Hall because of her race.  In 1955, Anderson broke the color barrier at the New York Metropolitan Opera. Marian Anderson overcame poverty and racism to become one of the greatest contraltos of the twentieth century. Hers is the 28th stamp in the Black Heritage Series.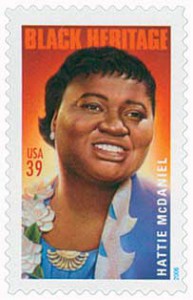 Due to the scarcity of roles for African-American actresses, Hattie McDaniel spent much of her 20-year career playing maids. She has been quoted as saying, "I'd rather play a maid than be one."  McDaniel won an Academy Award as the year's Best Supporting Actress for her role as "Mammy" in the 1939 film Gone With the Wind. She was the first African-American to win an Oscar.  From 1947 until 1952, McDaniel played the title role in The Beulah Show on national radio, the first radio show to feature a black star. Using her special talent for timing and comedy, the actress played a straight-talking black maid in a white household.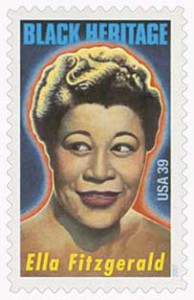 Ella Jane Fitzgerald's (1917-96) pure, ageless voice spanned three octaves. She sang sultry ballads and sweet jazz and worked with all the jazz legends of her era.  As a soloist, Fitzgerald joined Norman Granz's "Jazz at the Philharmonic" tour. She also worked with Louis Armstrong on several albums and produced her famous songbook series during the 1950s and 1960s.  In her lifetime, Ella Fitzgerald recorded over 200 albums, won thirteen Grammy awards, and sold over forty million albums. According to Fitzgerald, "The only thing better than singing is more singing."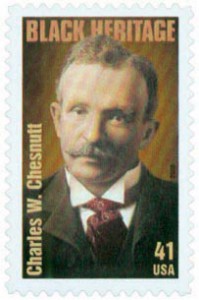 Charles Waddell Chestnutt (1858-1932) was the first black novelist to have his fiction published in the prestigious Atlantic Monthly Magazine and also by major publishers Houghton Mifflin and Doubleday.  In 1883, discouraged and embittered by racial prejudice, Chesnutt moved to Cleveland, Ohio.  There he was able to pursue his dream of becoming an author while working to change racial bigotry.  In his own words, "I will live down the prejudice, I will crush it out.  I will show to the world that a many may spring from a race of slaves, and yet far excel many of the boasted ruling race."  He realized his ambitions by achieving publication of three novels, "The House Behind the Cedars," "The Marrow of Tradition," and "The Colonel's Dream," as well as two short story collections.  Chesnutt was a founding member of the NAACP, along with W.E.B. DuBois and Booker T. Washington, and was awarded that organization's Spingarn Medal for his life's work.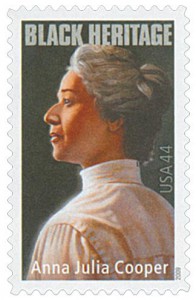 Born into slavery in North Carolina, Anna Julia Cooper rose from bleak beginnings to become a leading African American teacher and activist.  A skilled and persuasive speaker, Cooper used her gift to fight discrimination and to advocate higher education for women.  Her book, A Voice from the South by a Black Woman from the South, is considered the first work on African American Feminism.  One of the most influential African American women in U.S. history, Anna Julia Cooper died at the age of 105 – just one year after Rev. Martin Luther King led his march on the capital.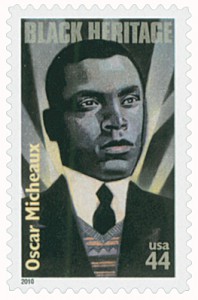 Oscar Micheaux was the father of black cinema.  Micheaux's movies were a radical departure from Hollywood. When D.W. Griffith portrayed the Ku Klux Klan as heroes in his film The Birth of a Nation, Micheaux responded by producing Within Our Gates – showing racial discrimination, lynching, and other white-on-black violence. He also moved away from the usual Hollywood stereotype of African Americans being servants or buffoons.  At a time when most black filmmakers were going bankrupt, Oscar Micheaux thrived. He worked tirelessly to keep his company afloat. To finance his films, Micheaux toured the country seeking advances from theater owners. To increase ticket sales, he convinced white theater owners to have special midnight showings for black audiences.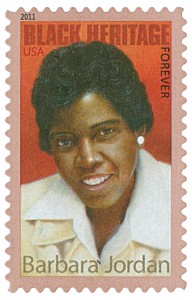 In 1966, Barbara Jordan (1936-1996) made history when she became the first black woman elected to the Texas State Senate. Jordan quickly gained acceptance from her 30 white male colleagues by sponsoring bills for Texas' first minimum wage laws and antidiscrimination in business contracts.  By 1972, Barbara Jordan was the highest-ranking member of the Texas legislature. That same year, she ran for the U.S. Congress and won by a landslide, capturing 81% of the vote. Two years later, Jordan gained national attention during the Watergate hearings. While giving a statement on the Articles of Impeachment, she said, "I am not going to sit here and be an idle spectator to the destruction of the Constitution."  A rising figure in American politics, Jordan was chosen to be the keynote speaker at the 1976 Democratic National Convention. The speech, addressing unity and equality, ranked number five in a national survey listing the top 100 speeches of the 20th century.  In 1992, Jordan was again chosen to be the convention's keynote speaker. Although confined to a wheelchair, Barbara Jordan took the stage and proclaimed, "The American dream is not dead. It is gasping for breath, but it is not dead."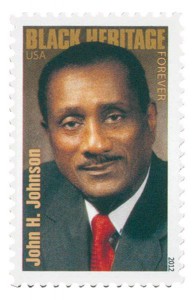 John H. Johnson (1918-2005) was the most influential black publisher in U.S. history.  In 1945, Johnson introduced Ebony, the world's largest black-owned magazine.  Over the course of his 60-year publishing career, Johnson helped destroy stereotypes, advance the cause of civil rights, and encourage pride among black Americans.  By featuring successful businessmen, entertainers, and politicians in his magazines, Johnson challenged popular misconceptions about his race.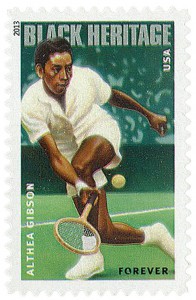 Gibson (1927-2003) was born in the South but grew up in Harlem. Unhappy in school and often absent, Gibson first explored tennis by bouncing rubber balls off a brick wall until a one-armed coach taught her how to play. With the help of supporters including boxer Sugar Ray Robinson, she won her first tournament at age 15.  Gibson quickly rose through the ranks of the American Tennis Association, which was founded in 1916 for black players. She won the ATA singles tournament ten years in a row but was banned from more prestigious events because of her race. Finally, white tennis star Alice Marble wrote an open letter in protest. Gibson was allowed to compete in the U.S. Nationals beginning in 1950.  Perfecting an aggressive serve-and-volley style, Gibson made history by becoming the first black person to win a Wimbledon title, the French Open in both singles and doubles, the doubles title at the Australian Open, and the U.S. Open.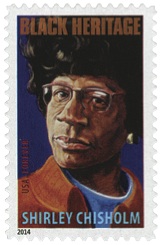 The 37th stamp in the Black Heritage Series commemorates Shirley Chisholm, the first African-American woman in Congress. The image for the stamp was taken from a portrait that was part of Robert Shetterly's Americans Who Tell the Truth paintings.  The steely grit that would define Shirley Chisholm (1924-2005) quickly became apparent. When she was assigned to an agricultural committee, the new congresswoman insisted on being reassigned to a position relevant to her urban constituents. In 1971, Chisholm was a co-founding member of the Congressional Black Caucus.  In spite of breaking ground for women and minorities, Chisholm found herself handicapped by both gender and race. The Congressional Black Caucus withheld their endorsement because of her gender. When she sought the 1972 Democratic presidential nomination, support from the National Organization for Women was minimal because of her race.  Chisholm faced several challengers in the primary, including self-proclaimed segregationist George Wallace. Chisholm survived three assassination attempts, while Wallace was paralyzed in another. The congresswoman's visit to Wallace's hospital room created a storm of media coverage and controversy.  In the end, Chisholm served seven consecutive terms representing New York's 12th Congressional District. Her autobiography, which detailed her tireless experience fighting for social change, was appropriately titled Unbought and Unbossed.
The son of emancipated slaves, Robert Robinson Taylor (1868-1942)was the first black student to attend the Massachusetts Institute of Technology (MIT).  When he graduated in 1892, he became the first fully accredited African-American architect in America.  He went on to teach at the Tuskegee Institute in Alabama and designed the school's Science Hall chapel.
Born into slavery, Richard Allen (1760-1831) was destined for greater things.  In 1816, he created the African Methodist Episcopal (AME) Church and was ordained its first bishop.  Richard Allen's dedicated religious and social work has been called "the first wavering step of a people toward organized social life."  The early black congregations he fostered and their abolitionist efforts are often credited with beginning the civil rights movement.  Allen is celebrated by many not only as a Founding Father of African America but as a Founding Father of all America.
Dorothy Height (1912-2010) was an influential leader of the civil rights movement for over 70 years.  Her extensive work toward equal treatment of African Americans and women made a lasting impact on the history of the United States.  It was Height's counsel that inspired President Dwight D. Eisenhower to desegregate schools and President Lyndon B. Johnson to appoint African American women to government positions.  Height's work earned her the Presidential Medal of Freedom in 1994 and the Congressional Gold Medal in 2004.
SaveSave
SaveSave
SaveSave