CIA Inverts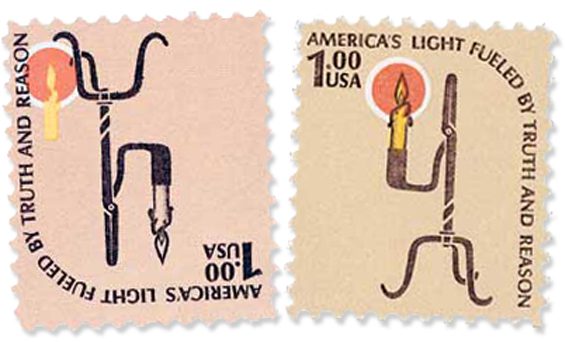 In 1985, news of a newly discovered U.S. invert stamp rocked the philatelic world. It was the first major inverted stamp in 66 years and said to be rarer than the coveted Jenny inverts. But the details were cloaked in secrecy, hidden in a maze of deception that took two years to unravel.
The story began when an auctioneer specializing in U.S. error stamps announced the discovery of 85 inverted 1979 $1 Rush Lamp stamps. The stamps had been discovered by a "business in northern Virginia" and the finder wished to remain anonymous. The Bureau of Engraving and Printing launched an internal investigation and found that there were no indications of impropriety by its employees.
A few months later, Mystic Stamp Company joined with two partners and purchased 50 of the inverts. Curious about their origin, Mystic President Don Sundman filed a Freedom of Information Act request with the Bureau of Engraving and Printing. Months passed. When the report finally arrived, it was accompanied by a cover letter – from the Central Intelligence Agency! Names were blocked out in the 35-page report, but Sundman was able gather enough information to trace the stamps back to the C.I.A.
Sundman discovered that an on-duty C.I.A. employee had purchased the partial sheet of 95 inverted stamps at a small post office near McLean, Virginia. When he and his co-workers realized what they had, they pooled their money and substituted non-error $1 Rush Lamp stamps for the inverts. Each of the nine co-workers kept a stamp. The remaining 86 stamps, including one that was damaged, were quietly sold to the auctioneer.
The story made headlines across the nation and was featured on every major television network. The CIA launched an ethics investigation and demanded that the co-workers surrender their inverts or face 10 years in prison and a $10,000 fine for conversion of government property for personal gain. Five employees returned their stamps, one claimed his had been lost, and three people resigned.
The CIA donated the recovered inverts to the National Postal Museum, where they joined a copy donated earlier by Mystic. Investigations conducted by the Bureau of Printing and Engraving and Justice Department cleared the co-workers of any wrongdoing.
Twenty years later, the employee who purchased the sheet and later claimed to have lost his copy offered to sell the stamp to Mystic. Today these neat error stamps, bearing the words "America's Light Fueled By Truth and Reason," retail for $15,000 each.