Distinguished Americans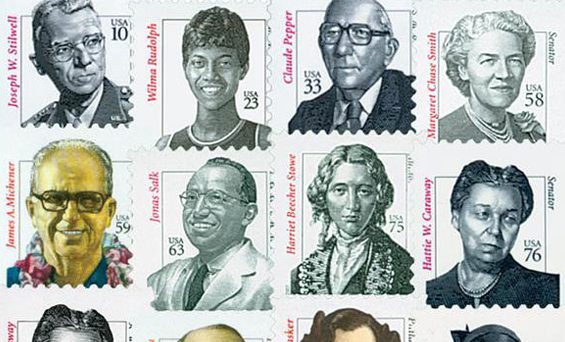 Introduced in 2000, this stamp series honors U.S. citizens who have "left their mark on the American conscience."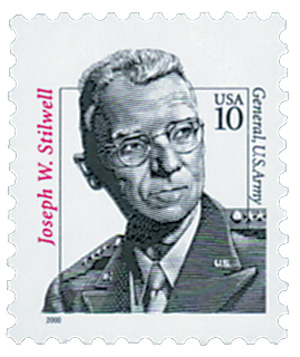 Honored on the first Distinguished Americans series stamp is General Joseph W. Stilwell (1883-1946). A 1904 graduate of the United States Military Academy, Stilwell was sent to Burma in 1942 to assist Chinese and British troops who were defending Burma against Japanese aggression. He commanded all American forces in the China-Burma-India theater of operations during World War II. Stilwell, whose outspoken nature earned him the nickname "Vinegar Joe," served as Generalissimo Chiang Kai-shek's chief of staff and was the first American general to command a Chinese army.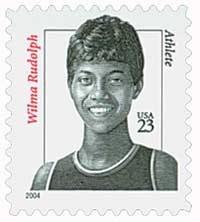 Wilma Rudolph (1940-94) was an African-American born with polio. Vigorous therapy enabled her to overcome the crippling effect of the disease. She went on to become a high school and college athlete in track and field. In 1960, Rudolph became the first American woman to win three Olympic gold medals.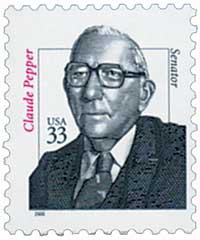 An American politician for over 60 years, Claude Pepper (1900-1989) was a champion of causes important to the elderly. A graduate of the University of Alabama and Harvard University Law School, Pepper was elected to the Florida legislature in 1929. He sponsored a bill allowing senior citizens to fish without a license. As a Democratic Senator, Pepper supported Franklin Roosevelt's New Deal. In 1962, he became a member of the House of Representatives, where he served until 1989. Pepper led a 1986 action that ended mandatory retirement in the federal government. He received the Medal of Freedom, the nation's top civilian award, five days before his death.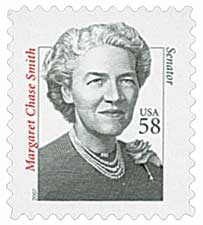 Margaret Chase Smith (1897-1995) was one of the most successful politicians in Maine's history. Smith was the first woman to be elected to both the U.S. House and Senate, and the first woman from her state to serve in either.  A member of the Republican Party, Smith became the first woman to have her name entered into the nomination process for the U.S. Presidency at a major party's national convention. (Smith lost to Barry Goldwater at the 1964 convention.)  At the time she left office, Smith was the longest-serving female senator in U.S. history. In 1989, President George H.W. Bush bestowed the Presidential Medal of Freedom upon Smith.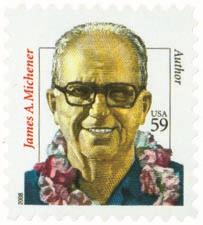 James Michener (1907-1997) was a bestselling author of more than 40 books, publishing until the year of his death.  While serving in the Pacific, he wrote his first book, "Tales of the South Pacific," which won a Pulitzer Prize in 1948.  James Michener served on the U.S. Postal Service Citizens' Stamp Advisory Committee.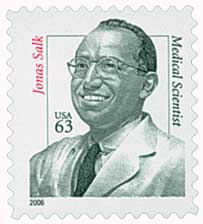 As a research scientist at the University of Michigan in the 1940s, Dr. Jonas Salk (1914-95) helped develop the first effective influenza vaccine, still the basis of the flu vaccinations given today. Another disease, paralytic poliomyelitis, or polio, had paralyzed or killed thousands of Americans each year for decades. In 1955, Salk developed an injectable, killed-virus vaccine that was the first safe and effective vaccine against polio. For his work, Salk was awarded the Presidential Medal of Freedom in 1977.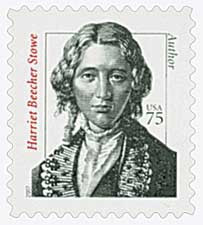 Harriet Beecher Stowe (1811-96) was an abolitionist and author. Stowe's most famous novel, Uncle Tom's Cabin, was published in 1852. The novel depicted live for African-American slaves, energizing the anti-slavery movement in the North and provoking anger in the south. Stowe wrote more than 20 books, many dealing with social issues.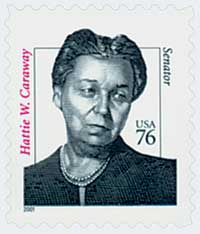 Thrust into public service in 1931 by the sudden death of her husband, Senator Thaddeus H. Caraway, Hattie Caraway (1878-1950) was appointed to fill her husband's seat in the Senate. In 1932, a special election confirming her appointment made her the first woman elected to the U.S. Senate. Caraway was a strong supporter of the New Deal, veterans, and organized labor. She was known for her dry wit and quiet dignity. The stamp honoring Caraway is the first in this series to be issued as a self-adhesive.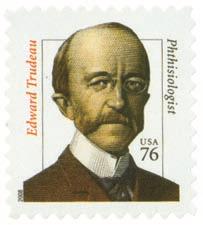 Edward Trudeau (1848-1915) was a pioneer in the research and treatment of tuberculosis.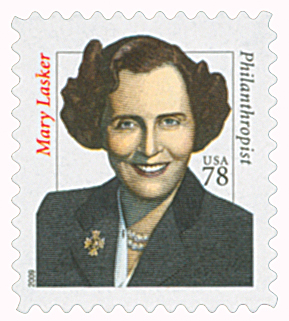 Lasker campaigned for greater cooperation between scientists and the medical community as well as for government funds to finance research.  Confronted with opposition, Lasker countered, "If you think research is expensive, try disease."  Lasker's efforts led to an increase in money given to the National Institutes of Health and the establishment of research centers focused on specific diseases, including the National Cancer Institute.  Together with her husband, she created the Lasker Foundation to support medical research.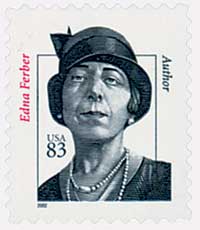 Pulitzer Prize-winning novelist and playwright Edna Ferber (1885-1968) was called "the greatest American woman novelist of her day." Ferber began her career in journalism. As a teenager reporter, she once interviewed Harry Houdini for her hometown newspaper. Ferber went on to make her mark in fictional literature.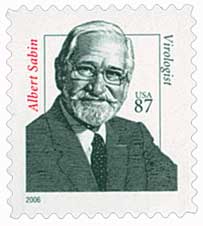 During World War II, Dr. Albert Sabin (1906-93) helped develop vaccines against dengue fever and Japanese encephalitis, diseases that plagued American soldiers. After the war, Sabin developed an oral polio vaccine made from weakened, live virus. His achievements were recognized with the National Medal of Science in 1970 and the Presidential Medal of Freedom in 1986.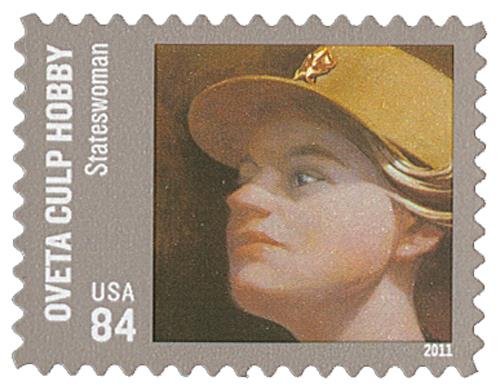 Oveta Culp Hobby (1905-95) created new opportunities for women, helped the Allies win World War II, and approved a drug that virtually eliminated polio in the United States.  During World War II, Hobby became the Director of the Women's Army Auxiliary Corps, created to remedy severe labor shortages caused by men serving in the war effort.  Its members, who were the first women other than nurses to be in Army uniform, helped the U.S. meet the industrial demands needed to win the war.  Although she "never did learn to salute properly or master the 30-inch stride," Colonel Oveta Hobby became the first woman in the Army to receive the Distinguished Service Medal.  President Dwight Eisenhower named Hobby the first secretary of the new Department of Health, Education, and Welfare.  Hobby personally made the decision to approve Jonas Salk's polio vaccine.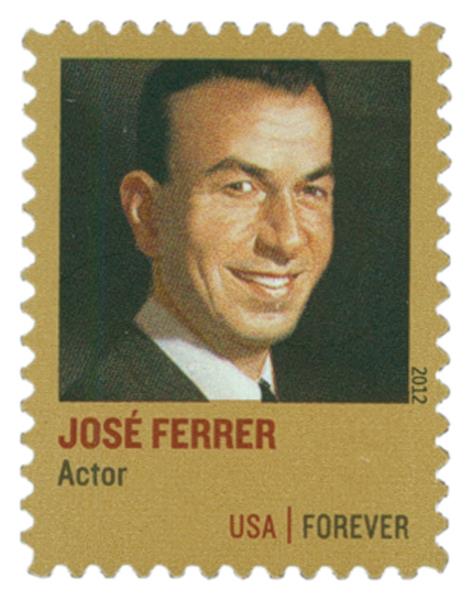 It seemed that actor José Ferrer (1912-1992) thrived most when playing characters with odd physical conditions. As solider/poet Cyrano de Bergerac, he wore a fake nose several inches long, but played the role with devastating wit. His portrayal on both stage and screen earned him a Tony Award (1947) and an Academy Award (1950) for best actor.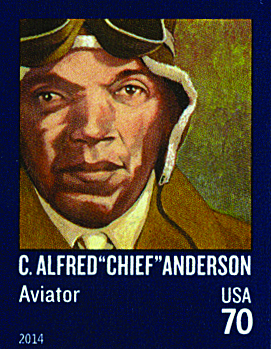 As World War II raged in Europe, America prepared for combat. In 1940, Anderson was hired to be Chief Flight Instructor at Tuskegee Institute's new Civilian Pilot Training Program. By the time peace was restored, the "Chief" had trained nearly 1,000 African-American pilots, who became the famed Tuskegee Airmen.  Anderson blazed a path to the sky for others to follow and earned the title "Father of Black Aviation."
Robert Panara was one of America's leading deaf educators. Panara taught at Gallaudet University for nearly 20 years before helping found the National Technical Institute for the Deaf at Rochester Institute of Technology in New York.  His work helped pioneer the field and promote the idea that deafness is not a disability, but a different way to view the world.
Katharine Meyer Graham (June 16, 1917 – July 17, 2001) was the first female CEO of a Fortune 500 company and led The Washington Post Company from 1963 to 1991.  She is also well known for publishing the infamous Pentagon Papers and Watergate scandal, despite government objections.  While CEO, the company's revenue grew by over one billion dollars and The Washington Post became one of the nation's leading sources of news.