Garden Flowers Series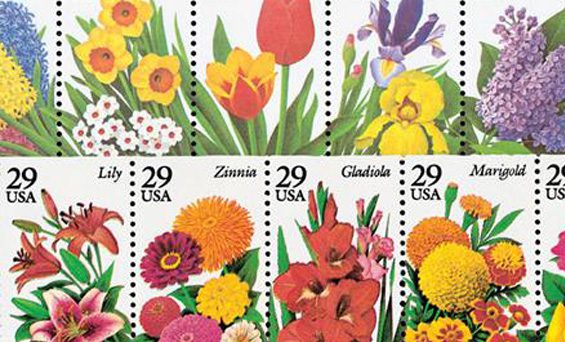 Issued from 1993-96, the Garden Flowers stamp series brings a burst of color to your stamp album.

These colorful flowers blossomed into a booklet of stamps in mid-June. Featuring one continuous se-tenant design, the stamps pictured five favorite garden flowers, including the lilac, daffodil, tulip, iris, and hyacinth.

Since ancient times, mankind has cultivated beautiful flowers. The five flowers pictured on the Summer Garden Flowers stamps – the Lily, Zinnia, Rose, Gladiolus, and Marigold, are favorites with gardeners around the world.

In a response to consumer feedback that customers wanted "bright, pretty American stamps," these five stamps were issued. Featured are some of the most popular and beautiful flowers found blooming from late summer to autumn. Like the spring and summer Garden Flowers stamps that preceded it, this se-tenant strip was designed as a single piece of art, so that the flowers appear to be growing in a garden.

The issuance of these stamps completed the series of seasonal Garden Flowers, which began in 1993 with the Spring Garden Flowers.