Legends of American Music
The Legends of American Music stamp series debuted on January 8, 1993. More than 70 artists are included from all styles of music.  "The King of Rock 'n' Roll" was featured. The public was allowed to vote for a "young" or "old" Elvis image. America voted overwhelmingly for the younger version.  It became the best-selling stamp in U.S. history – and a popular stamp series was born!
The stamps pictured here are US #2724-30, which were sold as single stamps.  The same designs were issued in booklet form and assigned Scott numbers 2731-37.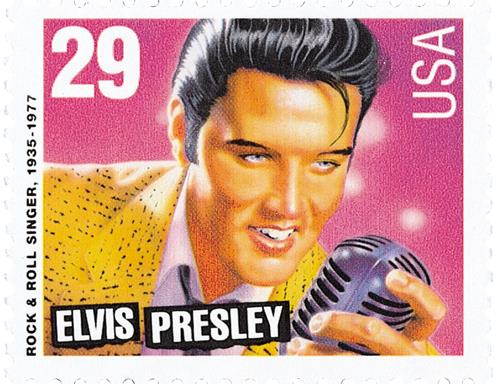 In 1956, Elvis Presley exploded on the music scene with his super seller "Heartbreak Hotel", and popular music was never the same again.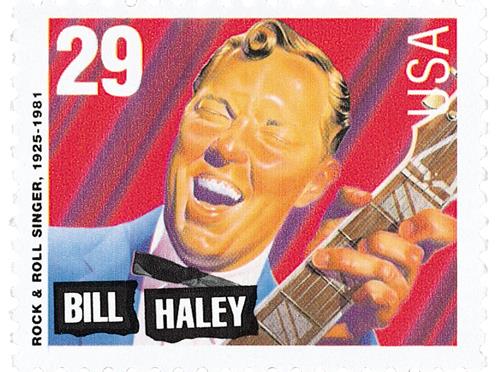 Bill Haley has been called the "father of the rock revolution." Blazing new trails in both the U.S. and Europe, his success laid the groundwork for Elvis and other rising rock stars of the 1950's.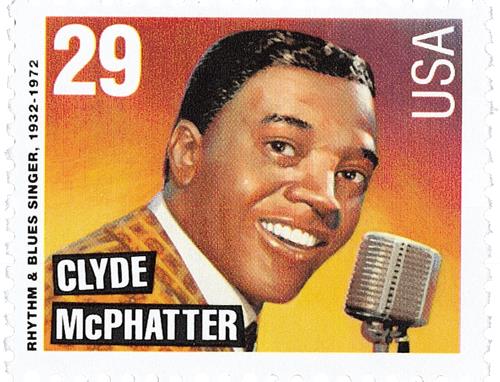 When Clyde McPhatter joined Billy Ward and the Dominoes in 1950, he began a music career that would eventually lead to him becoming one of the biggest names of the rhythm & blues era. In 1953, he left the band to form his own group, the "Drifters."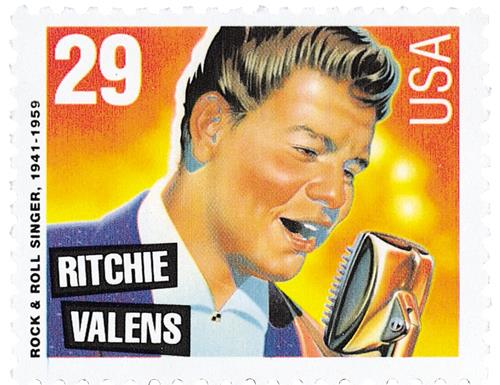 Only 17 when he died in the fatal plane crash that killed Buddy Holly and J.P. Richardson, Ritchie Valens was already one of the legends of the golden age of rock 'n' roll. Had he lived he likely would have been one of the most important artists of the 60's.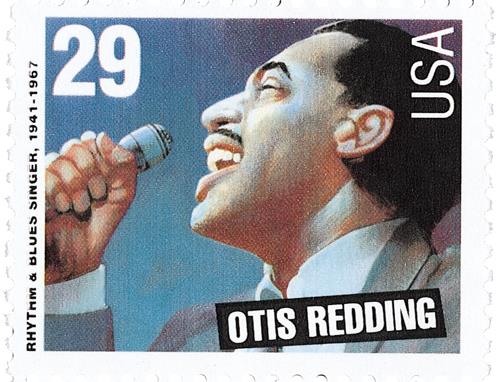 Hailed as the "Monarch of Soul", Otis Redding began his career in the early 60's – a time when soul moved out of the rhythm & blues scene and into the rock 'n' roll circuit.  Ironically, his best known song, and only number one pop hit, was released after his death in 1967. A soul ballad, "(Sittin' on) The Dock of the Bay" had been recorded three days before his plane crashed into a lake near Madison, Wisconsin enroute to an engagement.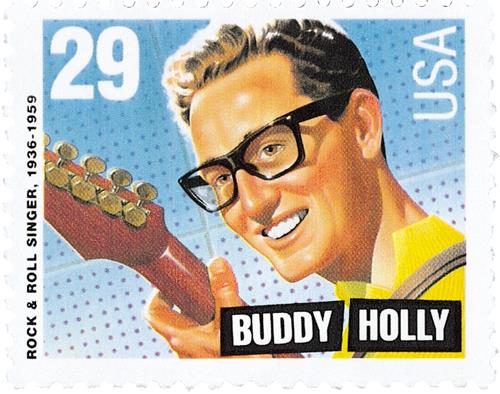 A close rival to Elvis Presley, Buddy Holly had an impact not only on American popular music, but also on the development of rock 'n' roll in England, influencing such groups as the Rolling Stones and the Beatles.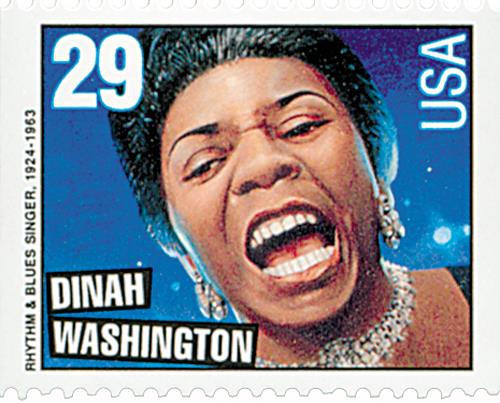 Known as the "Queen of Blues", Dinah Washington was one of the best-known and most popular female rhythm & blues singers during the 1950's. And even after her death in 1963, she continued to dominate the top-10 charts.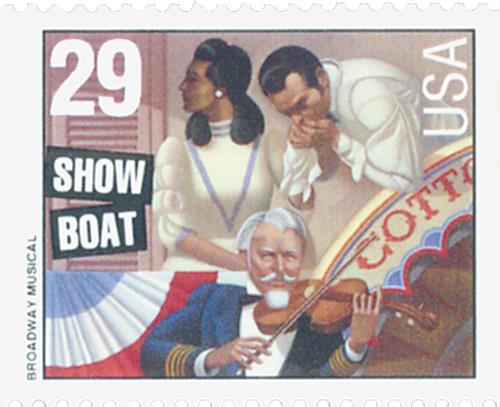 Based on Edna Ferber's novel of the same name, Show Boat paved the way for a form of musical that was distinct from the traditional fast-moving comedies and flamboyant operettas. Not only was it unique in that it was the first musical based on a serious literary work, but it was also the first musical to tackle such serious themes as racism and poverty.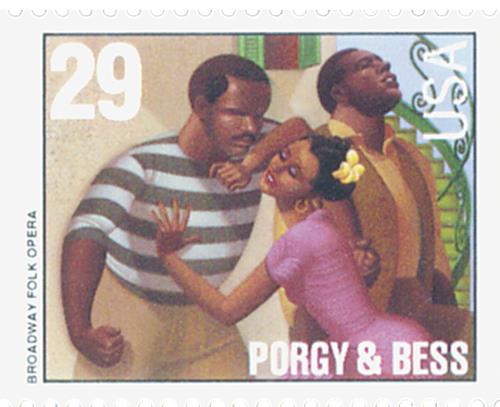 When Porgy and Bess opened on Broadway in 1935, it was the realization of a longtime dream of George Gershwin's. After reading Du Bose Heyward's book "Porgy" in 1926, he had written Heyward hoping to use the book as the basis for an opera. Heyward was interested in the prospect, but both men had other commitments, forcing them to postpone the project. Finally in 1933, the two, along with Ira Gershwin and Dorothy Heyward, began work on what would become the most popular opera written by an American composer.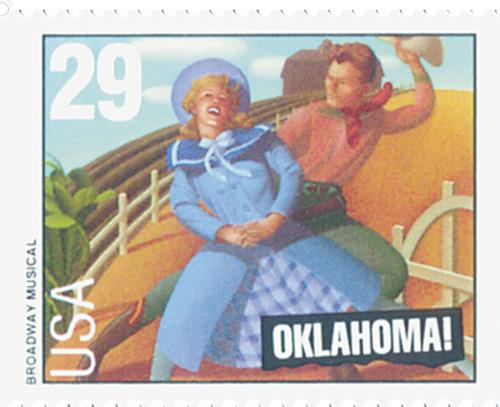 Set in Indian Territory at the turn of the century, Oklahoma! tells of a love triangle between Laurey, Curly, and Jud Fry. Although Curly and Laurey are in love, both are uncertain of the other's true feelings. When Laurey seems to be making no apparent headway with Curly she accepts Jud's invitation to a "box social", where Curly expresses his true love for her. The two marry, but Jud shows up at their wedding and attacks Curly. In the ensuing brawl Jud falls on his own knife and is killed. Curly is tried for murder, but acquitted, and he and Laurey leave for their honeymoon. Hailed by the critics as "delightful, fresh, and imaginative," Oklahoma! toured the U.S. for 10 1/2 years and has been seen in over 30,000 productions the world over.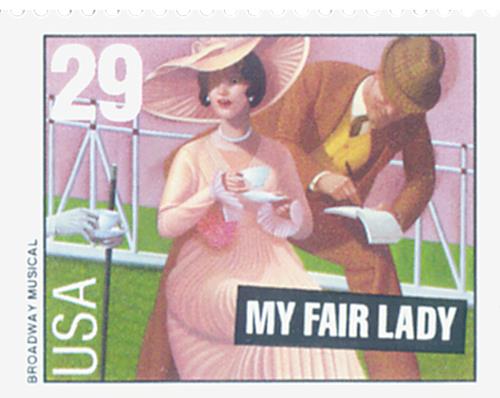 Based on George Bernard Shaw's play Pygmalion, the popular musical My Fair Lady has been called by critics "the best musical of the century." Professor Henry Higgins, a distinguished linguist, meets Eliza Doolittle, an illiterate flower girl. In a bet with Colonel Pickering, he decides to transform Eliza into a fine lady and pass her off as a duchess. He completes the job successfully and at a glamourous social evening at the Embassy, Eliza plays the role of the duchess beautifully. The experiment over, Eliza is free to leave Higgins' home. Although she has agreed to marry Freddy Eynsford-Hill, a rich man about town, she returns to Higgins in the end.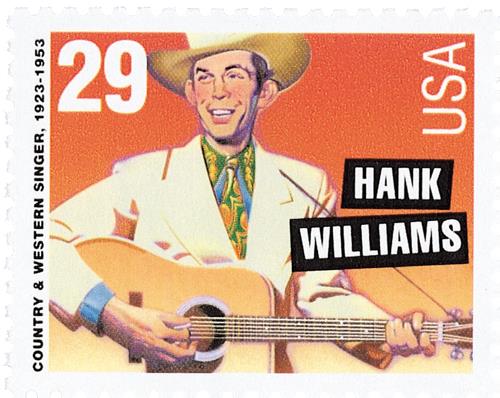 A leading performer of the 1940's and 50's, Hank Williams dominated country music from 1949, when he joined the Grand 'Ole Opry, until his death in 1953. His classics such as "Your Cheatin' Heart", "Jambalaya", and "Hey Good Lookin'" helped cement his place in the Country Music Hall of Fame.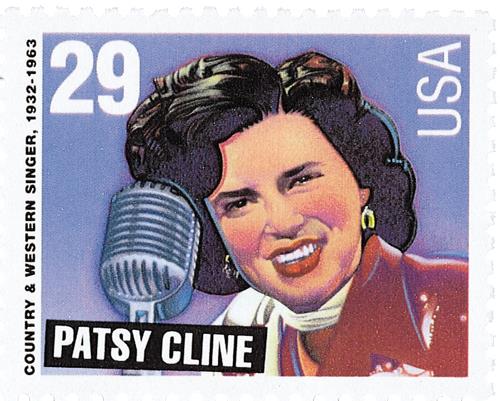 Patsy Cline's unforgettable voice and pop-oriented recordings greatly increased the popularity of country music, which had taken a backseat to rock 'n' roll.  
Her brilliant career ended in 1963, when her plane crashed near Camden, Tennessee. Even after her death however, her single releases continued to sell well into the 1960's, and her performances still inspire female country artists even today.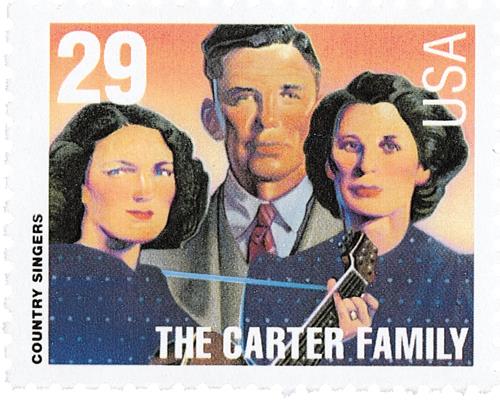 Originally formed in 1926, the Carter Family was one of the most influential groups in the country music field – one that greatly affected succeeding generations of performers.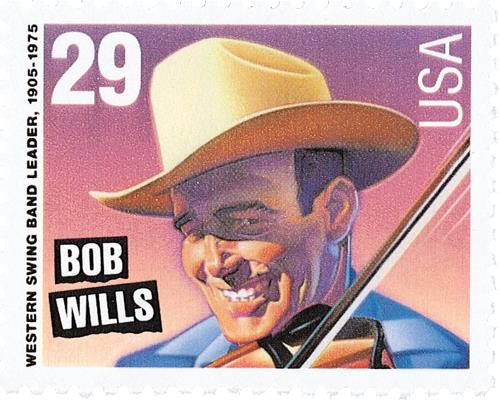 Combining the sounds of fiddling, blues, pop, big-band swing, and Mexican folk music Bob Wills created a new pop-country style known as western swing. His recordings for American Record Company and Columbia, such as "San Antonio Rose", "Take Me Back to Tulsa", "Faded Love", and the "Spanish Two Step", appealed to a far broader audience than old-time fiddling attracted. And as western swing gained popularity, Wills' name became a household word. Despite his failing health throughout much of the 1960's he appeared for his induction into the Country Hall of Music in 1968.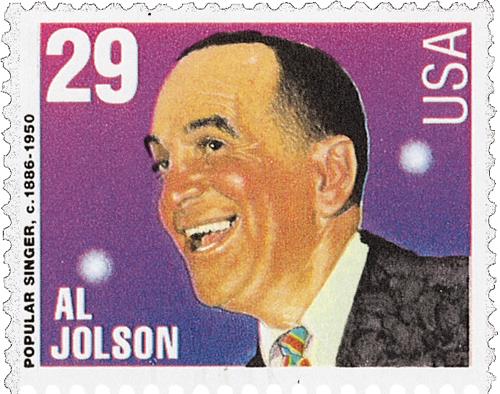 Al Jolson's exuberant singing style and personal magnetism made him a favorite with audiences and in 1911 he made his Broadway debut in La Belle Paree. It was during the production of Sinbad in 1918 that he made the Gershwin tune "Swanee" his trademark number. Other Jolson classics include "My Mammy," "California, Here I Come," "April Showers," and "Toot, Toot, Tootsie."  In 1927, the "king of pop" made film history when he starred in The Jazz Singer.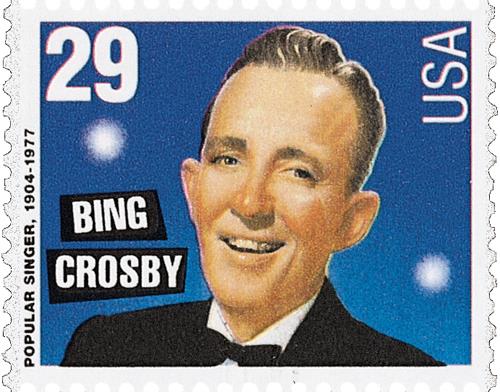 Called "the greatest entertainer of the 20th century," Crosby made more non-rock recordings and placed more songs in the "Top Ten" than any other individual singer. His career as an entertainer spanned more than 50 years, during which time he recorded over 1,600 songs and sold more than 500 million records. His recording of "White Christmas" remains the biggest selling record in history and has become, since it was first recorded, a symbol of Christmas.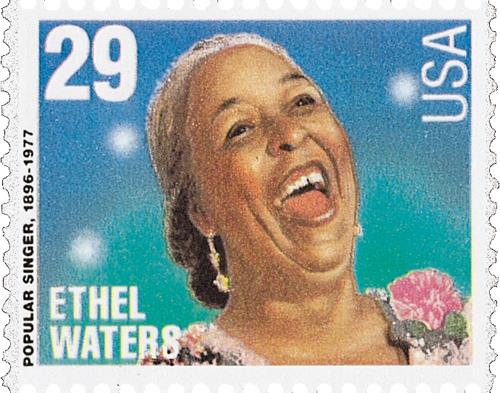 In 1927, Ethel Waters made her Broadway debut in the all-black production Africana, and three years later firmly established her acting career when she starred in Blackbirds. But it was her sensitive performance in Cabin in the Sky (1940) that won her critical acclaim as a dramatic actress. She went on to star in the Hollywood film version of the play, and later appeared in Pinky (1949) and Member of the Wedding (1953).  Called "The Mother of Modern Popular Singing," Waters spent the last 15 years of her life singing at the Billy Graham Crusades, during which time she made famous the song "His Eye is on the Sparrow."
Described as "one of the greatest singers of the century," Nat "King" Cole is best remembered for his satiny-smooth voice, although he originally began his career as a jazz pianist. In fact, his style of using the piano as a solo, rather than a rhythm instrument inspired other pianists to form similar groups and is an influence still felt in the jazz world today.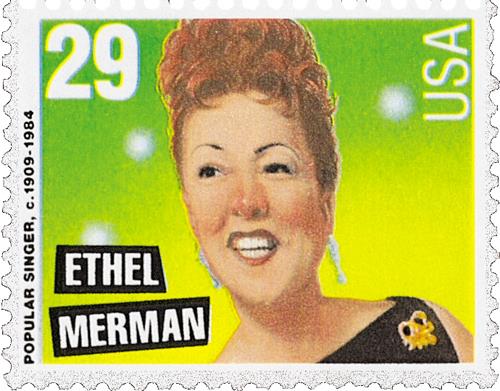 In 1930, Ethel Merman's performance in George Gershwin's musical Girl Crazy catapulted her overnight from an obscure nightclub singer to a superstar of Broadway.   Known as the "Queen of Broadway," her dazzling career lasted more than 50 years. With her clear, sharp, vibrant voice and spontaneous presentations, she was a favored performer for many of the major songwriters of the day, including Irving Berlin, Cole Porter, and Rodgers and Hammerstein.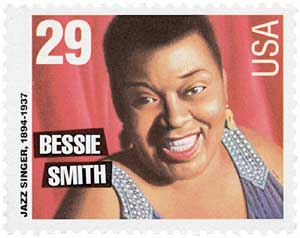 In 1923, Bessie Smith made her first recording, "Downhearted Blues." The song was immensely popular, selling an unprecedented 750,000 copies. Bessie Smith went on to record over 100 songs, in blues and pop styles.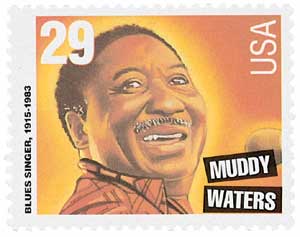 Muddy Water's band had a distinctive sound with wailing harmonica, heavy piano, bass, and drum rhythms, and slashing slide guitar from Muddy. Perhaps the band's greatest feature was Muddy's physical, aggressive vocals, which were drenched with emotion. His most popular tunes were "Forty Days and Forty Nights," "Hootchie Coochie Man," and "Mannish Boy."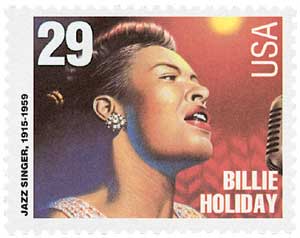 Billie Holiday's music was emotional, with a warm, intensely personal style. Much of her best work was performed with her lover, saxophonist Lester Young, who gave her the endearing nickname "Lady Day." Among her many hits were "All of Me," "Strange Fruit," and "Fine and Mellow."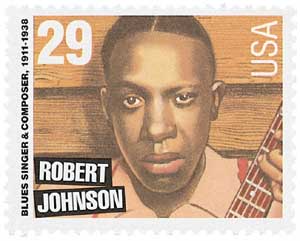 Robert Johnson traversed the Mississippi Delta, where he was heard by many young musicians, such as Muddy Waters, who would later show his influence. In 1936 and '37 Johnson recorded a total of 29 songs, considered among the most important early blues recordings, and still treasured by blues connoisseurs and musicologists alike.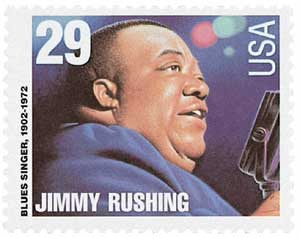 With Jimmy Rushing's rhythmic style, the words were less important than the sound of the voice, and Rushing often repeated simple rhymes in a song. His high-pitched voice could be authoritative or sensitive, and many popular vocalists have been influenced by his vocal and performance stylings. Rushing won many awards for his music, including the Melody Maker British critic's choice for Number One Male Vocalist in 1957.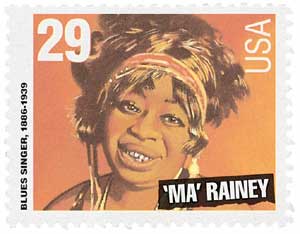 Ma Rainey first discovered the "blues" when she heard a young girl singing a "strange and poignant" lament in a small Missouri town in 1902. Soon after she began incorporating a blues encore into her show. Later blues music became her main form of expression.  Ma Rainey had a powerful, contralto voice (the lowest female part), and sang with great emotion. Utilizing great control to produce a wide-ranging, sweeping sound, Rainey performed music true to her roots, and disliked risqué or commercial songs. In 1923 she began recording for Paramount, and was a great success. By 1928 she had recorded over 90 songs.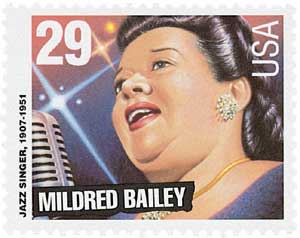 Bailey was the first non-black singer accepted in jazz. Her vocal phrasing and high-pitched voice thrilled audiences, especially on ballads and soulful blues tunes. Bailey's legacy lives on through the many recordings she made under her own name and the many famous musicians she sang with.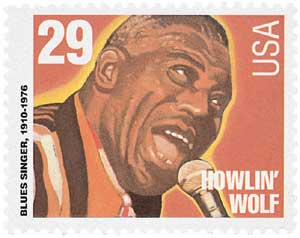 In 1951 he recorded his first record, "Moanin' After Midnight," which became a big hit and led him to Chicago. Howlin' Wolf, along with Muddy Waters, turned Chicago into the blues capital of the world. Fame with white audiences came to Howlin' Wolf in the 1960s and '70s, when rock bands like the Rolling Stones acknowledged his influence on their music.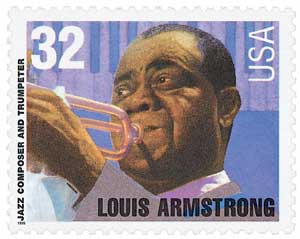 When asked to define jazz, Louis Armstrong replied, "Baby, if you got to ask the question, you're never going to know the answer." And just as Armstrong, or "Satchmo," as he is affectionately referred to, implied that it was impossible to define jazz, the same can be said about Armstrong's inimitable talent. Many historians credit Armstrong for singlehandedly popularizing jazz throughout the world.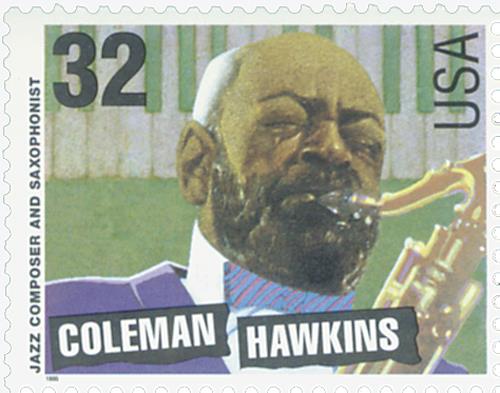 Coleman Hawkins (1904-69) was the first prominent musician to play the jazz tenor saxophone. Although Hawkins is most often associated with swing music and the big band era, he also had a role in popularizing bebop in the '40s.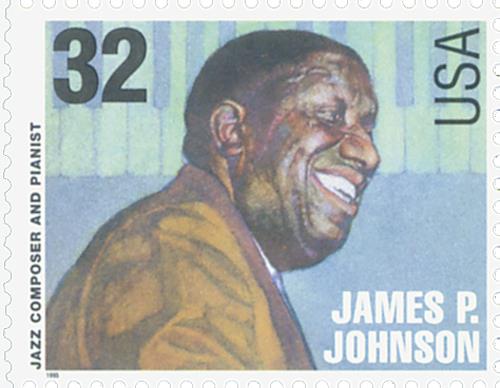 An innovative figure in American music, James Johnson combined elements of ragtime, blues, dance rhythms, and classical music to create the distinctive jazz piano style known as Harlem stride piano. Characterized by great rhythmic and harmonic development, often involving 10-note chords, this style creates a full, powerful sound. As the "father of stride piano," Johnson strongly influenced such jazz greats as Count Basie, Duke Ellington, and Fats Waller.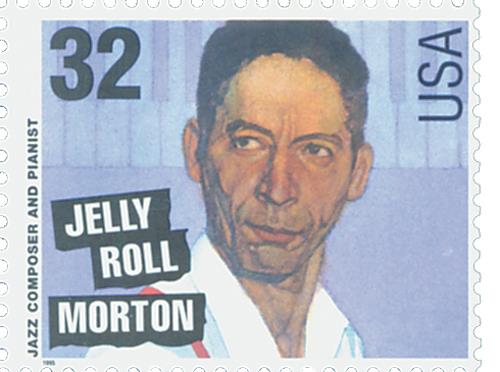 Morton made important contributions to jazz as a composer, arranger, pianist, soloist, and bandleader. The songs "King Porter Stomp," "Kansas City Stomp," and "Dead Man Blues" are among the most popular of his more than 150 jazz classics.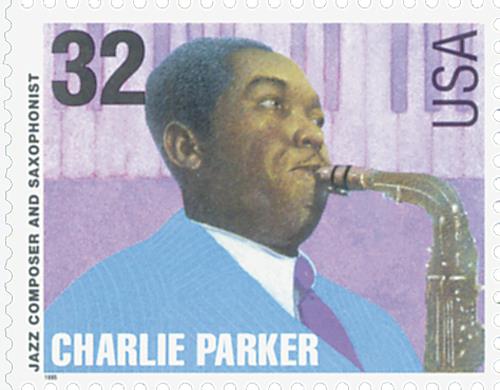 A true musical genius, Parker's mastery of the saxophone, improvisational skill, and compositions elevated the status quo for all aspects of jazz music. His best known works include "Now's The Time," "Yardbird Suite," "Confirmation," and "Relaxin' At Camarillo."
In 1921 Blake co-wrote the hit Broadway show Shuffle Along, which was among the first musicals to be written, produced, and directed by blacks. The play featured Blake's most famous song, "I'm Just Wild About Harry." Shuffle Along also introduced three new stars: Paul Robeson, Florence Mills, and Josephine Baker. Blake wrote the hit songs "Memories of You," "Love Will Find a Way," and "Lovin' You the Way I Do," as well as the score for Chocolate Dandies, a play which broke new ground for black performers.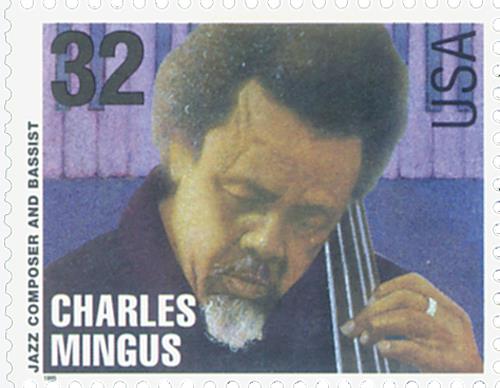 Mingus integrated many forms of music into his compositions, including European classical, gospel, the blues, jazz, and folk songs. He was inspired by the orchestral structures of Duke Ellington and improvised melodic lines of Charlie Parker, as well as the compositions of Igor Stravinsky and Claude Debussy.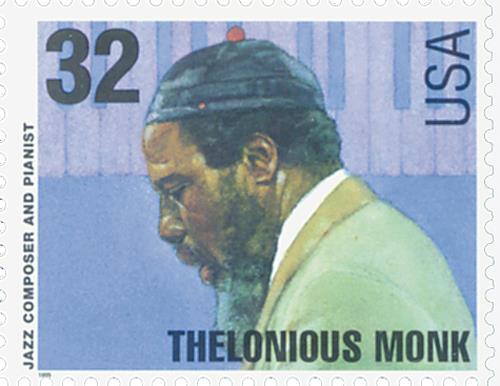 "Round Midnight," "Ruby My Dear," "Epistrophy," "Well You Needn't," and "Straight No Chaser" are among Monk's most popular songs. As with most music noted for its originality, Monk's music was, and is, controversial. He is known for the use of dissonance (sounds which produce tension), jarring irregular rhythms, and complex harmonic development. Monk often used silence – he sometimes let the bass and drums alone accompany soloists. Thelonious Monk's music influenced forever the flavor of modern jazz.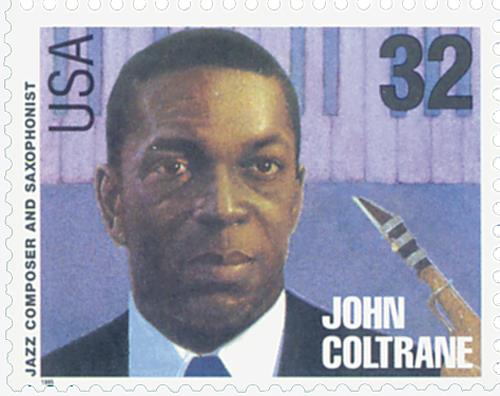 Coltrane, the genius of the tenor and soprano saxophones, became the most influential musician and composer of his time.  His unique style was based upon exploring complex harmonics and extended improvisation. His most popular compositions include "A Love Supreme," "Giant Steps," "Naima," "Moment's Notice," and "Equinox."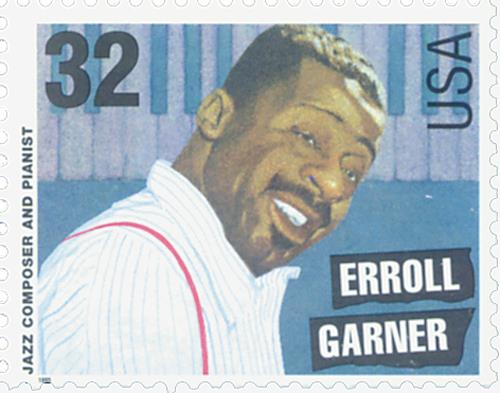 Garner's music appealed to non-jazz audiences, and he enjoyed great success in the late 1950s. He toured Europe in 1957 and '58. His most famous song, "Misty," was a big hit in 1959 and enjoyed a resurgence in 1971, when it became the theme song for the Clint Eastwood film "Play Misty For Me." He is also remembered for the songs "It Gets Better Every Time," "Dreamy," "Nightwind," and "La Petite Mambo."t's Notice," and "Equinox."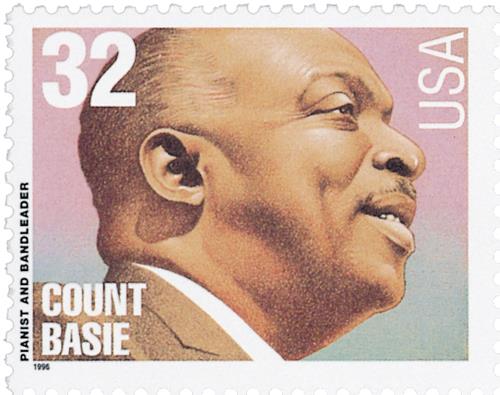 Pianist, composer, and band leader, Count (William) Basie was one of the most popular figures in the "swing" era of jazz. His spare, fluent piano style and loose, informal arrangements earned him a permanent place in jazz history. The "bop" and "cool" styles of jazz were greatly influenced by his rhythmic styling.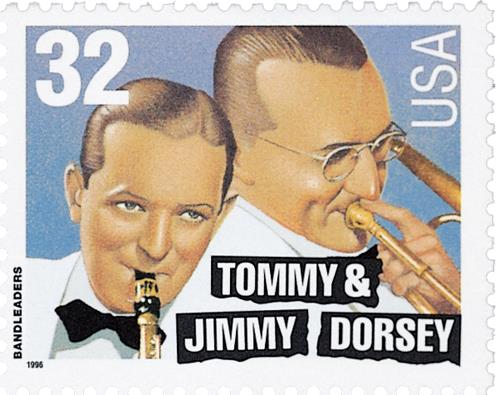 Together and separately, brothers Thomas and James Dorsey led some of America's most popular dance orchestras.  The brothers formed a band together in 1933 featuring such notable musicians as Glenn Miller, Ray McKinley, and Bob Crosby. In 1935 Tommy formed his own; both continued their commercial success. The brothers teamed up to create the motion picture The Fabulous Dorseys in 1947. After peaking in popularity in the early 1940s, Jimmy gave up his band to join Tommy's in 1953.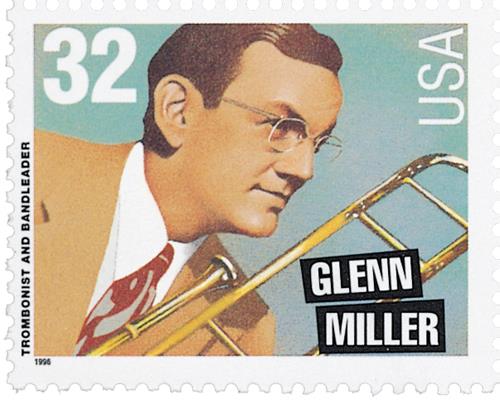 Composer, band leader, arranger, and trombonist, Glenn Miller was, and remains, one of America's most popular musical figures. Miller's band was noted for featuring a distinctive sound developed from the blending of one clarinet with four saxophones. The band played a mix of smooth, danceable ballads and crisp, driving swing numbers.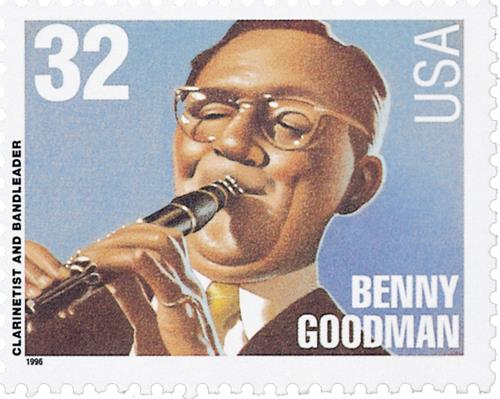 Clarinetist and orchestra leader Benny Goodman was known as the "King of Swing." Swing music, a style of jazz that emphasizes four beats per measure, was especially popular in the mid-1930s to mid-1940s. Starting in 1934 Goodman's bands and combos introduced swing to Americans through ballroom performances, recordings, and radio broadcasts.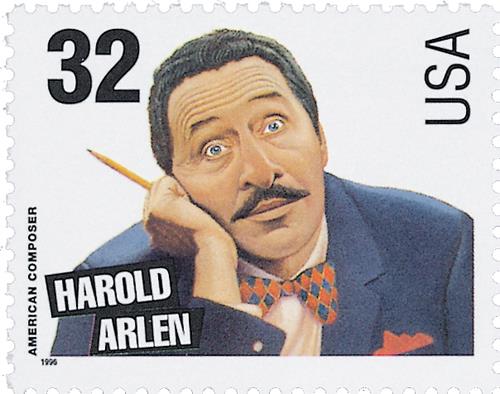 Arlen produced scores for the Broadway musicals You Said It, Life Begins at 8:40, Hooray for What?, Bloomer Girl, St. Louis Woman, and Saratoga. For Hollywood films Arlen wrote, among others, "It's Only a Paper Moon," "Let's Fall in Love," "That Old Black Magic," and Groucho Marx's theme song, "Lydia the Tatoo'd Lady."  Other popular Arlen songs include: "Blues in the Night," "I Love a Parade," and "Stormy Weather." His song "Over the Rainbow," with lyrics by E.Y. Hapburg, was introduced by Judy Garland in the film The Wizard of Oz, and won an Academy Award.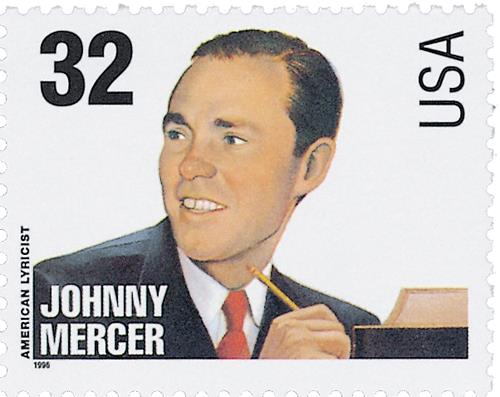 Lyricist, vocalist, and composer John H. Mercer is credited with writing more than 1,000 lyrics.   These include: "Lazy Bones," "Jeepers Creepers," "Hooray for Hollywood," "You Must Have Been a Beautiful Baby," "That Old Black Magic," "Ac-cent-tchu-ate the Positive," "Autumn Leaves," "Charade," and "Satin Doll." Mercer won Academy Awards for his lyrics to "On the Atchinson, Topeka, and the Santa Fe," "In the Cool, Cool, Cool of the Evening," "Days of Wine and Roses," and "Moon River."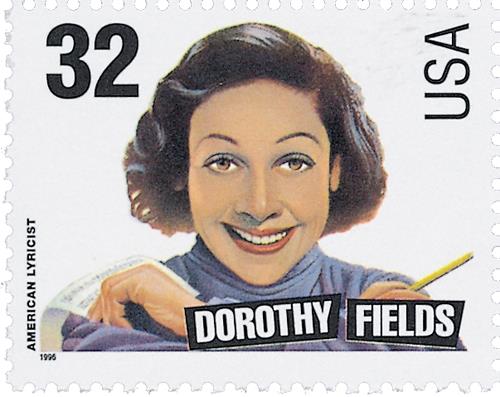 Dorothy Field's gift for creating simple, yet interesting lyrics – which often utilized catchy phrasing – made her one of the most popular lyricists on Broadway. She went on to write the book and/or lyrics for eleven more musicals starring the likes of Ethel Merman (Annie Get Your Gun), Nanette Fabray (Arms and the Girl), Shirley Booth (A Tree Grows in Brooklyn), and Gwen Verdon (Redhead – awarded the Tony in 1959 – and Sweet Charity – the first of her two career-capping shows featuring music by Cy Coleman).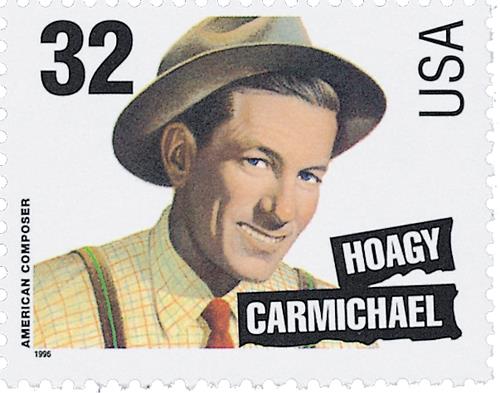 Carmichael began working in Hollywood as a writer and then as a character actor, often portraying a folksy pianist. In Hollywood he wrote the hit songs "Hong Kong Blues," "Two Sleepy People," and "In the Cool, Cool, Cool of the Evening," for which he won an Academy Award in 1951.  His song, "Stardust," is the most recorded song ever.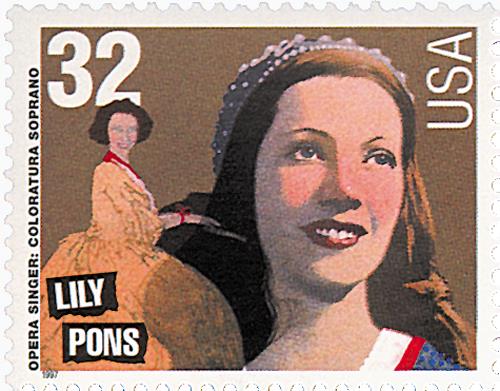 Pons was gifted with an incredible range. In fact, she was the first soprano in 50 years that could sing the highest note (high F) written in the "Bell Song" of the opera Lakmé. She was particularly famous for her coloratura parts (marked by ornamental vocal trills and runs) and her warmth of expression.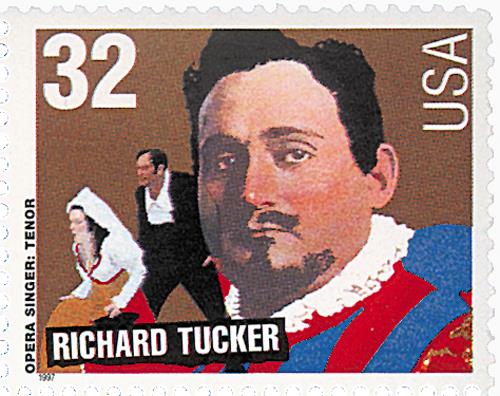 Classified as a tenor (the highest adult male voice), Tucker was a popular performer on radio and television, making a number of critically acclaimed recordings. Before his sudden death during a concert tour, he had sung with most of the leading U.S. opera companies and orchestras. He was also highly praised as a cantor, the religious figure who leads the musical part of a Jewish service.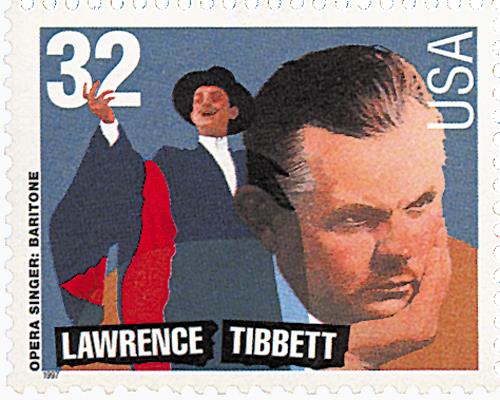 A versatile performer, Tibbett appeared in the musical films The Rogue Song, The New Moon, The Southerner, Cuban Love Song, and Metropolitan. He also performed on Broadway, and was one of America's most popular recital and radio singers.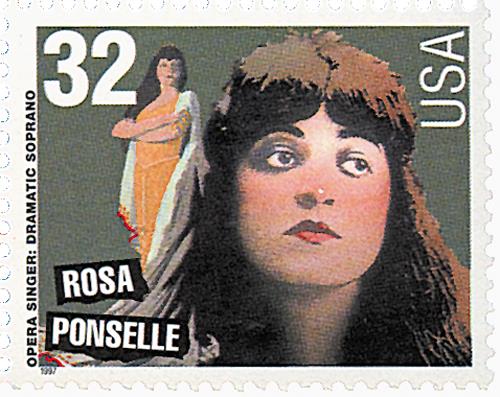 Classified by experts as a coloratura soprano, Ponselle's voice was one of the greatest ever produced by America. It had an extremely rich tone, especially in its lower notes – almost like a contralto (the lowest female voice part). Her most noted performance is considered to be the title role in Vincent Bellini's Norma.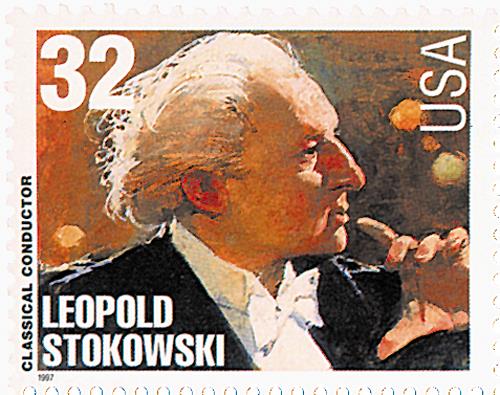 An innovative conductor, Stokowski also studied acoustics and recording techniques, and experimented with the placement of various sections of the orchestra, attempting to improve its range of sound. His refinement ultimately became known as the "Philadelphia" sound. He was also known to change the written orchestration of pieces, which, although often technically brilliant, inspired some controversy.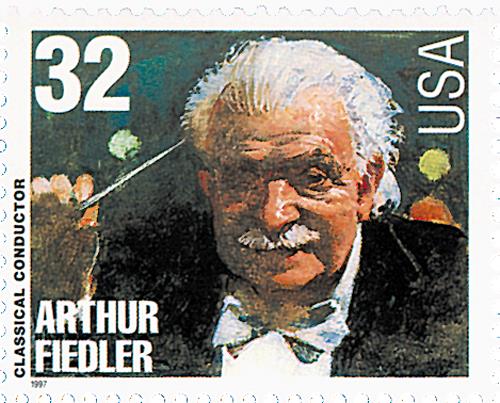 In 1924, Fiedler joined 25 of his fellow players to form the Boston Sinfonietta, later known as the Arthur Fiedler Sinfonietta. In addition to creating greater musical diversity within the city, the ensemble also gave performances in the more remote areas of surrounding states. Starting in 1929 he organized the highly successful Esplanade Concerts in Boston, and a year later he was made conductor of the Boston Pops Orchestra – a position he held for more than 40 years.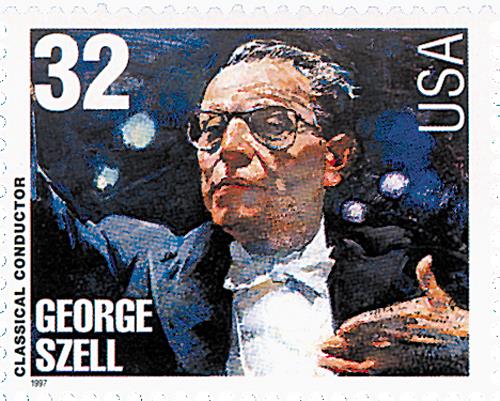 From 1946 until his death, Szell conducted the Cleveland Symphony Orchestra, transforming it into one of the world's greatest orchestras.  Szell demanded precision and clarity from the symphony, using brilliant technique to produce exceptionally powerful music. In fact, his orchestra achieved such incredible balance and clarity that many experts have compared its performances to chamber music.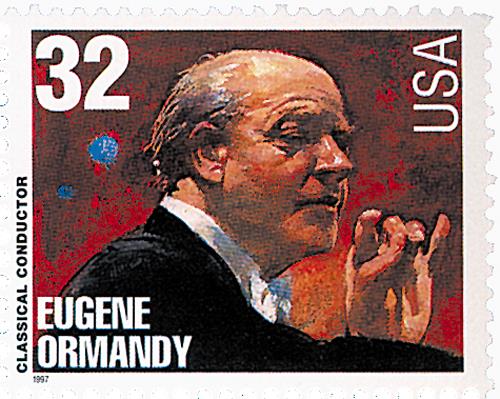 Ormandy specialized in performances of romantic and neo-romantic music. He often emphasized fine string playing and rich, saturated orchestral tones, causing critics to describe his orchestra's sound as "voluptuous."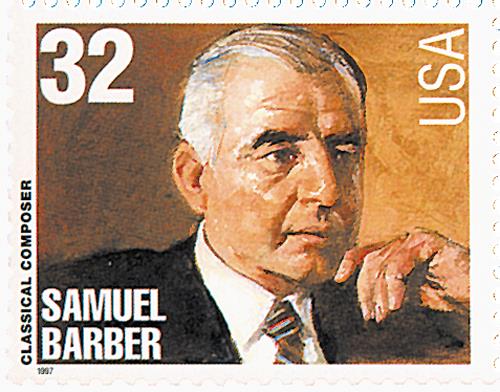 Barber's music was often recognized with awards. He won the 1958 Pulitzer Prize for his four-act opera, Vanessa, and a second Pulitzer in 1962 for his Piano Concerto No. 1. His popular instrumental pieces include The School for Scandal, Capricorn Concerto, and the Concerto for Cello and Orchestra. And Knoxville: Summer of 1915 and Prayers for Kierkegaard are among his popular vocal compositions.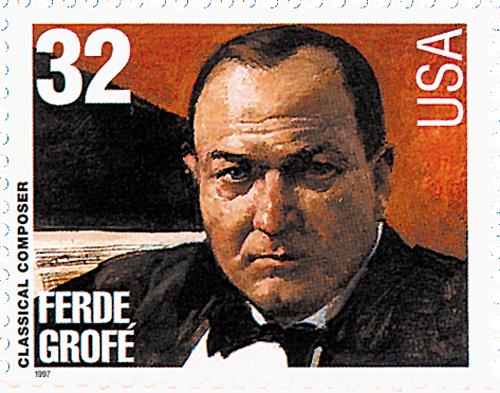 Grofé established his reputation when he scored George Gershwin's Rhapsody in Blue. Soon after, he completed his first original composition, Broadway at Night. This was followed by a series of pieces that celebrated the natural beauty of the United States. His best-known work, Grand Canyon Suite, which was performed by legendary conductor Arturo Toscanini, achieved wide popularity.  Other noted Grofé compositions include The Hudson River Suite, Niagara Falls Suite, and World's Fair Suite. Appearances as a conductor with many American symphony orchestras and in radio broadcasts further enhanced Grofé's popularity.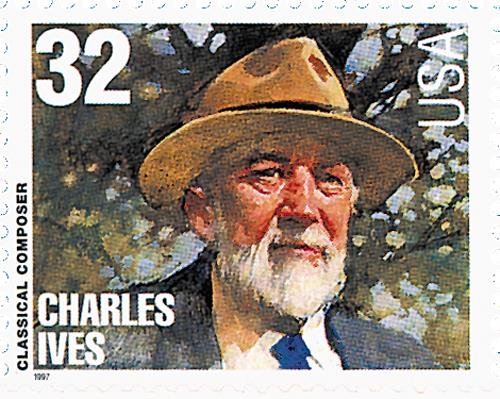 Although Ives composed his most important works from 1896 to 1921, and had pieces performed as early as 1925, he was not widely known until 1939. Many of his works are unconventional, with key and time signatures and bar lines omitted. One of Ives' four symphonies, Symphony No. 3, won the 1947 Pulitzer Prize.  Many of Ives' compositions were based on American folk and popular music, such as ragtime, military marches, patriotic songs, and revival hymns. He also put themes, such as baseball, to music – one of his 27 piano pieces is entitled Some Southpaw Pitching. Some of his music is reminiscent of the circus parades and revival meetings he heard while growing up in Danbury, Connecticut.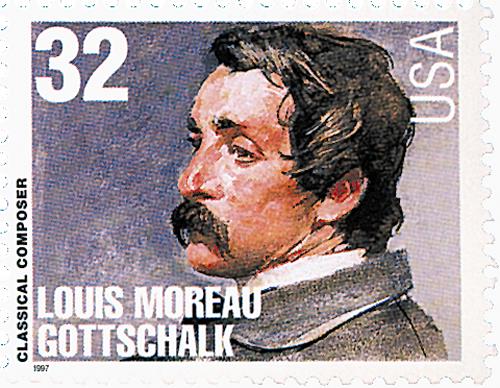 In 1849 Gottschalk made his professional debut. Critics immediately compared him to Chopin, and as a composer he was labeled the first authentic musical spokesman for the New World. Gottschalk was especially known for his piano compositions that included The Dying Poet, The Last Hope, and Morte!!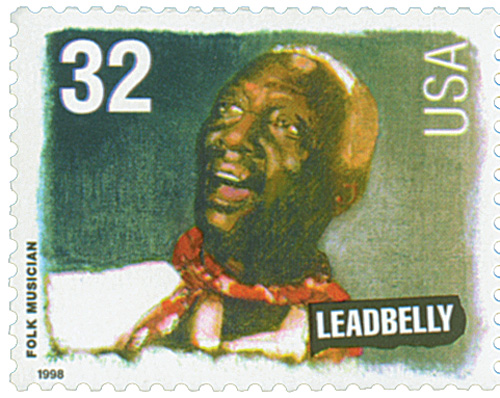 In 1932, Leadbelly was discovered while serving a jail term in Louisiana, when folk song expert Dr. John Lomax asked him to record prison songs. Good behavior got him released in 1934, and he showed up in New York City with a beat-up green guitar, held together by a piece of string. From then on, Leadbelly gave concerts across the country, appearing in nightclubs and concert halls, and on radio networks. One of his most famous songs was "Goodnight Irene."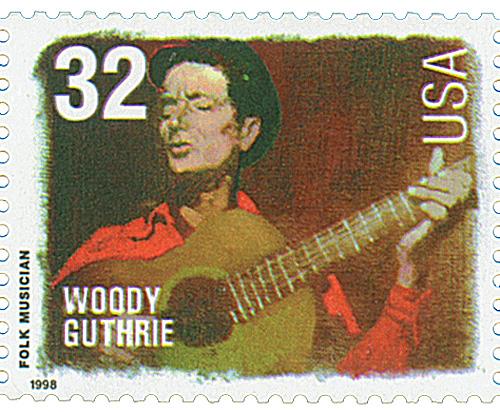 Woody's songs about migrant workers, ordinary people, and America's beauty made him a living legend. Despite his misfortunes, his music expressed a hopeful view of life. Woody's style, which influenced such artists as his son Arlo, and Bob Dylan, earned him a spot in the Rock and Roll Music Hall of Fame.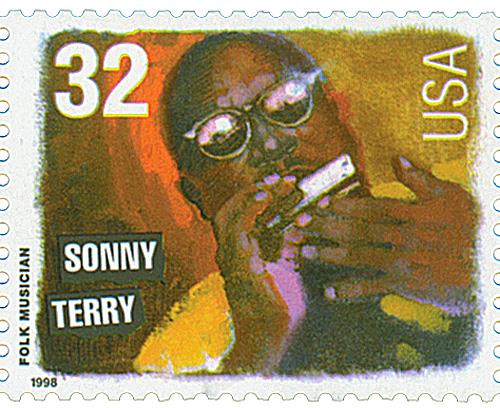 Remembered for furthering the art of harmonica accompaniment, Sonny Terry is famous for the amazing array of sounds he could produce using the instrument. One of his best-known renditions is of the "Fox Chase."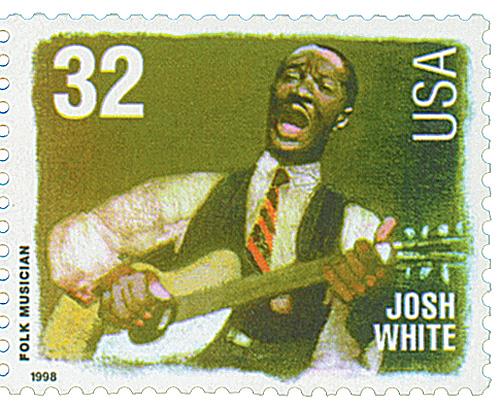 In 1931, Josh moved to New York City to record for ARC Records. He also earned money as a prize fighter. His string of gospel hits began in 1932, soon followed by blues hits he recorded under the name Pinewood Tom.  In 1936, Josh lost the use of his right hand in a fight. Regaining the use of the hand two years later, he soon was starring on Broadway, in films, and major nightclubs. In 1940, President Franklin D. Roosevelt heard Josh's protest records and invited him to become the first black artist to give a White House Command Performance.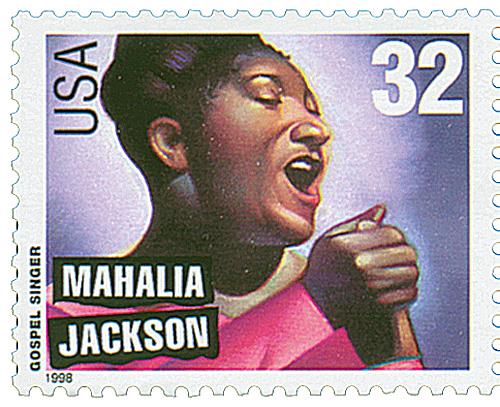 The best-known gospel singer in the world was Mahalia Jackson (1911-1972). She received more acclaim than any other gospel singer, and is said to have been the vocal, physical, and spiritual symbol of religious music.  During the 1960s, Mahalia became associated with politics and the civil rights movement. She performed at the 1961 inauguration of President John F. Kennedy, and was a friend and supporter of Martin Luther King, Jr. He loved her music, and she was devoted to him. She sang at his funeral in 1968.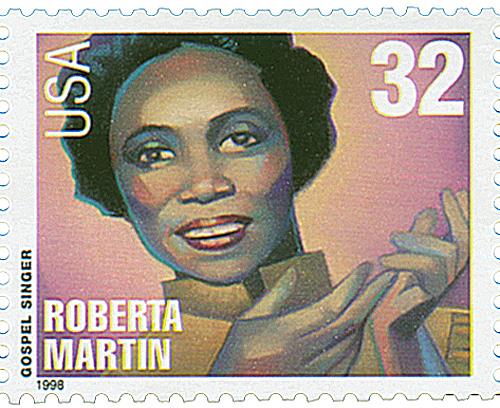 Roberta Martin (1907-1969) was one of the most articulate and influential singers of black American gospel music. A singer, pianist, composer, arranger, and organizer of groups and choirs, Roberta Martin's unique combination of musical elements became the standard for what was known as the gospel era.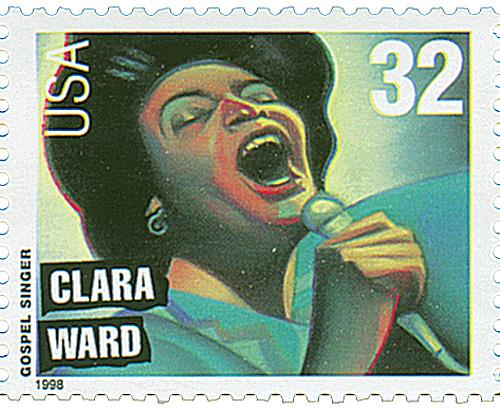 Clara Ward, leader of one of the most popular female gospel groups of the 1950s, was born in 1924 in Philadelphia, Pennsylvania. Her mother, Gertrude Mae Ward, was instrumental in helping Clara become successful. When the singer was young, her mother formed a family group with Clara and her sister Willa, who provided piano accompaniment.  Early in Clara's career, her mother helped organize the Ward Singers, and in 1943, they appeared at the National Gospel Convention. They soon became headline attractions around the country. A group characterized by flamboyance and energy, their biggest hit was "Surely God Is Able."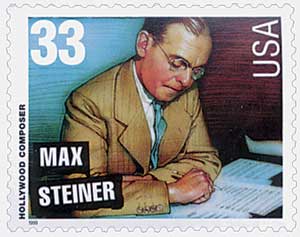 Steiner's compositions were heard in over 300 motion pictures during his more than 30-year musical career. His scores for the films "The Informer" (1935), "Now, Voyager" (1942), and "Since You Went Away" (1944), each earned Steiner an Academy Award.  Steiner was hired by David Selznick to score "Gone With the Wind" (1939). Steiner gave each important character in this epic film their own distinct musical theme. He also worked for Warner Bros., where Steiner composed the music for "Casablanca" (1942) and "Mildred Pierce" (1945).
Russian-born composer Dimitri Tiomkin (1894-1979) made musical contributions to more than 100 film scores during his career.  Tiomkin earned Academy Awards in recognition of the musical scores he composed for "High Noon," "The High and the Mighty" (1954), and "The Old Man and the Sea" (1958). His song "High Noon (Do Not Forsake Me, Oh My Darlin') won Tiomkin an additional 1952 Oscar. He remained active in film until 1970.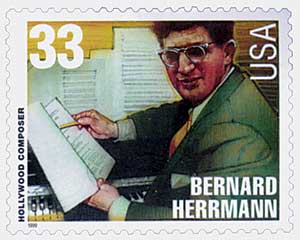 The music Herrmann created for film is known as being unorthodox. He used short, identifiable themes in place of longer melodies. The work he did on many of Alfred Hitchcock's movies won him lasting fame. Herrmann wrote the haunting scores for Hitchcock's "The Man Who Knew Too Much" (1956) and "Vertigo" (1958). The violin "screams" he created for the shower scene in "Psycho" (1960) are still recognizable today.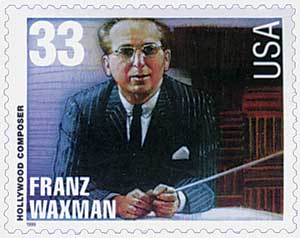 Franz Waxman (1906-1967) composed the scores for 144 films during his 32 years as a Hollywood songwriter.  His music can be heard in the Spencer Tracy movies "Captains Courageous," "Dr. Jekyll and Mr. Hyde," and "Woman of the Year." In 1943 he moved to Warner Bros.  "Sunset Boulevard" earned Waxman an Academy Award in 1950. He won an Oscar again in 1951 for "A Place in the Sun," making him the only composer to win an Academy Award for best film score two years in a row.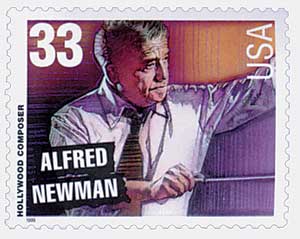 Alfred Newman (1907-1970) was one of the most respected music composers and directors in Hollywood. He was nominated to receive an Academy Award for best music a record 44 times. His nine Oscar wins set a record that is unlikely ever to be broken.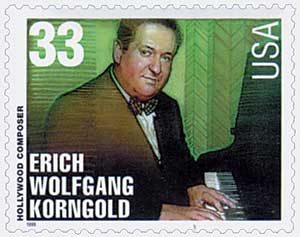 When he was 13, Korngold's opera "The Snowman" became a hit, and the show was performed on the stages of 40 different opera houses over the following years.  The composer's greatest success came in 1920 when his opera "Die Tote Stadt" ("The Dead City") was performed in Germany. After World War II, "Die Tote Stadt" became the first German opera produced by the Metropolitan Opera in New York City.  In 1934, Korngold supervised the scoring of "A Midsummer Night's Dream" for Warner Bros., which was his first work in Hollywood. Korngold scored "Captain Blood," one of Errol Flynn's premier films, in 1935. He later signed a contract with Warner Bros., and won Academy Awards for "Anthony Adverse" (1936), and "The Adventures of Robin Hood" (1938).
George and Ira Gershwin made up one of the most important musical teams in American history. The sons of Russian immigrants, George and Ira's original names were Jacob and Israel Gershvin.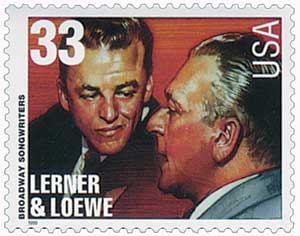 The 1947 production "Brigadoon" gave Lerner and Loewe their first success. Their fifth musical, "My Fair Lady," (1956) was a huge hit. It was based on George Bernard Shaw's "Pygmalion." "My Fair Lady" was translated into 11 languages, performed in over 20 countries, and had the longest original run of any musical in New York City or London. In 1964, a film version of the show was released. It won eight Academy Awards.  Lerner and Loewe's work "Gigi" (1958) was created directly for film. It received nine Academy Awards.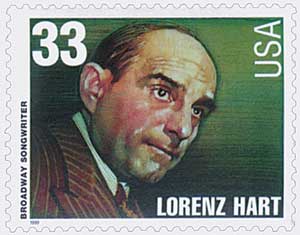 Lorenz Hart (1895-1943) created the lyrics to some of the greatest popular songs. He became famous for the songs that he and Richard Rodgers wrote for musical comedies. Their 25-year partnership produced over 1,000 songs, including "With a Song in My Heart," "The Lady is a Tramp," and "My Funny Valentine."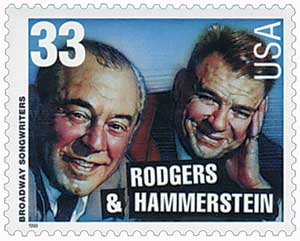 Rodgers and Hammerstein's 17-year relationship produced such songs as "I'm Gonna Wash That Man Right Outa My Hair," "The Surrey With the Fringe on Top," and "Oh, What A Beautiful Mornin'." Their three other successful musicals were "Carousel" (1945), "The King and I" (1951), and "The Sound of Music" (1959), which was their last show.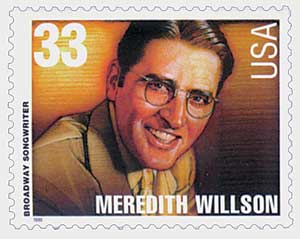 Meredith Willson (1902-1984) distinguished himself as a writer of symphonic works and popular songs. He earned lasting fame for his series of Broadway hits, especially "The Music Man" (1957). The idea for the show began in 1949, when he was reminiscing with friends about his childhood years in Mason City, Iowa.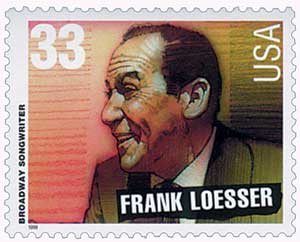 Frank Loesser (1910-1969) was one of Broadway's best composers, lyricists, and producers.  While serving with the Army during World War II, Loesser had a hit with the song "Praise the Lord and Pass the Ammunition." After he returned home, Loesser wrote the music and lyrics for "Where's Charley?" which opened in 1948 and ran for nearly 800 performances.  The lyricist's next undertaking was  "Guys and Dolls" (1950). Ranked as one of the finest in history, the musical was performed over 1,200 times in its original run on Broadway. Loesser's successful musical career culminated with his blockbusting satire, "How To Succeed in Business Without Really Trying" (1961). He received the Pulitzer Prize in 1962 for the show.
The popular Legends of American Music series ended in 1999.  A new series, which honors icons of our nation's music industry, began in 2012.