Legends of Hollywood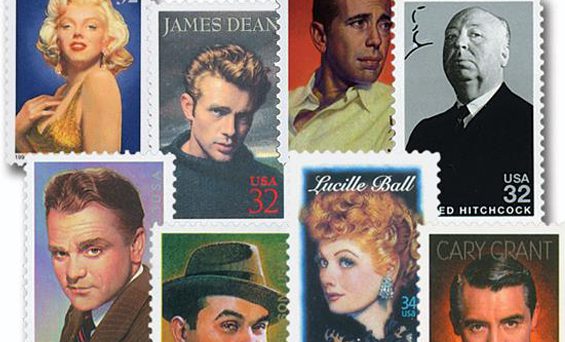 In 1995, the USPS introduced a new stamp series honoring "famous Golden-Age film stars whose performances electrified the big screen and enamored the public."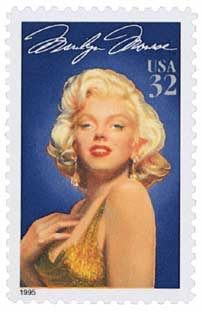 Monroe starred in such box office hits as Gentlemen Prefer Blondes, Some Like It Hot, and The Seven Year Itch. Not content to be seen as merely a typical blonde however, she strived to gain recognition for her acting ability as well. After studying under Lee Strasburg at the Actors Studio in New York City, she returned to Hollywood to star in more serious films, such as Bus Stop and The Misfits.
In 1962, her tragic death at age 36 caused worldwide shock. But today, more than 30 years after her death, the legend of Marilyn Monroe refuses to die. With her rare combination of allure and vulnerability she continues to captivate audiences around the world – forever epitomizing the glamour of Hollywood's golden age.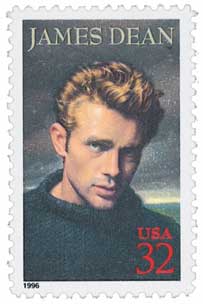 Famous for his intense, brooding portrayals of rebellious young men, James Dean became a symbol for a generation of restless youths defying the social conformity they perceived as oppressive. Despite a film career that encompassed only three feature roles, he remains an idol today, as much for his rebellious character as for his acting ability.
Dean's sensitive interpretations of his characters in the films East of Eden, Giant, and the legendary Rebel Without a Cause, established him as the personification of youthful frustration and made him the cult object of young Americans. His sudden death in an automobile accident before the release of Giant caused nationwide mourning and further contributed to his idolization.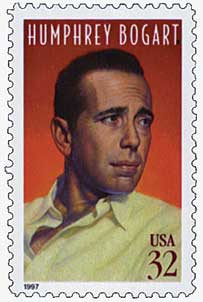 Humphrey Bogart was one of the few individuals able to transcend the silver screen to become a true legend. His rugged good looks, husky voice, and gruff, yet sensitive attitude earned him worldwide recognition and made him one of the most distinctive leading men of film's Golden Age.
Humphrey DeForest Bogart began his theatrical career following World War I. But it wasn't until 1936 that he achieved fame with his portrayal of gangster Duke Mantee in the film The Petrified Forest – a role he had also played on Broadway. The ideal tough guy, Bogart went on to portray gangsters in several other notable films during the late 1930s.
In 1941 his role as detective Sam Spade in The Maltese Falcon gave him a new image and proved his versatility as an actor. A top box-office attraction, Bogart starred in a number of well-known films, including Key Largo (1948) and the Academy Award-winning The African Queen (1951). But his most popular role by far was that of nightclub owner Rick Blaine in Casablanca (1943).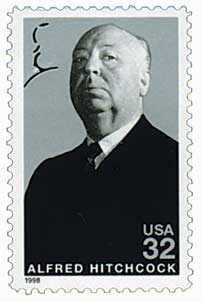 Master of the thriller film, Alfred Joseph Hitchcock (1899-1980) directed more than 50 motion pictures during his career. Through the years, he became as popular as those who starred in his suspenseful movies. A brilliant technician who incorporated humor into his films, Hitchcock's influence on younger movie producers was unmatched.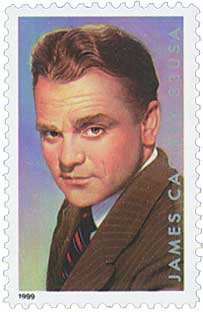 With his unique blend of conceit and charm, James Cagney (1899-1986) was Hollywood's greatest "tough guy." The son of an Irish bartender, Cagney grew up in the rough lower east side of New York City. He toured the vaudeville circuit in the 1920s, and appeared on Broadway. In 1931, he earned fame as a wisecracking criminal in "The Public Enemy." The scene in which Cagney shoved a grapefruit into the face of his co-star Mae Clark was one of film's most memorable moments.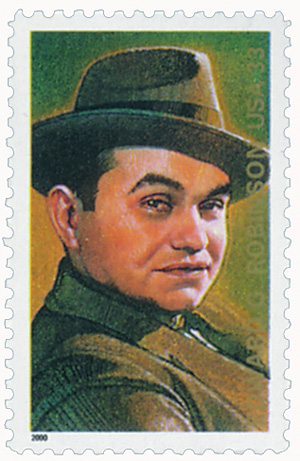 The sixth subject honored in the Legends of Hollywood series, Edward G. Robinson established the style with which actors portrayed the American gangster. He played a variety of characters in the over 100 films he made in his career. He also spoke 11 languages and was devoted to the arts.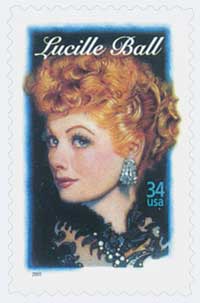 Star and first lady of comedy, Lucille Ball graces the seventh stamp in the Legends of Hollywood Series. She is best remembered for her enormously successful comedy series, "I Love Lucy," in which she played opposite her husband, Desi Arnaz. Attractive and vivacious, Lucille Ball generated laughter that still echoes today.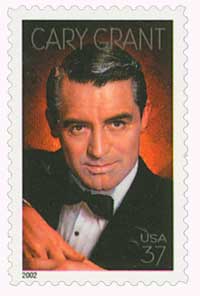 Although he excelled in drama and suspense, Cary Grant was best known for playing a funny, sophisticated, romantic, witty, debonair gentleman. The Cary Grant stamp is the eighth in the Legends of Hollywood Series.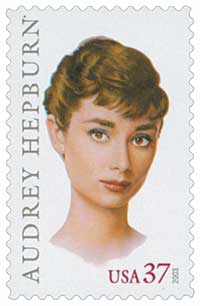 Lovely, graceful star of Hollywood films of the 1950s and 1960s, Audrey Hepburn (1929-93) worked opposite some of Hollywood's most famous leading men – Humphrey Bogart, Fred Astaire, Cary Grant, and Rex Harrison. The ninth honoree of the Legends of Hollywood Series, she headlined in romantic comedies and thrillers, like "Sabrina," "Breakfast at Tiffany's," and "Wait Until Dark."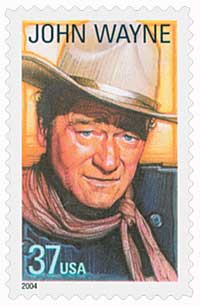 Wayne (1907-79) was a leading Hollywood star for nearly half a century. Born Marion Robert Morrison, Wayne's first starring role was in the 1930 film The Big Trail, Hollywood's first epic Western sound motion picture.  Nine years later, Wayne became a major star with the film Stagecoach. Wayne played the male lead role in 142 of 153 films, setting an industry record.   Wayne was awarded an Academy Award for his role in the 1968 hit True Grit. President Jimmy Carter awarded the legendary actor the Presidential Medal of Freedom in 1980.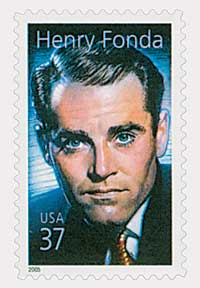 Henry Fonda appeared in more than 80 films. He is well-remembered for his work in The Grapes of Wrath, The Ox-Bow Incident, and Twelve Angry Men. He won an Academy Award for On Golden Pond, in which he starred with his daughter, Jane, and Katharine Hepburn.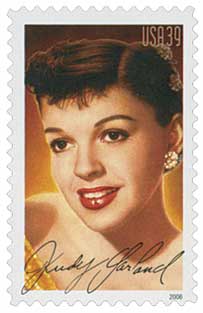 The teenage Garland won a special Oscar for her portrayal of Dorothy in The Wizard of Oz (1939). She starred in several other musicals and in the Andy Hardy film series with Mickey Rooney.  Garland left MGM in 1950 for a successful concert career, giving over 1,100 performances. She returned to films in A Star is Born (1954). Her role in that movie earned her an Academy Award nomination.  Famous for her husky, trembling singing voice, Judy Garland is the twelfth honoree in the United States Postal Service's Legends of Hollywood Series.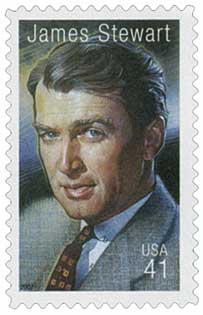 Stewart projected an all-American-boy image – rural, righteous, idealistic, always ready to defend the underdog. The actor's unique, hesitating style made his characters natural and believable. Stewart left America a legacy of more than fifty years of memorable performances.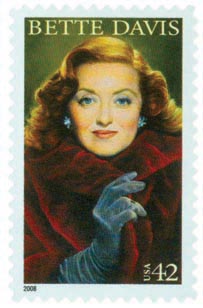 Born Ruth Elizabeth Davis (1908-1989) in Lowell, Massachusetts, Bette studied acting at the John Murray Anderson Dramatic School in New York City.  She began her career on Broadway in 1929, but was hired by Universal Studios and moved to Hollywood the following year.  Davis appeared in over 100 films, and was the first actress to receive ten Academy Award nominations.  She won Oscars for Best Actress in 1935 for Dangerous, and for Jezebel in 1938.  Other honors include being elected the first female president of the American Academy of Motion Picture Arts and Sciences.  She was also the first female to receive the American Film Institute's highest honor, the Lifetime Achievement Award.  Bette once described herself as "uncompromising, peppery, infractible, monomaniacal, tactless, volatile and ofttimes disagreeable.  I suppose I'm larger than life."  This toughness helped her build a successful career that lasted well into her late 70s.  Her final role was in The Whales of August in 1987.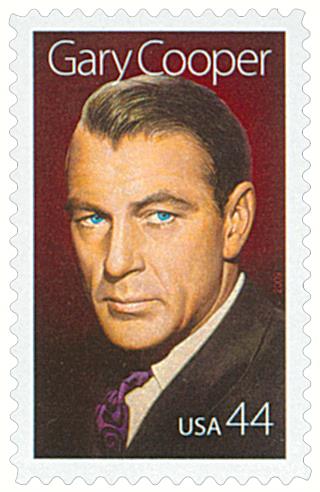 Cooper was known for playing characters with strong principles, such as decorated World War I hero Alvin York, and a lone, aging sheriff fighting four outlaws.  Cooper's performance was so memorable that, according to daughter Maria Cooper Janis, "His iconic image in High Noon was selected to be the Solidarity poster for Polish Democracy."  Cooper is regarded as one of Hollywood's all-time leading actors, winning two Oscars for Best Actor.  He was ranked 11th "Top Male Star" by the American Film Institute.  Cooper died in 1961, just one month after winning a Lifetime Achievement Oscar.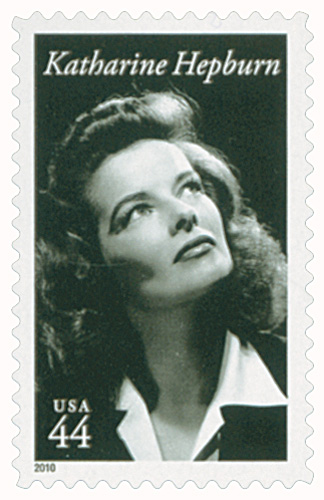 Hepburn (1907-2003) won a record four Academy Awards and was named the greatest female star in the history of American cinema by the American Film Institute.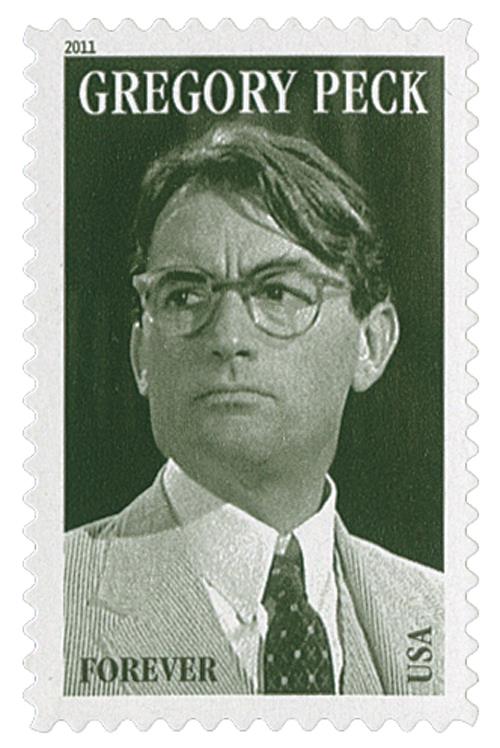 Peck's first film, Days of Glory, was released in 1944. He received four Oscar nominations for Best Actor in the next five years before winning the award for his role as Atticus Finch in To Kill a Mockingbird. Released at the height of the civil rights movement in 1962, the film's theme of justice and tolerance was popular with theatergoers. The movie was Peck's favorite and Atticus was named the top film hero of the past 100 years by the American Film Institute.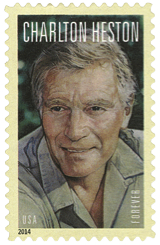 Charlton Heston (1923-2008) appeared in 100 films in a career that spanned over sixty years. Known for portraying strong masculine roles in sprawling blockbuster movies, Heston also held deep convictions and was an outspoken political activist.
Over four decades, Ingrid Bergman (1915-82) performed on both stage and screen, amassing four Golden Globes, three Academy Awards, two Emmys, and a Tony.  She acted in over 50 films in five different languages.  Ingrid Bergman is, and forever will be, remembered as one of the most accomplished actresses of the 20th century.
Shirley Temple (1928-2014) was a seasoned actor by the time most children start school. She made her film debut when she was only three.  During the Depression, Temple's smile and optimism brought some sunshine to a weary nation. In 1935, she won the first Juvenile Oscar for her 1934 films.  In the 1960s Temple embarked on a new career as a diplomat.