National Parks Centennial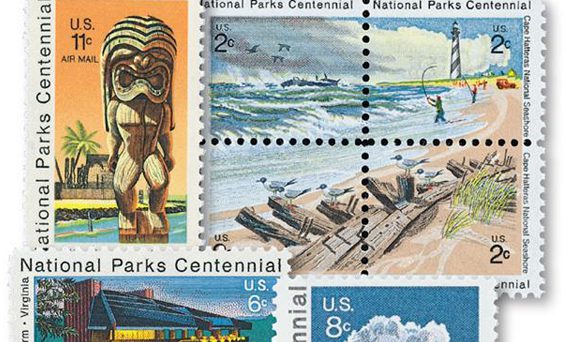 In 1972, a stamp series was issued to commemorate the 100th anniversary of America's National Parks program.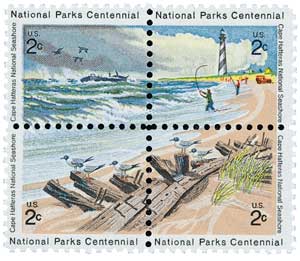 This issue was unique in that it combined four stamps in a block that contained one overall design (U.S. #1448-51). Cape Hatteras National Seashore is pictured. That area contains some of the earliest sites of English colonial settlement. Located along North Carolina's Outer Banks, the shores are home to thousands of waterfowl and have become the final stop for sections of ships that have been wrecked on the shoals.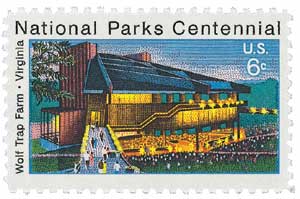 Wolf Trap Farm is the only National Park dedicated exclusively to the performing arts. Located in Vienna, Virginia, Wolf Trap Farm consists of two separate facilities, the Barns and the Filene Center. These facilities are home to various musical performances, such as the Wolf Trap Opera Company. Wolf Trap Farm became a national park in 1966; it held its first season in 1971.  The scenery at Wolf Trap Farm is as impressive as the performances. The 130 rolling acres are home to a large variety of wildlife as well as an abundance of natural resources.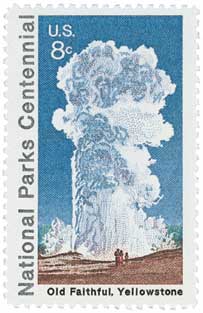 Yellowstone National Park has the proud distinction of being the oldest national park in the world. The vast majority of Yellowstone lies in Wyoming, although it stretches into Idaho and Montana. This gigantic park covers 2,200,000 acres, which include deep canyons, majestic waterfalls, pristine lakes, dense forests, and vast meadows.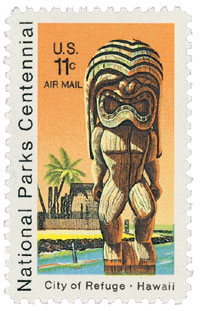 This stamp commemorates the 100th anniversary of National Parks and honors the City of Refuge, a National Historic Park established in 1961 at Honaunau, island of Hawaii. The City of Refuge contains the platforms of three temples and the remains of dwellings of great chiefs. The stamp design features the old Hawaiian god "Kii," who protected those who broke taboo customs by enabling them to obtain purification from temple priests.