North Korea Stamp News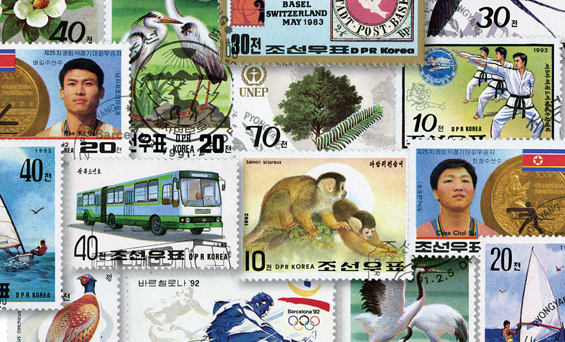 Stamp Collecting Makes Headlines as U.S.-North Korea Tensions Mount
Mystic and its stamp collectors are unfairly caught up in international politics. The problem stems from an embargo on North Korea stamps that began over 60 years ago. There is good news, though – the general media is covering part of the story, which is good for our hobby.
National Public Radio (NPR) recently interviewed Mystic President Don Sundman about the embargo's impact on stamp collecting, and a magazine published in Great Britain is writing an article about it. More coverage is likely.
The embargo dates back to 1950 and the Korean War. Under the terms of the 1917 Trading with the Enemy Act, Americans were prohibited from doing business directly or indirectly with North Korea, including buying postage stamps. The embargo continued until 1999, when sanctions were eased during the Clinton administration.
Stamps are tiny windows into cultures and a great way to learn about secretive nations like North Korea. They are also seldom seen, which makes them even more appealing. On behalf of its collectors, Mystic applied for the necessary license to import North Korea stamps. Permission was given by the Treasury Department in 2000. The stamps were popular with Mystic's collectors, so permission was asked for and granted a few more times as the license expired.
In 2010, Mystic renewed the license to deal in North Korea stamps, but this time the permission was only granted for one year (previously, it had been valid for several years.)
In July 2011, Mystic again applied for what appeared to be a routine renewal. A year passed before it learned from the Treasury Department that the request had been denied. A request for information on the appeal process went unanswered.
New York Senator Kristine Gillibrand was contacted by Mystic in the fall of 2012 and asked to investigate. In January 2013, she forwarded a copy of a letter she'd received in response to her inquiry. It turns out the Treasury Department must coordinate these requests with the Departments of State and Defense. Those two departments had never acted on the application, so the Treasury Department simply denied the request.
Mystic and our stamp collectors are victims of international politics and governmental red tape. Denying collectors the chance to collect North Korea stamps doesn't ease U.S.-North Korea tensions. Instead, it prevents Mystic's collectors from enjoying their hobby and interferes in business during a challenging economy.
The bright note – due to the media coverage, more people are becoming aware of stamp collecting and its rewards. Look for further updates on this developing story.