Performing Arts Series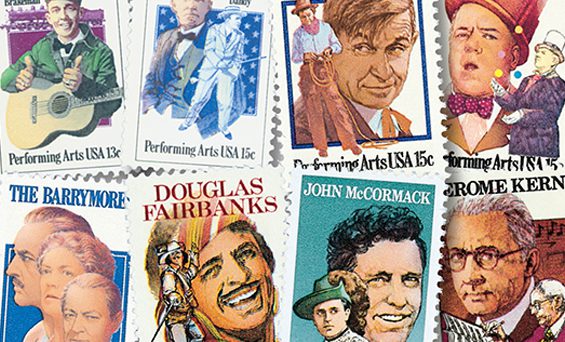 The Performing Arts Series began in 1978 with the issuance of two commemorative stamps. The Jimmy Rodgers stamp was released on May 24 and the George Cohen stamp on July 3.  Although they were issued only a few weeks apart, a rate increase on May 29, 1978, resulted in a 13-cent Jimmy Rodgers stamps and a 15-cent George Cohen stamp.  The Performing Arts Series was designed by Jim Sharp (except the John McCormack stamp, which was designed by Sharp and Ron Mercer.)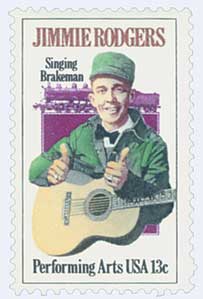 Country music legend Jimmie Rodgers is honored with this issue. Called the "Father of Country Music," Rodgers was the first person ever inducted into the Country Music Hall of Fame. First Day ceremonies for this stamp were held during the annual Jimmie Rodgers Festival, in Rodgers' hometown of Meridian, Mississippi.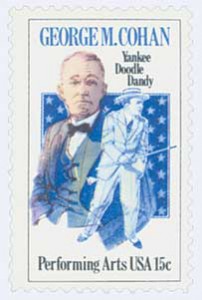 Marks the 100th anniversary of the birth of this American actor and popular songwriter, playwright, producer, and director. Cohan wrote "Yankee Doodle Dandy" and was awarded a special Congressional Medal of Honor for his patriotic songs.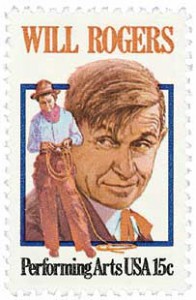 This stamp commemorates the 100th anniversary of the birth of Will Rogers, America's cowboy philosopher. Rogers' homespun humor and political wit earned him a weekly column, a series of books, and success as an actor.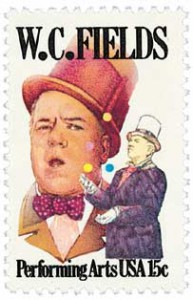 W.C. Fields (1880-1946) ran away from home at age 11, and by age 14 had a successful vaudeville career. From 1915-21, he performed a juggling act on Broadway in the Ziegfield Follies. In 1915, Fields starred in a silent film, but did not win fame until the advent of sound films. By 1931, he had moved to Hollywood, where he began writing, directing, and starring in films.  Fields starred in "The Old-Fashioned Way," "It's a Gift," "David Copperfield," "You Can't Cheat an Honest Man," "My Little Chickadee," and "Never Give a Sucker an Even Break."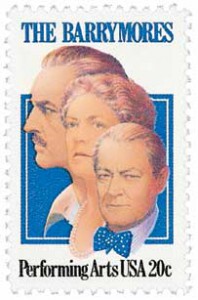 Fifth in the Performing Arts Series, this stamp honors the Barrymore family and the contribution they have made to the entertainment industry for the last 100 years.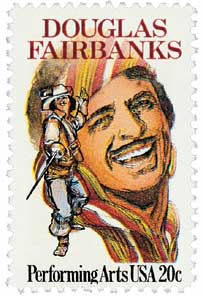 Known for his dashing, swashbuckling roles, Douglas Fairbanks is also responsible for forming United Artists with Charlie Chaplin, D.W. Griffith, and Mary Pickford. Together, they maintained a high standard of excellence in the motion picture industry – giving it status as a unique art form.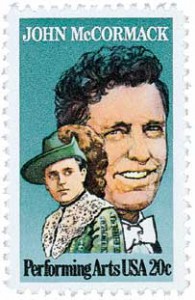 To commemorate the 100th birth anniversary of this Irish-American tenor, Ireland joined the U.S. in a joint issue of this stamp.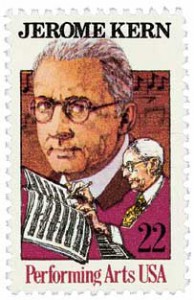 Jerome Kern has been called the "King of the American Musical Stage." He composed over 1,000 songs and 108 theatrical scores, including Showboat. He was twice the recipient of an Academy Award for music. Among his most memorable compositions are "Ol' Man River," "The Way You Look Tonight" and "Smoke Gets in Your Eyes."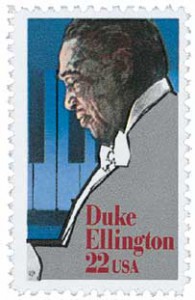 This stamp honors popular jazz pianist, composer, and band leader Duke Ellington (1899-1974).  Edward Kennedy "Duke" Ellington wrote more than 6,000 songs during his long career, including "Satin Doll" and "Sophisticated Lady." Ellington was hailed by some as the greatest composer American society has ever produced.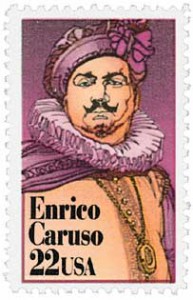 One of the greatest operatic tenors of all time, Enrico Caruso was the most famous member of the Metropolitan Opera's company of performers. He mastered at least 67 opera roles and had a repertoire of 500 songs.
Arturo Toscanini (1867-1957) made his conducting debut at 19, when he filled in as a last-minute replacement, and directed Verdi's "Aida" from memory. In 1908, he became music director for the New York Metropolitan Opera, and for 17 years was in charge of the NBC Symphony. Toscanini is widely considered to be one of the greatest conductors of the 20th century.
One of America's most-beloved songwriters, Cole Porter was born in Peru, Indiana. He was known for his witty lyrics and imaginative melodies. Porter's most popular songs include "Begin the Beguine," "Night and Day," "I've Got You Under My Skin," and "You're the Top." He also wrote many popular musicals, including Fifty Million Frenchmen, Kiss Me Kate, Can-Can, and Anything Goes.