Special Event Covers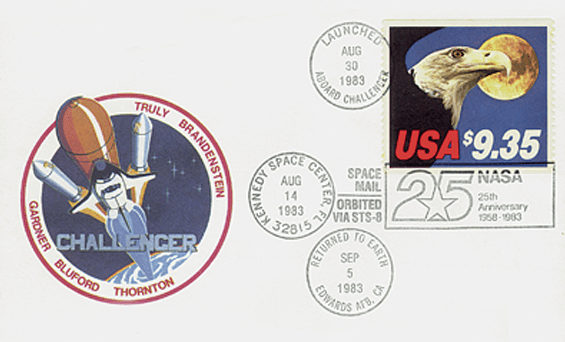 Chances are you're familiar with First Day Covers, which feature a newly-issued stamp, an official cancellation marking the issue date and often artwork that complements the stamp design. But Special Event Covers are also fun to collect. Often overlooked, these are important souvenirs of special moments in history that complement your stamp collection nicely.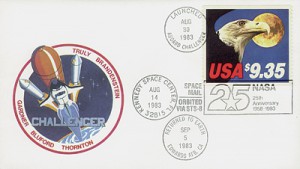 Special Event Covers are limited editions, created and cancelled to mark occasions ranging from stamp shows to Space Shuttle flights, like the one pictured here. The cover to the right was carried aboard the Challenger's STS-8 mission. It bears the 1983 $9.35 Express Main stamp and a color cachet picturing the mission's official patch. The cover was postmarked on August 14, 1983, at Kennedy Space Center to commemorate the shuttle's official launch.
Take-off was delayed, however, until the 30th of that month. A second cancellation was added on that date, along with a third postmark on September 5th to mark the return to Earth. Additional markings commemorate NASA's 25th anniversary. This cover is also a direct connection to three historic landmarks – STS-8 was NASA's first night launch, its first night landing, and the first space flight by an African American astronaut, Guion Bluford.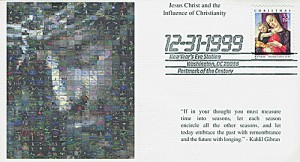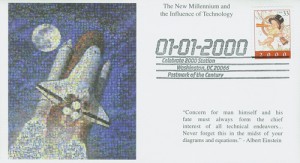 This set of two Special Event covers marked the end of one millenium and the dawn of the next, showing another neat way to combine stamp collecting and history. One cover was postmarked December 31, 1999, at New Year's Eve Station. The second cover was cancelled January 1, 2000, at Celebrate 2000 Station. Notice how the cachets complement the stamp design and the cancellation's type fits the topic.
Even sporting events like the World Series and the Iditarod make great topics for Special Event covers. The 2010 Iditarod Race cover pictured below was personally autographed by DeeDee Jonrowe, the world's most celebrated female musher.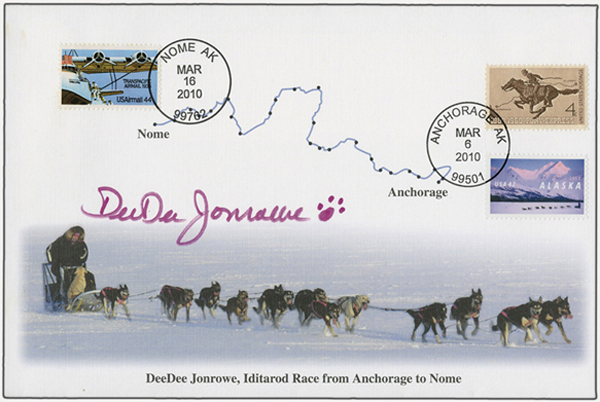 The cover bears the Alaska Statehood, Pony Express and Transpacific Airmail stamps plus a map of the route and cancellations marking the beginning and end of the 2010 race. Only 100 Iditarod covers were autographed and carried by Jonrow as she braved the grueling 1,049-mile race across Alaska, fighting bitter cold and the elements.
Like stamp collecting in general, prices for Special Event covers range greatly. But supply and demand has less of an impact on the cost of these covers – even though they're created in small numbers and can never be reproduced, many of these scarce covers can be purchased for just a few dollars.