The Story Behind the U.S. #21 Combination Block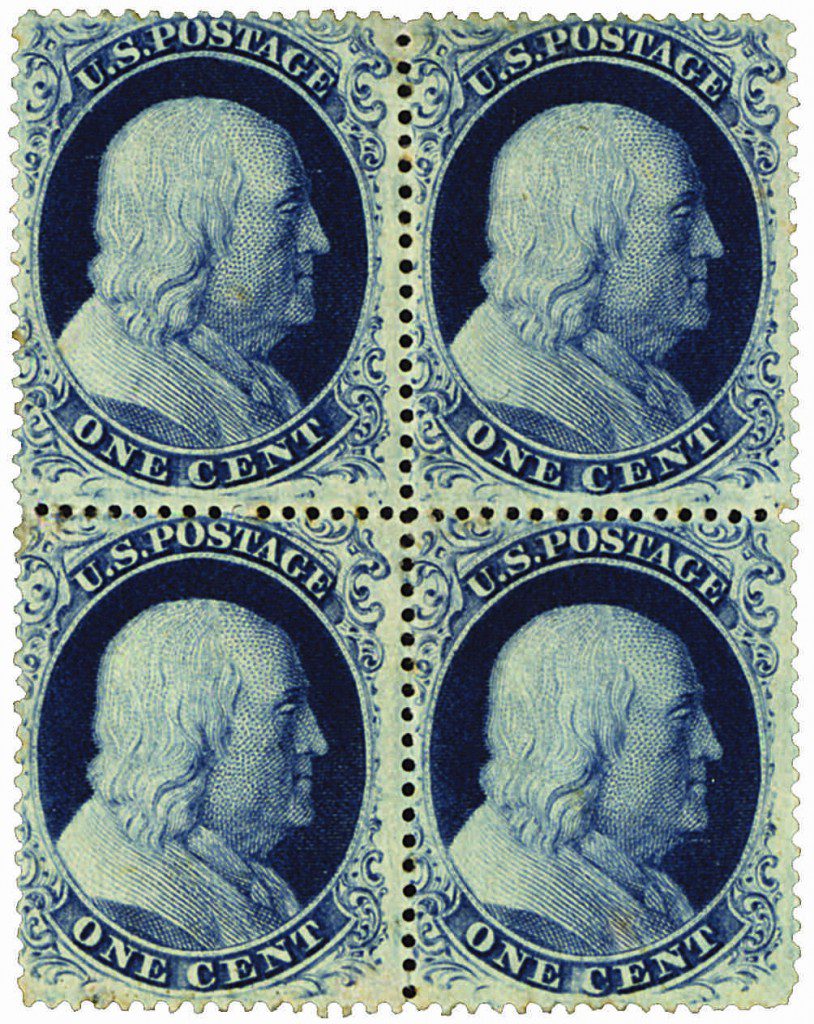 One of the few remaining multiples of U.S. #21
Mystic recently purchased one of the last remaining multiples of the scarce Series of 1857-61 1¢ Franklin Type III stamps.  This combination block features three U.S. #21 stamps plus a Type IIIa Franklin (U.S. #22).  In addition to its scarcity, this block is noteworthy for it's very fine appearance.  It also demonstrates how the two types were produced side-by-side on the same stamp sheet.  And while its Scott Catalogue value is over $62,000, our special purchase allows Mystic to offer it for only $19,500.
Maybe you're asking yourself "So what's the difference between U.S. #21 and #22?"  It's all in the outer frame surrounding Franklin (above "U.S. Postage" and continuing below "One Cent).  The side ornaments are complete on both.  The Type IIIa stamp – U.S. #22 – has either the top or bottom lines broken.
While it's relatively scarce, the Type IIIa stamp is much more common than the Type III U.S. #21, which has both the top and bottom lines broken.  These broken lines were caused by gradual wearing on the plate.
Interestingly, the 1857 1¢ Franklin was first issued in imperforate form.  Whole sheets of the stamp were removed from the stack from top to bottom.  The sheets at the top – which had been printed last – bore more Type III stamps due to wear.  When the decision was made to perforate the remaining stamps, those sheets that were left in the stack had been printed earlier and had less wear, resulting in fewer Type III stamps.  That explains why U.S. #21 is so scarce compared to other 1857 1¢ Franklin types.