Transportation Series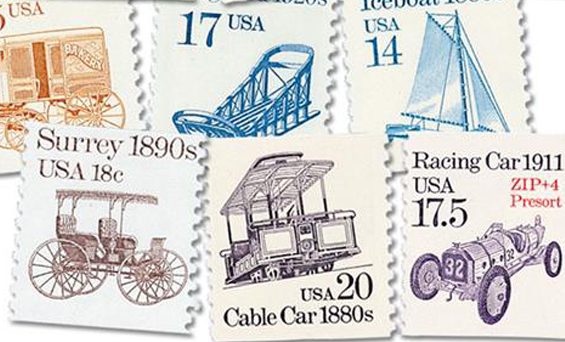 A ground-breaking stamp was quietly issued on May 18, 1981. For the first time in U.S. history, a coil stamp featured its own unique design rather than simply copying that of the current definitive stamp. Fifty more coil stamps would be issued over the course of the next 15 years, each picturing a different mode of transportation.
The various denominations provided face values to exactly match the rates for several categories of Third Class mail (bulk rate and quanity-discounted mail). As the rates changed, new stamps with new values were added. Never before had a stamp series included so many fractional cent values.
Most of the stamps in the Transportation Series were printed by the Bureau of Engraving and Printing, although a few were printed by private contractors. All but a few of the later stamps were produced by engraved intaglio. Differences in precancels, tagging, paper and gum provide a large number of varieties.
U.S. #2225 features the same design as U.S. #1897. This re-engraved version has a larger numeral "1", while the central design was made smaller. The "USA" came after the value instead of preceding it, and the cent mark entirely disappeared.  On the Locomotive stamp, the numeral "2" was enlarged to twice its original size.  The cent sign was eliminated and the "USA" was moved behind the numerical value, changing the "USA 2¢" to "2 USA."  The Stagecoach design retained the cent sign and kept the "USA" in front of the denomination.  However, the stagecoach design and lettering were made smaller.
Although a reissue of the gravure coil stamp of 1992, this 5¢ Circus Wagon stamp bears several distinct design changes. While the original stamp's denomination used a zero to indicate that it was a cent value, the new stamp uses a cent sign. Like the other 1995 stamps, this issue also has the year printed at the bottom of its design. A plate number appears on the front of every 14th stamp, while "counting" numbers, another new addition, appear on the back of every 10th stamp.