Ukraine Postage Stamp Sends Clear Message to Russia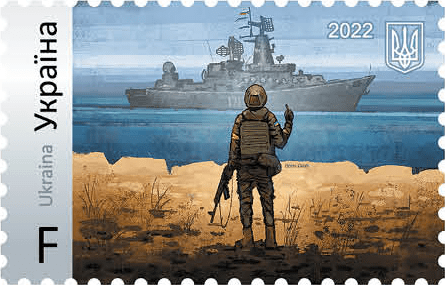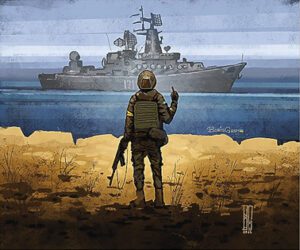 On April 12, 2022, Ukraine made big waves in the news with a new postage stamp picturing a Snake Island soldier flipping a Russian warship the bird.  It was Ukraine's first postage stamp in wartime conditions and quickly drew the attention of collectors and non-collectors alike.  In fact, the stamp went viral online with millions of people across the globe posting about it on social media.
The stamp designs were chosen from entries submitted to a contest hosted by Ukrposhta (Ukraine's postal service) with the theme "Russian warship go f*** yourself."  This theme was based on the famous radio exchange between 13 Ukrainian soldiers (including a marine named Roman Grybov) and Russian warships attacking Snake Island on February 24, 2022.  When the Russian warships demanded the island surrender, Grybov and his comrades reportedly replied, "Russian warship, go f*** yourself."  The island was then attacked and the defenders were thought to have died, but later information revealed they had been taken prisoner instead.  All 13 men were later freed in a prisoner exchange between Ukraine and Russia.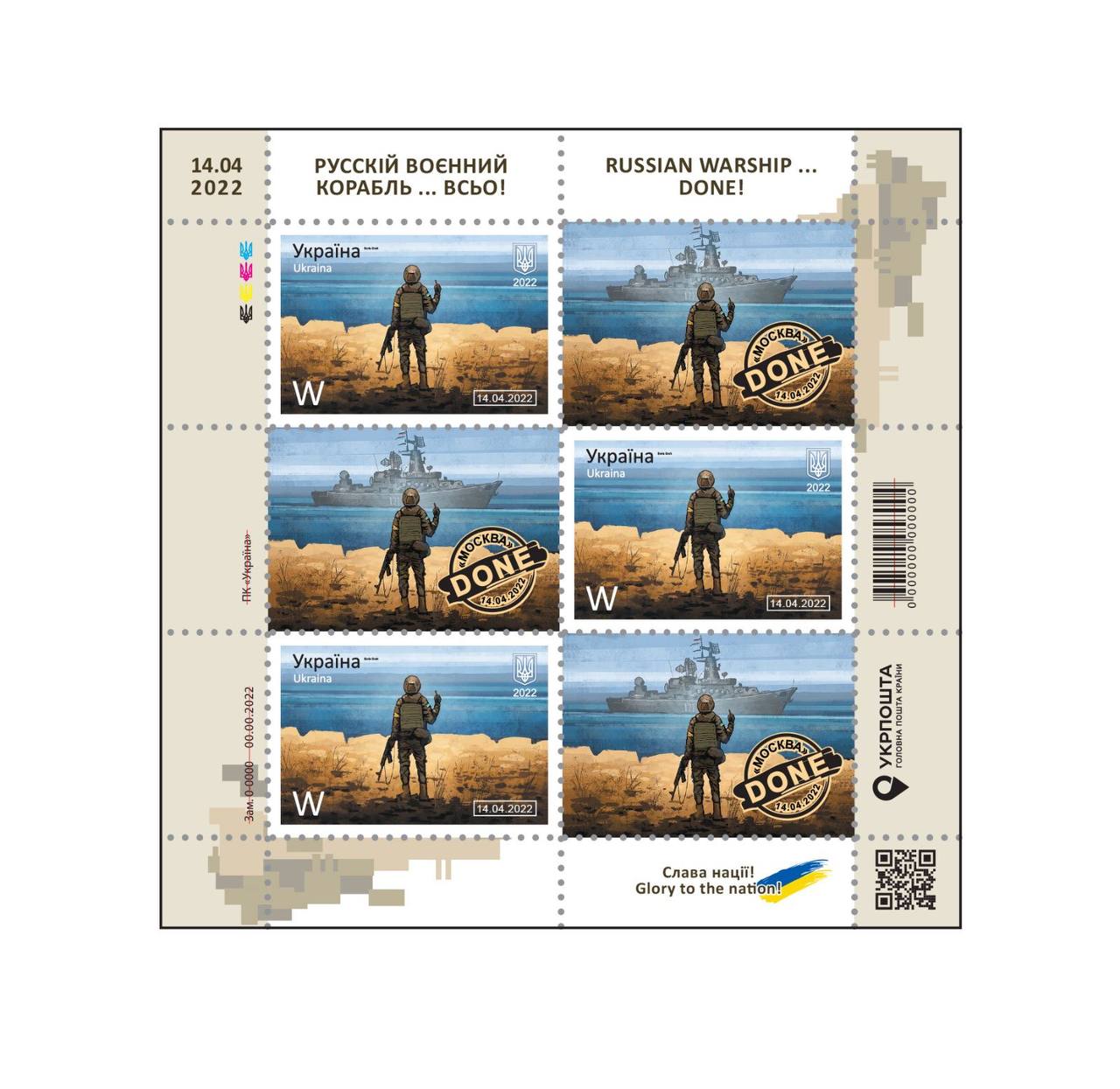 Ukraine sank the warship pictured on the stamp and issued another stamp design saying "Russian Warship… DONE."
The winning artist of the new stamps was Boris Groh, a native of Crimea before being forced to flee after Russia's hostile takeover of the peninsula in 2014.  When asked about his design, Groh reportedly told the postal service that it took him three days to finish, but that he could've done it in five hours if not for the distraction of the daily news.  Groh's design was used for a domestic rate "F" stamp and an international rate "W" stamp in two panes of six.  The selvage reads "Glory to heroes!" in both Ukrainian and English.
| | |
| --- | --- |
| | |
| "W" Rate Stamp – 500,000 Issued | "F" Rate Stamp – 500,000 Issued |
Originally, 1 million stamps were printed, but the demand proved so great that Ukrposhta announced 5 million additional stamps with different designs would be printed.  People around the world fought to get their hands on these powerful stamps, showing the global support for Ukraine in the face of the Russian invasion.  Unfortunately, shortly after the stamps' release,  Ukrposhta's website became the victim of a significant cyberattack.  This meant the stamps could no longer be purchased from the website.  This has made them one of the most highly-sought philatelic items in the last decade.  Mystic is actively trying to get our hands on them for our collectors.
Want to learn more about this exciting stamp story?  Enjoy the video below:
News articles with extra details: