One of the first things new collectors discover is Scott numbers – the most universally accepted way to describe and identify stamps from around the world.  But what exactly are they?  Let's find out…
Each year, Scott Publishing Company produces an updated Specialized Catalogue of U.S. Stamps, along with separate volumes for countries, all listed alphabetically.  The Scott Catalogue doesn't offer stamps for sale. Instead, it lists estimated values for each issue, and identifies every stamp with a "Scott Number."  As new stamps are issued by the U.S. Postal Service, Scott Publishing assigns catalog numbers to them.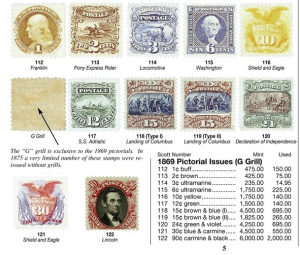 The Scott Catalogue is a highly respected authority and it was the first to offer a comprehensive identification system for stamps. So nearly all stamp dealers, collectors and even the U.S. Postal Service use Scott numbers to identify stamps.  Your Mystic catalogs, circulars, and our American Heirloom Album list U.S. stamps by Scott number. Most foreign stamps are also identified by Scott Catalogue numbers.
Not all stamps receive Scott numbers. The catalogue's editors follow the company's guidelines to determine what to list in Scott Catalogue.  Occasionally, the company decides a particular stamp doesn't fit their criteria and declines to list it even though the issue is valid for postage. A recent example is the imperforate press sheets released by the U.S.