World War II 50th Anniversary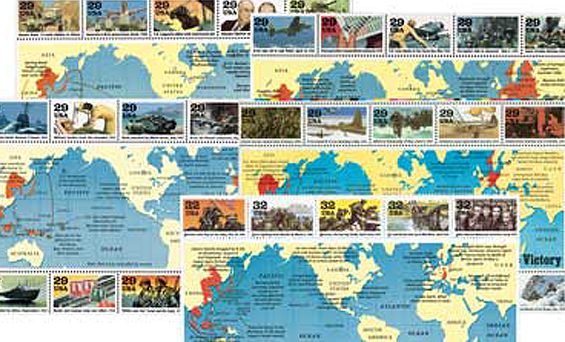 World War II was the most significant event of the 20th century.  The U.S. Postal Service began planning for the war's 50th anniversary in 1985.  It wanted to honor the key events of the war effort as well as the various aspects of national endeavor that contributed to Allied victory.  But how to do that without producing a thousand stamps?
The answer was a series of sheetlets, one for each year of the war, that consisted of a large center map framed by five stamps on the top and five on the bottom.  Five years of commemorating World War II would yield five sheets, for a total of 50 stamps – enough for an honorable tribute and enough to accomplish Postal Service goals.
The world maps are masterpieces of thumbnail summaries.  They call attention to the major military and political developments of the year and include events not featured on the individual stamps.  Color coded for easy identification of friend and foe, they're a year in summary at a glance. Click on any enlarged stamp (pictured beneath each sheet) to learn more about the stamp subject.