First Heat-Sensitive Stamp
First Heat-Sensitive Stamp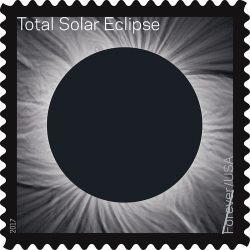 On June 20, 2017, the USPS issued the first-ever heat sensitive stamp, honoring the total solar eclipse that occurred later that year.
The stamp marked the first time the USPS used thermochromic ink.  When heat is applied (from your thumb for example), the thermochromic ink disappears, revealing the photo of the Moon underneath.  And once the ink cools, the black disc replicating the effect of the eclipse, returns.  
The stamp was issued on June 20, 2017, at the Art Museum of the University of Wyoming during their summer solstice celebration.  Prior to the stamp issue ceremony, they hosted an event for visitors to showcase one of the museum's features.  At noon on the summer solstice, the sunlight passes through a hole in the building and shines on a silver dollar inserted into the floor.
The back of the stamp pictures a map of the eclipse, including the approximate times it would be visible in certain locations along its path.  It should be noted that the thermochromic ink is sensitive to UV light and should be kept out of direct sunlight as much as possible to preserve the effect.  This stamp was voted the #1 most popular issue of 2017 by collectors.
More about the Eclipse of 2017…
A total solar eclipse is a phenomenon that occurs when the moon passes between Earth and the sun, completely blocking its light for several minutes.  As the moon continues its orbit, different areas of the Earth experience totality (full coverage of the sun) at different times.  Some may only see a partial eclipse while others may not see an eclipse at all.
August 21, 2017, marked the first total solar eclipse to cross both US coasts since 1918.  It was also the first time since 1257 a total solar eclipse could be viewed only from within the continental United States. 
Click here to see what else happened on This Day in History.
Did you like this article? Click here to rate: