First U.S. Airmail Flight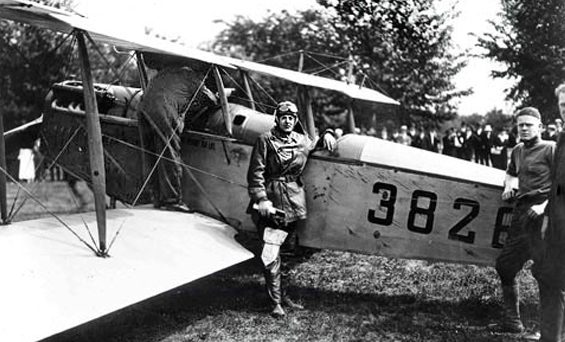 On May 15, 1918, a crowd of several hundred gathered at Washington's Polo Grounds to witness history being made. After carefully reviewing the route to Philadelphia on Fleet's map – a photo opportunity that would become more ironic as the day progressed – Lt. George Boyle climbed inside the Jenny. His bags contained 5,500 letters destined to fly on the first airmail route in U.S. history.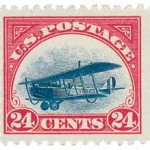 Interestingly, the plane on the airmail stamps bore the same identification number as Boyle's aircraft – No. 38262. How this occurred remains a mystery even today. Although numbers had been assigned to the mail planes, choosing the first plane to fly the Washington leg had not occurred and would be done by random at the last minute. Yet days before the flight, Marcus Baldwin of the BEP engraved the number 38262 on the fuselage of the stamp's plane.
As President Woodrow Wilson looked on with a crowd of dignitaries, mechanics tried to start Boyle's plane. The propeller turned but the engine wouldn't start. "Why in tarnation can't they start that infernal machine?" sputtered President Wilson. After four attempts, mechanics checked the gas tank and realized the plane was out of fuel. Furthermore, there was no gas on the field, so mechanics quickly siphoned fuel out of nearby planes. Boyle flew off for his journey to Philadelphia at 11:46 a.m. – 45 minutes late and barely clearing nearby trees.
Hours later, officials would learn that Boyle had flown in the wrong direction and crashed his plane. Instructed to follow the train tracks north, Boyle had become disoriented and used a southeastern branch of the track as his guide. Although Lt. Boyle escaped injury, Jenny No. 38262 was lying upside down in a field near Otto Praeger's country home, much as it appeared on Robey's stamps! The mailbags aboard Boyle's plane were quietly brought back to Washington, D.C., and flown to Philadelphia and New York City the following day.
Meanwhile, Lt. Webb had left New York and arrived safely in Philadelphia. His mail bags were transferred to the waiting plane of Lt. Edgerton, who arrived in Washington, D.C., at 2:20 p.m. After two weeks of intense preparation and high drama, America's first airmail service was established.