Martín Ramírez First Day of Issue Ceremony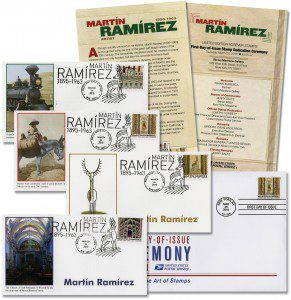 On March 26, 2015, New York City's Ricco/Maresca Gallery hosted the First Day of Issue dedication ceremony for five stamps.  The ceremony corresponded with the opening of a new exhibit of the artist's work, titled Martín Ramírez: Forever.
Ramírez (1895-1963) came to the United States from Mexico to make a better life for himself and his family. Arriving shortly before the Great Depression, he could not find work. Being homeless and unable to communicate in English, Ramírez was sent to a state hospital and diagnosed with schizophrenia. As a lifelong resident of DeWitt State Hospital, he began to create artwork using discarded paper and improvised art supplies. His pieces were surprisingly skillful and intricate and caught the attention of a visiting psychiatry professor who began displaying some of Ramírez's work. The artist remained virtually unknown until 2007, when there was a major exhibit of his art. At that time, he was called "one of the greatest artists of the twentieth century." The U.S. Postal Service honored Ramírez with the release of these five stamps showing details of some of his masterpieces.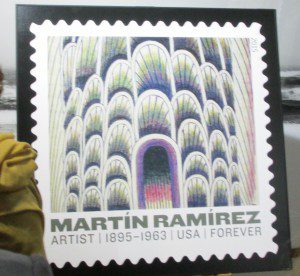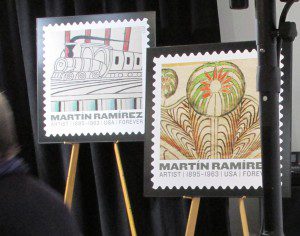 The Ceremony
Before and after the First Day of Issue ceremony, visitors wandered around the gallery looking at Ramírez's artwork.
The room where the ceremony was held was filled with stamp enthusiasts, members of New York's art community, and Ramírez's relatives from the U.S. and Mexico. Frank Meresca, a partner of the gallery, welcomed all the guests and introduced the master of ceremonies Jerry Saltz, senior editor of New York magazine. Saltz congratulated the U.S. Postal Service on their choice of Ramírez artwork for a stamp subject. Considered an "outside artist," the artist never had formal training.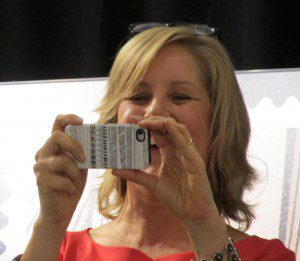 The stamp dedication was officiated by Joseph Corbett of the U.S. Postal Service. Following his presentation, Brooke Davis Anderson spoke. She was the curator of the 2007 exhibit that introduced many people to Ramírez's art and has authored books about his work. An enthusiastic speaker, Anderson recapped the artist's life as only someone who had spent many years studying him could.
The final speaker for the evening's ceremony was Ambassador Sandra Fuentes-Berain, the consul general of Mexico in New York. She spoke to Ramirez's relatives in Spanish, then addressed the crowd in English. She talked about the plight of workers who come to America to seek a better life for their families like Martín Ramírez did.
When the ceremony ended, the brand new stamps were available to purchase in a corner room of the gallery. A Postal Service employee applied a special First Day of Issue pictorial cancel to the panes of stamps and other items collectors brought with them to the ceremony (such as First Day Covers).