The Scoop Behind Modern U.S. Imperforate Stamps
The US Postal Service made philatelic history in 2012 when it issued a small number of commemorative stamps in imperforate as well as perforate form.  These imperforate stamps were, and still are, a big deal in the stamp collecting world.  But the imperforate varieties have eluded most collectors since their first appearance in 2012.  Here's why…
Scarce – In Demand – Sold Out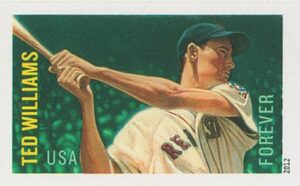 The introduction of the new imperforate stamps, starting with the 2012 Major League Baseball All-Stars issue, caused a big stir among collectors.  These "imperfs" were issued in extremely low quantities, making them hard to come by.  Various subjects were issued in quantities as low as 10,000.  They became instant modern rarities.
Demand was strong and most issues sold out quickly, leaving many collectors empty-handed.  The stamps were available only in expensive uncut press sheets from Stamp Fulfillment Services in Kansas City, Missouri.  That only added fuel to the fire – collectors weren't happy being forced to buy an entire pricey sheet when all they wanted was a single stamp.
It was the same state of affairs for the next few years while the Postal Service sporadically issued imperforate stamps.  Then in February, 2016, it abruptly suspended the imperforate series with the issue of the Chinese New Year stamps.  Eventually, in 2018, as suddenly as it had introduced the first modern imperforate stamps, the USPS announced it would not be issuing further imperforates for the time being.  This was a big disappointment to the many collectors who were interested in getting some modern rarities into their US collections.
Among the Rarest U.S. Stamps Issued in the Last 100 Years
In 2021, the Postal Service did an about-face and announced it would start issuing imperforates again.  This time, the quantities issued were even smaller, in some cases just 3,000-5,000.  Nobody but the Postal Service knows the exact numbers for sure.  In comparison with modern commemorative stamps (those issue quantities are in the millions), these numbers are incredibly small.  And they're just a fraction of the 118,000 scarce Bugs Bunny pane with tenth stamp imperforate.  Or the Bill Pickett error sheet at 150,000.
Good news for collectors – as of this writing in May 2022, the USPS continues to issue a number of commemorative stamps in imperforate as well as perforate format.
Scott Catalogue's Controversial Decision and Reversal
Originally, the editors of Scott Catalogue announced they would not list the imperforate stamps in their catalog.  They maintained the stamps did not fit their guidelines.  The decision was hotly debated because the stamps are valid for postage.  If the ruling had stood, these would have been the only imperforate US stamps without Scott numbers.  However, two years after that announcement, Scott's editors reversed their decision, assigning catalog numbers to these rare and interesting varieties.
"Imperforate-Between" and "Imperforate-Within" Varieties Discovered
Between 2016 and 2019, some stamp booklets were issued in full un-cut sheets, introducing two even more scarce imperforate formats.  The new formats went virtually unnoticed until it was announced in 2018 they would be listed in the Scott Specialized Catalogue.  They are the "imperforate-between" and "imperforate-within" stamp varieties.  The titles refer to stamps which are imperforate between pairs or within panes.  The two formats have not been given Scott numbers, but are listed and valued in a foot note below the major and minor numbers associated with the stamp.  A brief description follows.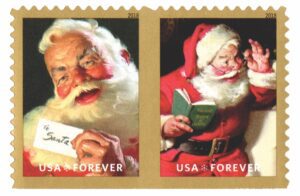 Press sheets of stamps don't have these particular imperforate varieties – they only occur in booklet press sheets.  While finished sheets are cut into booklets, on unfinished sheets the booklets remain attached.  This makes some blocks and pairs of stamps horizontally or vertically imperforate between – where the cut would have been made between two booklets.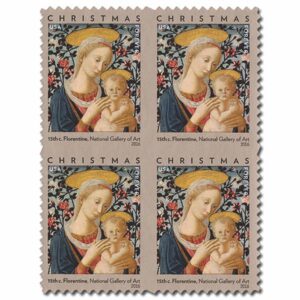 Unfinished press sheets also include some even scarcer varieties – blocks of four stamps imperforate both horizontally and vertically within – having perforations appearing only around the outside of the block.  These blocks contain stamps from four different booklets.
These stamps are scarce, with few sheets produced and sold.  As with many of the modern imperfs, only the USPS knows the number for sure.  Since few collectors know these stamps exist, they haven't been saved.
It remains to be seen what the USPS will do in the future in regard to imperforate uncut sheets of all kinds.  But it's safe to say all the elusive modern imperforates issued so far will remain scarce and sought-after by many a serious US stamp collector far into the future.
Good News – Mystic Buyers Have Obtained Enough Scarce 2021 Uncut Press Sheets to Supply You With the Latest Imperforate Stamps!
Take a look…