The Story of the 2013 $2.00 Upright Jenny Rarity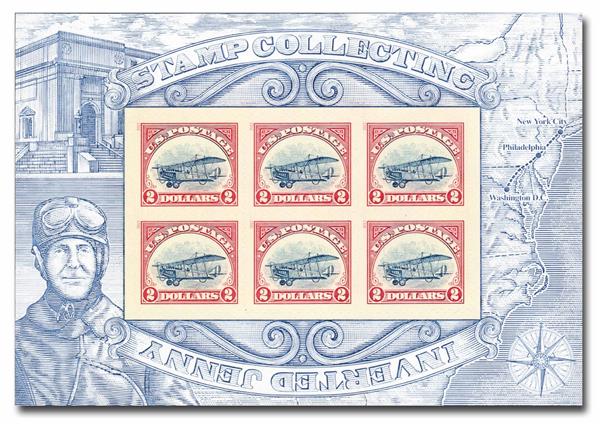 In 2013, the USPS released a $2.00 Inverted Jenny souvenir sheet with the original dies used to produce the 1918 24¢ Airmail stamp (US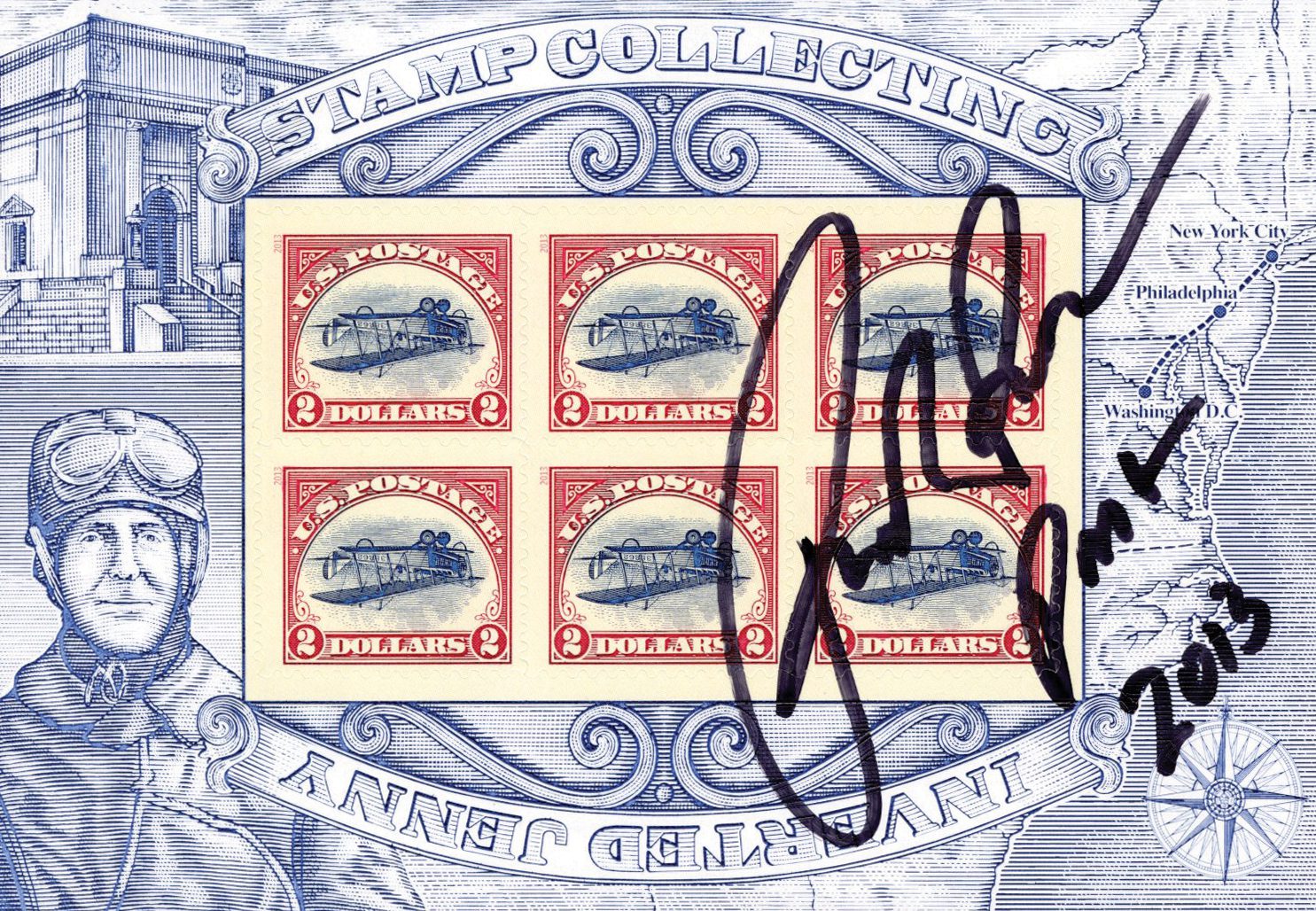 #C3) and famous invert error (US #C3a).  At the souvenir sheet's First Day of Issue Ceremony (coinciding with the opening of the William Gross Stamp Gallery at the National Postal Museum), however, Postmaster General Patrick Donahoe made a special announcement – the USPS had created 100 stamp panes with the biplane in the upright position instead of upside down.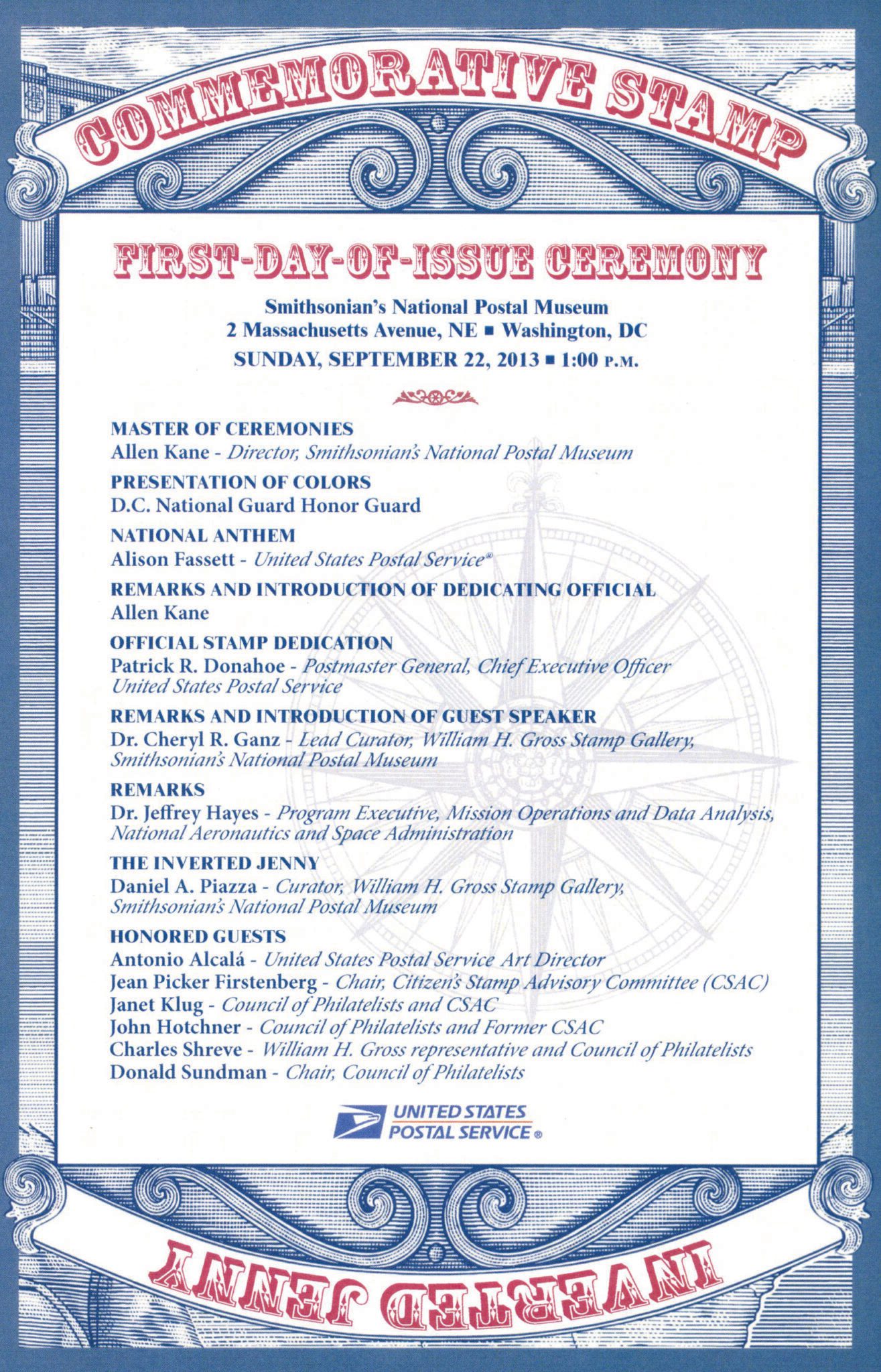 The upright panes were randomly distributed to post offices across the country for lucky customers to find.  All packages of the $2.00 souvenir sheets were specially wrapped to avoid knowing if you got the invert or rare upright stamps before buying.  Mystic president, Don Sundman, was in attendance at the First Day Ceremony for the surprise announcement and remembers thinking how lucky Mystic would be to get their hands on one of those 100 upright panes.
At first, the editors of Scott Catalogue felt the upright Jenny wasn't appropriate for listing in their reference guide.  This is because the USPS deliberately produced the variety in a very small quantity to increase scarcity and demand.  Scott usually refrains from listing such items.  However, they did add a footnote to the regular $2.00 stamp entry.
Scott's decision stood until the 2016 US Specialized catalog was released, revealing that the editors had changed their minds.  They chose to give the upright variety its own minor letter (US #4806d).  They made this choice because the upright stamp followed traditional listing criteria "That stamps be decreed legal for postage by the issuing country and that the issuing country actually have an operating postal system."  Scott went on to quote their listing policy that they should "seek reasons why a stamp should be listed, rather than why it should not."
Eventually, all remaining unsold quantities of the $2.00 Inverted Jenny souvenir sheet (including the yet-discovered upright panes) were recalled back to Stamp Fulfillment Services to be sold strictly online going forward.  As of 2023, 10 years after their issue, the stamps are still available on the USPS website.  However, just 40 have been found and registered by postal customers.  Mystic was lucky enough to get our hands on one in 2023 from a collector in Rome, NY – just 30 minutes away from our headquarters!  It's available for sale now – click here to check it out.