U.S. Philately eBooks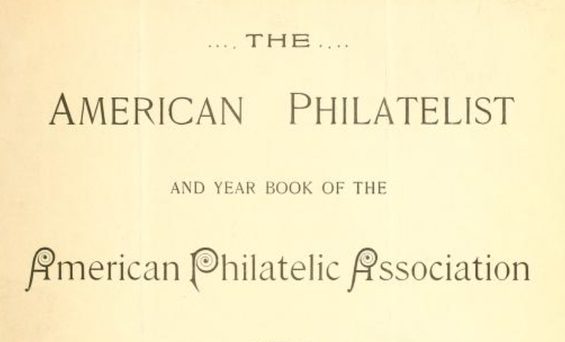 There are many older stamp books and periodicals available for you to download for free.  We've put together a list of resources we've found.  It's fun to read about stamps and related aspects of collecting from people who witnessed the early days of the hobby.  Here are some periodicals that were published in America in the late 19th and early 20th century.
American Journal of Philately – This was published by Scott Stamp and Coin Company long before the company began printing the Scott Catalogue.  The journal lists new issues of American and foreign stamps and stamped envelopes, as well as discussions of philatelic events.  The first volumes contain a history of postage stamps and stamped envelopes from the U.S. and other countries.
The American Philatelist was the monthly publication of the American Philatelic Association.  It includes updates from the association, a list of then-current stamp prices, new issues of worldwide stamps, envelopes, post cards, and forgeries plus reports of local societies.
Boston Stamp Book –
Published by the Boston Philatelic Society, the monthly magazine contains reports on new issues, die and type varieties, auction results, and articles to "philatelic learners."
Volume 2 (June 1896 – May 1897)
Volume 3 (June 1897 – May 1898)
Mekeel's Weekly Stamp News was published each week "in the interests of philately and philatelists" as its motto claims.  It contains news about new issues and varieties, stamp club highlights, foreign stamps, and advertising.
Mekeel's Stamp Collector is a monthly magazine by the same publishers
New England Stamp Monthly was published by the New England Stamp Co. to communicate to their customers.  It alerts them to special sales, has club and society news, a regular feature about U.S. envelopes, and stamp study articles.
The Philatelic Gazette – a monthly magazine published in New York City, it reviews new and older issues of U.S. and foreign stamps.
Volumes 1-2 (Sept. 1910- Aug. 1912) 
Volume 3 (Sept. 1912- Dec. 1913)
The Philatelist: An Illustrated Magazine for Stamp Collectors – covers world's philately and postal history, describes "recent" issues of the time, forgeries, and has advice for new collectors.  It was published 10 times a year.
The Philatelic Chronicle and Philatelic Index – Volumes 1-4 (Nov. 1899 – June 1901)  Published in Michigan, this includes articles on forgeries, ads, poems and other philatelic information
The Stamp Herald: A Monthly Journal Published in the Interests of Philately and Philatelists – Volume 4-6
United Stamp Company Herald: A Monthly Journal  (great ads)