Counterfeit Stamps: What you need to know about owning them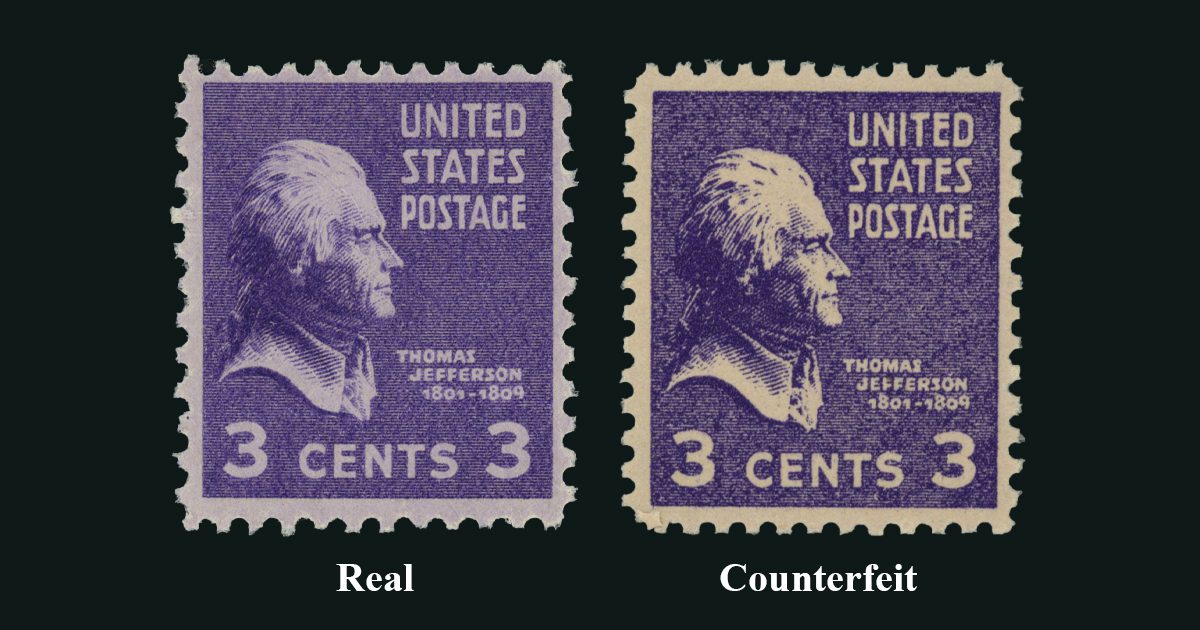 Counterfeit stamps have been around since the earliest days of postage stamps.  Some are easy to distinguish from the real thing, while others (especially modern counterfeits) are quite challenging.
What are counterfeit stamps?
According to Scott Catalogue, "We use the term 'forgery' to indicate stamps produced to defraud collectors (properly known as forgeries) and to defraud stamp-issuing governments (properly known as counterfeits). 'Fake' is used to indicate the alteration of a genuine stamp to make it appear as something else. Fakes might refer to cancellations, overprints, added or clipped perforations, stamp design alterations, etc." So, this means Scott considers counterfeits to be forgeries.
Most counterfeiters today seek to take advantage of everyday Americans by selling their counterfeit stamps at significantly lower prices than current postage rates. This is one way you can identify potential counterfeits. As far as actual stamp appearance is concerned, however, that's where things get tricky.
How to spot counterfeit stamps
Counterfeiting of United States Forever stamps increased dramatically in 2021. In fact, almost every new stamp was found forged. For this reason, Scott created a new volume of their catalog titled Scott Specialized Catalogue of United States Counterfeits. This reference book details the tiny differences between genuine and counterfeit US stamps. In general, some things to look out for include blurry or fuzzy text and design details, differences in color, die cuts that aren't quite right, and more. The images below will show just how close counterfeits can be to the real thing.


Will I get in trouble owning counterfeit stamps?
Scott Specialized Catalogue of United States Counterfeits says "While possession of counterfeit stamps remains contrary to law, US postal counterfeits can now be found in philatelic auctions, exhibits, dealer advertising, and current philatelic literature. Neither the Postal Inspection Service nor the US Secret Service have intervened to confiscate these items." This is likely because collectors aren't using these counterfeits as postage, so they aren't defrauding the USPS. Basically, as long as you don't try to put them on mail, you have nothing to fear from owning counterfeits!
Click here to check out Mystic's inventory of counterfeit US stamps for yourself.