Christopher Columbus Sets Sail
Christopher Columbus Sets Sail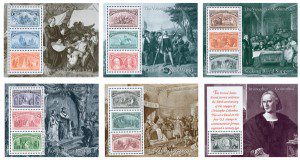 On August 3, 1492, Christopher Columbus left Spain to find a water route to the fabled gold and spice islands of China. Though he didn't find what he was looking for, his trip made him famous.
With his three ships, the Nina, Pinta, and Santa Maria, Columbus sailed for two months before he saw land he believed to be China. It was actually the Bahamas, which he claimed for Spain. He continued his journey, reaching Hispaniola (which he first believed to be Japan) that December and established a small colony there. He brought gold, spices, and local captives back to Spain the following spring and was honored by the Spanish court.
Columbus would lead four expeditions during his lifetime. Though he never did reach Asia, he was the first European to explore the Americas (after the Vikings in the 10th century). He also brought countless riches back to Spain, making it one of the world's most powerful nations.
Click here to add these stamps – and their history – to your collection.