Birth of the Stanley Cup
On March 18, 1892, Canada's Lord Stanley of Preston announced he would donate a silver challenge cup to be awarded to the nation's best hockey team.
Born in London in 1841, Frederick Arthur Stanley, also known as Lord Stanley of Preston, was appointed Governor General of Canada in June 1888 by Queen Victoria. Upon arriving in Canada, Stanley and his family became enamored with hockey, a relatively new sport that had been developed there in the 1870s.
At the time, hockey was still very new and only Montreal and Ottawa had anything similar to leagues. Soon his two sons formed a new team, the Ottawa Rideau Hall Rebels. They then encouraged their father to create a trophy to be "an outward and visible sign of the hockey championship."
After the Ottawa Hockey Club won its third championship, Stanley sent them a letter on March 18, 1892. It read, "I have for some time been thinking that it would be a good thing if there were a challenge cup which should be held from year to year by the champion hockey team in the Dominion [of Canada].There does not appear to be any such outward sign of a championship at present, and considering the general interest which matches now elicit, and the importance of having the game played fairly and under rules generally recognized, I am willing to give a cup which shall be held from year to year by the winning team."
Shortly after, Stanley purchased what some have called a decorative punch bowl (others call it a rose bowl) for ten guineas, which would be about $1,326 today. He then had the bowl engraved, "Dominion Hockey Challenge Cup" on one side and "From Stanley Preston" on another side.
Stanley also had a set of rules to go along with the cup. The winning team would return the cup to a group of trustees so it could be awarded to the next winners. Each winning team could pay to have their club name and year engraved on a silver ring attached to the cup. Also, the cup could never become the property of a single team, even if they won several times.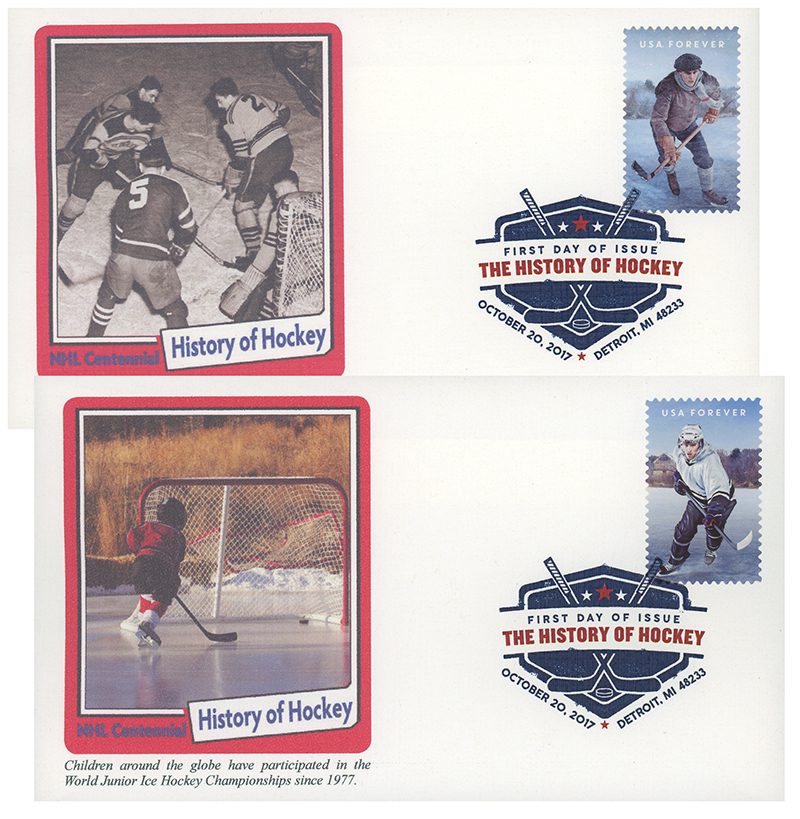 The Stanley Cup was first presented to the Montreal Amateur Athletic Association in 1893. Lord Stanley never had to honor of watching a Stanley Cup championship game and never personally presented the cup, as he had to return to England in 1893 to succeed his brother as Earl of Derby.
In the coming years, new leagues formed in the United States and the Stanley Cup was eventually made the prize of the NHL. Each year, the winning team engraved their names on sections (or bands) of the cup. When bands fill up, the oldest is removed and placed in the Hockey Hall of Fame.
Today, the Stanley Cup is the oldest trophy in professional sports. The International Ice Hockey Federation has called it one of the "most important championships available to the sport." Carrying over a century of history, this trophy is the most revered symbol in hockey.
Click here for more hockey stamps.
Click here to see how the Stanley Cup has changed over the years.
Click here to see what else happened on This Day in History.
Did you like this article? Click here to rate:
SaveSave
SaveSave