Birth of James K. Polk 
James Knox Polk was born on a farm in Pineville, North Carolina, on November 2, 1795.
Small and sickly, Polk was spared hard farm chores, but did learn to help his father manage and survey land. In 1815, he entered the University of North Carolina. He graduated at the top of his class. Then after just one year of study, he was admitted to the bar in 1820 to practice law. Polk opened a thriving law practice in Tennessee.
Polk soon found interest in politics. In 1823, he was elected to the Tennessee legislature. In 1825, he was elected to his first of seven Congressional terms. He became Speaker of the House in 1835. An extremely hard worker, Polk was absent only once during his 14 years as a congressman. Andrew Jackson persuaded Polk to run for governor of Tennessee in 1839. He won the election, but failed to regain the office in the next two elections.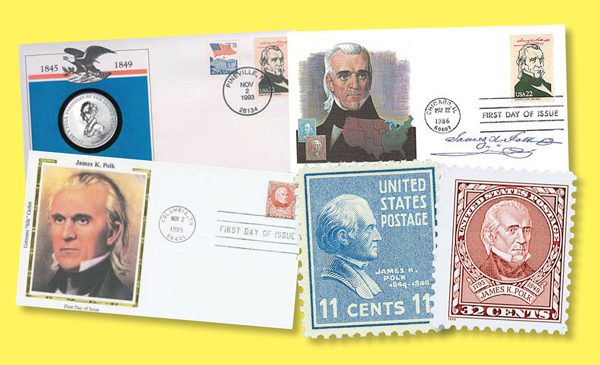 At the 1844 Democratic Presidential convention, Polk was nominated as a compromise candidate. Historians regard him as the first "dark horse" nominee. Polk gained the nomination through his aggressive stance on the annexation of Texas, and it won him the Presidential race, as well.
At his inauguration Polk announced, "There are four great measures which are to be the measures of my Administration." They were: reduce the tariff, re-establish an independent treasury, settle the Oregon boundary dispute with Great Britain, and acquire California. During his Presidency Polk accomplished all of these goals.
Polk's era was known as the "Fabulous 40's." During his Presidency the United States experienced its greatest territorial expansion. This was due to the American victory in the Mexican-American War – which Polk successfully directed. The U.S. acquired most of the land that formed nine western states as a result of the war. Settlers traveled in covered wagons to the West on the Oregon Trail. Gold was discovered in California. A new invention – the telegraph – sent news such as Polk's nomination across the nation. It was a time of great excitement in America.
However, Polk had his detractors. Social reformers disliked him due to his lack of concern about social issues. These included child labor, immigrant poverty, and slavery. And although he was a good friend and political follower of the charismatic Andrew Jackson, Polk himself was a cold and quiet person. Many people regarded him as ungenerous. For these reasons, many Americans were not disappointed when Polk did not seek a second term, despite his extremely successful term as chief executive. He was the first President not to seek re-election.
Historians regard Polk as among the most successful presidents. In fact, he accomplished every item of his political program. Only President George Washington was as clearly successful as Polk. Noted historian George Bancroft described Polk as "prudent, farsighted… one of the very foremost of our public men, and one of the very best and most honest and most successful Presidents the country ever had."
After four years of hard work as President, Polk was worn-out and ill. He returned to his home in Nashville, Tennessee, for much-needed rest. Soon after, he became sick with cholera, and died on June 15, 1849.
Click here for more about Polk's life and the James K. Polk Home and Museum in Columbia, Tennessee.
Click here to see what else happened on This Day in History.
Did you like this article? Click here to rate: