Founding of the APS 
On September 13, 1886, a group of stamp collectors met in New York City to establish what would become the American Philatelic Society.
After the first official U.S. postage stamps were issued in 1847, a small group of people began saving these relics, recognizing the history they represented. Over time, more and more people became stamp collectors, reaching about 25,000 collectors in the 1880s.
In 1886, a group of prominent philatelists met and began talking about the possibility of forming a national organization of collectors. That April, they formed The Committee on National Organization and printed an announcement calling for interested collectors to write in and see if they would want to join such an organization. Click here to read the announcement.
Eventually, about 400 collectors answered the advertisement, agreeing to assist in creating the organization. A few months later, 40 interested collectors met in New York City on September 13. As The American Philatelist later noted, "When one considers the distances involved and the means of transportation available at the time, to have attracted that many participants is no small indication of interest in the formation of a national organization." The attendees selected a committee and chose the name American Philatelic Association. That day also marked the very first annual convention, known today as StampShow.
The following day the committee selected John K. Tiffany as their first president. They also adopted a constitution and bylaws. Members would pay $2 per year in exchange for several convenient services. They had a purchasing department that worked to provide older issues for face value, an exchange department to trade in duplicate stamps, a library department, and a counterfeit department to identify fraudulent stamps.
In 1897, the group briefly changed their name to the American Philatelic Society, but quickly changed it back within a few months. They changed the name again in 1908 and it has remained the American Philatelic Society since then. Today the APS is the largest nonprofit stamp collecting organization with over 28,000 members.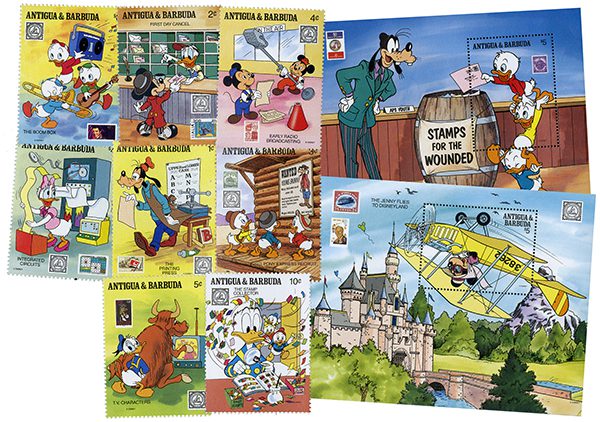 Remember you can click on all of the images above to find more conditions plus several neat First Day Covers you can easily purchase for your collection.
Click here to get both the regular and error Stamp Collecting strips in one easy order.
Click here to visit the APS website.
Click here to see what else happened on This Day in History.
Did you like this article? Click here to rate: