Creation of the Universal Postal Union 
On October 9, 1874, some 22 nations met in Bern, Switzerland to form the General Postal Union (later renamed the Universal Postal Union or UPU).
In 1863, Abraham Lincoln's Postmaster General Montgomery Blair suggested an international conference be held to discuss common postal problems. A conference was held in Paris, and fifteen nations attempted to establish guidelines for an international postal service. Until this time, mail had been regulated by a number of different agreements that were binding only to signing members.
Although Blair did not intend to create a permanent organization, another conference was held 11 years later in Bern, Switzerland. On October 9, 1874, twenty-two nations, comprising the International Postal congress, drafted and signed the Bern Treaty, which established the General Postal Union. The basic ideals were that there should be a uniform rate to mail a letter anywhere in the world, that domestic and international mail should be treated equally, and that each country should keep all money collected for international postage. It also made sending international mail easier in another important way. Previously, people had to attach a stamp from each country their mail would pass through. This no longer was necessary.
Under this treaty, member nations, including parts of Europe, Britain, and the United States, standardized postal rates and units of weight. They also set forth procedures for transporting ordinary mail. Ordinary mail included letters, postcards, and small packages. Separate rules govern the transportation of items, such as parcel post, newspapers, magazines, and money orders.
Under this agreement, known as the International Postal Convention, a simpler accounting system was devised as well. Previously, countries could vary the international rate. Any mail traveling across a country's border was charged this rate. In addition, many countries charged a one-cent surtax for mail being transported by sea for more than 300 miles.
Using the basic idea that every letter generates a reply, the Convention allowed each country to keep the postage it collected on international mail. However, that country would then reimburse other members for transporting mail across their borders. The benefits to member nations included lower postal rates, better service, and a more efficient accounting system.
At the 1878 conference, the name was changed to the Universal Postal Union. It wasn't until the 1880s that the organization became truly universal. By the 1890s, nearly every nation had become a member.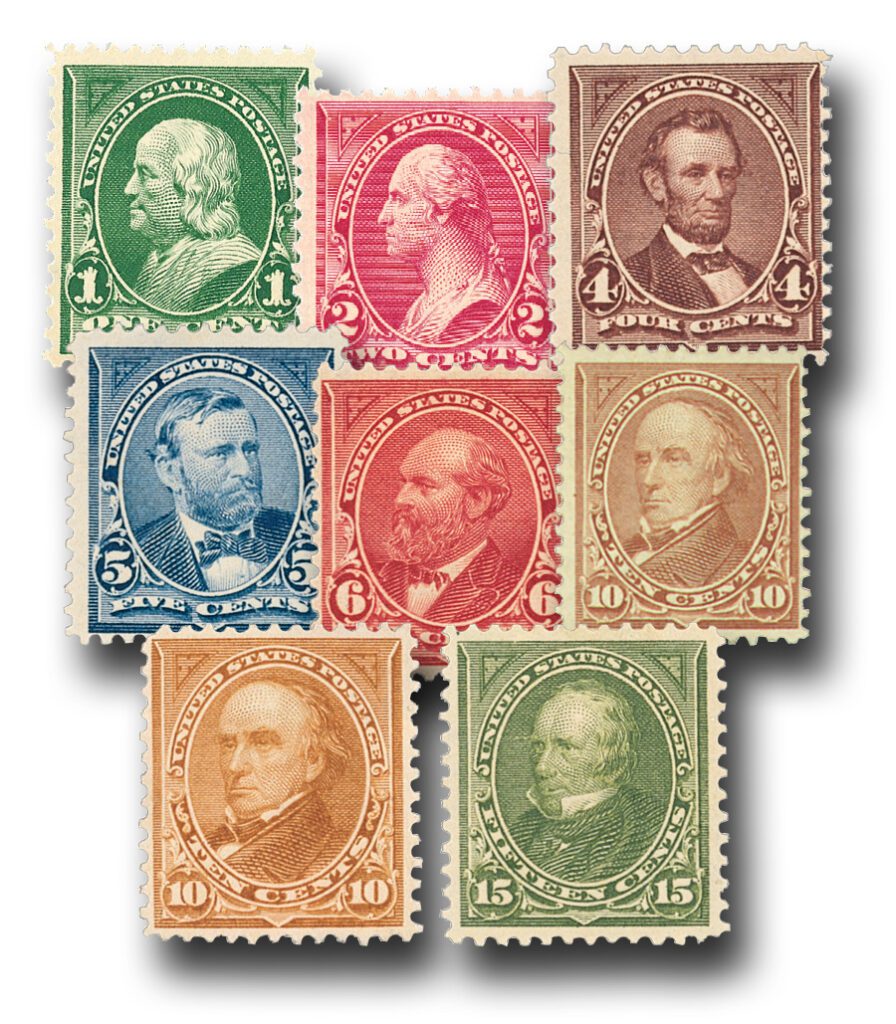 In 1898, the Universal Postal Union standardized the colors of certain stamps in order to make international mailing easier and more efficient. They proposed that member nations use the same colors for stamps of the same value. In order to conform to the UPU's regulations, the 1¢, 2¢, and 5¢ stamps underwent color changes. Later that same year, the 4¢, 6¢, 10¢, and 15¢ stamps were changed to avoid confusion with current issues printed in similar colors.
In 1947, the UPU became a specialized agency of the United Nations with its headquarters is located in Berne, the capital of Switzerland. The UPU holds conventions every five years. Today, it continues to organize and improve postal service throughout the world with 190 member states. It's the oldest international organization existing and claims to be the only one that really works.
UPU Centennial Stamps
In 1974, the United States celebrated the centennial anniversary of the UPU with a set of eight US commemoratives that stress the importance of letter writing. All the stamps feature famous works of art from around the world:
Mrs. John Douglas, which was painted by English artist Thomas Gainsborough in 1784.
Francisco de Goya of Spain created Don Antonio Noriega in 1801.
La Belle Liseuse (The Lovely Reader) was painted by Swiss artist Jean-Étienne Liotard in 1746.
Old Scraps (Old Letter Rack) was the work of an American, John Fredrick Peto, in 1894.
The stamp credited to Raphael features a detail from the fresco The School of Athens, painted in 1509.
Five Feminine Virtues is the title of the hanging scroll completed circa 1811 by Japanese artist Katsushika Hokusai.
Enfant au Toton (Young Boy with a Top) was painted by French artist Jean-Baptiste-Siméon Chardin in 1738.
Briefschreiberin (Lady Writing a Letter) was painted by Dutch artist Gerard Terborch circa 1654.
Click here to see more stamps honoring the Universal Postal Union.
Discover what else happened on This Day in History.
Did you like this article? Click here to rate: