Mystic Has High Quality Stamp Mounts For Every US Stamp!
Mystic sells pre-cut mounts for every US postage stamp. That's 407 different sizes of pre-cut mounts that make it extra easy for you to collect. Like many collectors, I have a hard time cutting mounts straight. Now you don't have to cut mounts for US postage stamps, and many foreign stamps too. Mystic's pre-cut stamp mounts save you lots of time and effort.
How to Find the Right Mount Size for Your Stamp
Stamp mounts are sold according to size in millimeters. The first number is the horizontal measurement, or width, across the mount. The second number is the vertical measurement, or height, of the mount. Example: A 45 x 30 mount measures 45 mm wide by 30 mm high.
The Most Common Stamp Mount Sizes
The most commonly sized US stamps are pictured on this page along with their mounts.
Horizontal Commemoratives MM501

Vertical Commemoratives MM502

Vertical Definitives MM503

Horizontal Definitives MM504

Horizontal Semi Jumbo MM505

Vertical Semi Jumbo MM506

Horizontal Jumbo MM50

Famous Americans MM507

Vertical Jumbo MM509
Using Mystic's Stamp Mount Finder Tool
For stamp sizes different from those shown (including self-adhesives) find what you need on our website: Mysticstamp.com/mountfinder. Enter the Scott number and you'll see the correct mount size.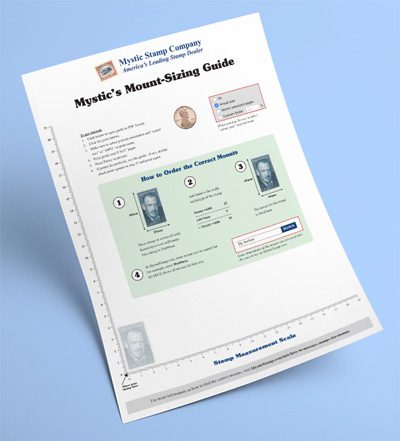 If you don't know the Scott number, you may enter the measurement of your stamp in millimeters – width first, then height. If your stamp falls between two sizes, select the larger mount. Sizes for water-activated stamps are generally 5 mm larger than the stamp in both directions. See how to measure your stamps at MysticStamp.com/mountguide/.
Please Note: The mount size for self-adhesive stamps is generally 6-7mm larger in each direction because their backing makes them thicker.
If your stamp needs a size that doesn't fit the guidelines, our online mount finder will give you the size most closely matching your stamp. This happens when the stamp measurement has been rounded up for a more generous fit.
Once you have your mounts, you'll need to insert your stamps. Click here to learn how to use stamp mounts and hinges.
Still Need Help Choosing Your Stamp Mounts?
Call Mystic at 1-866-660-7147 and tell a friendly Customer Service representative who will gladly help you.