Discover the Fun of "Tagged" Stamps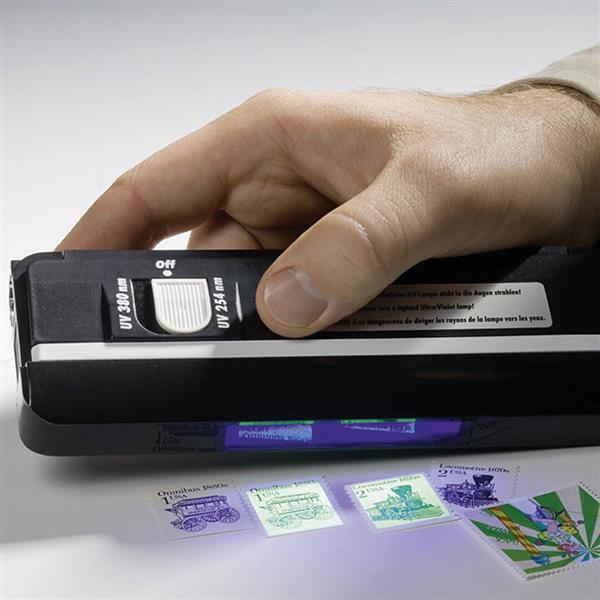 On August 1, 1963, the United States Post Office Department issued our first stamp with "phosphorescent tagging" – the 1963 8¢ Airmail.  The tagging was done to speed up mail sorting and the cancellation process. (Get the full story here.)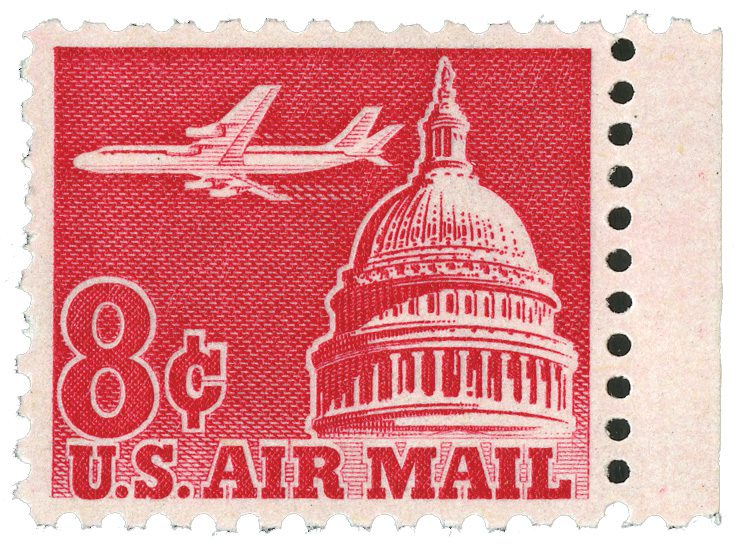 By the late 1950s, mail volume around the world was increasing dramatically.  Many countries began to explore new ways to sort and postmark their stamps in a more efficient way.
The US Post Office worked with private companies like Pitney Bowes to develop machinery that could find the stamp and flip the envelope (a process called "facing") to cancel the stamp.  To do this, however, the stamps needed to be "seen" by the machine.  Soon, the answer became clear – luminescence.  This is a process in which stamps receive an invisible coating that can only be seen under ultraviolet (UV) light.  When exposed to this light, the stamps would glow.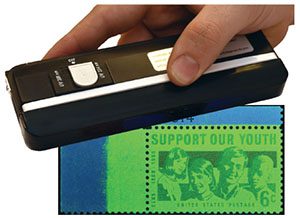 The United States needed to test their idea and sent their special machinery and a special phosphorescent compound called a "taggant" to Dayton, Ohio, for use on the 1963 8¢ Airmail stamp.  Invisible to the naked eye, the taggant made the stamps glow pinkish-orange under the UV light.  The experiment was successful – the machine read the glow, flipped the mail, and applied cancels to the stamps in short order.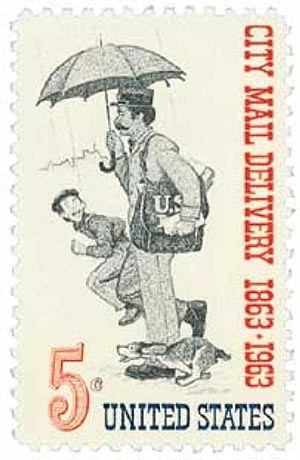 After conducting further testing, the US Post Office adopted tagging on a larger scale.  After mid-1974, all Airmail stamps were tagged.  After 1991, all definitive and commemorative US stamps were tagged, except pre-cancels and stamps with denominations under 8¢.
| | |
| --- | --- |
| U.S. #3332 – 1999 Universal Postal Union Stamp with Striking Glowing Star Tag. Click image to order. | U.S. #3403 – Stars & Stripes Classic Collection Sheet with Glowing Flags Tag. Click image to order. |
Interestingly, older tagged US stamps are easily distinguishable from modern issues by the color phosphorescence they give off.  Older stamps glow reddish, while more recent stamps glow greenish.
Today, the United States Postal Service has begun playing with the idea of making specific parts of a stamp glow, rather than the entire stamp.  This creates a secret "hidden" design for the discerning collector to discover with their UV light.
America Isn't the Only Country Tagging Stamps…
Canada's tagging is really something.  Just take a handful of tagged Canadian stamps into a dark room and shine UV light on them, they'll just about light up the room with a bright yellow glow – most of which will be in bars along the two sides of the stamps, or in a frame that goes all around the outer edges of the stamps.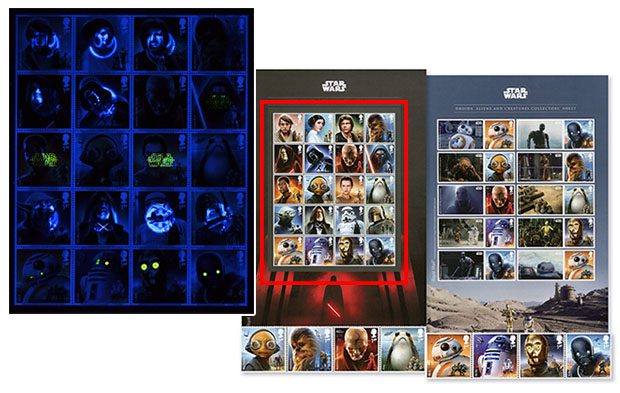 Lots of Australian stamps have a pinkish glow under UV light.  Hong Kong stamps are a little brighter yellow but nowhere near the brilliance of Canadian stamps.  Hungary's stamp paper is fused with luminescent materials.  The paper is extremely white and glows brightly under UV light in the stamp's unprinted areas.  These are just a few examples – get some foreign stamps and test them under your UV light yourself!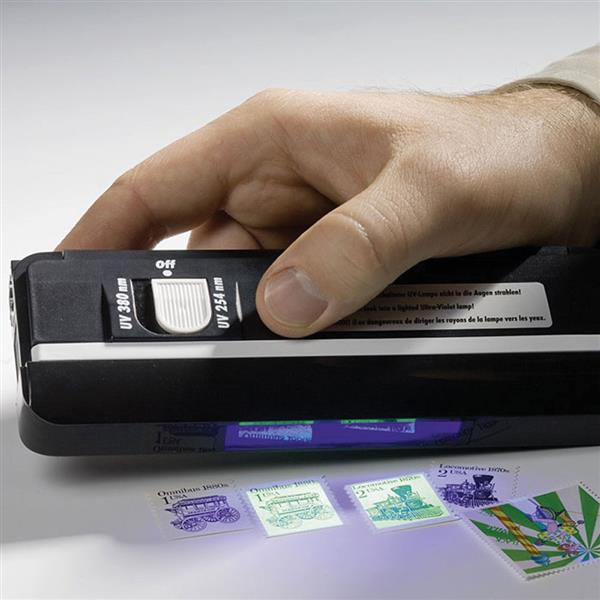 Add an Unusual Stamp Error to Your Collection for Under $10
Untagged Error Stamps Are Hard to Find!
Did you know that a stamp missing its tagging is considered by many collectors to be similar to a missing color error?  You might also find shifted tagging or tagging that has been splashed or smeared.  You never know just what you'll see when you turn on your UV light, and that's half the fun!
Mystic has a large inventory of neat "tagging omitted" stamps you can add to your collection.  Click here to see our full inventory.  Many are affordably priced under $10, and all are at a nice discount off their Scott Catalogue value!