First Phosphorescent U.S. Stamps 
First Phosphorescent U.S. Stamps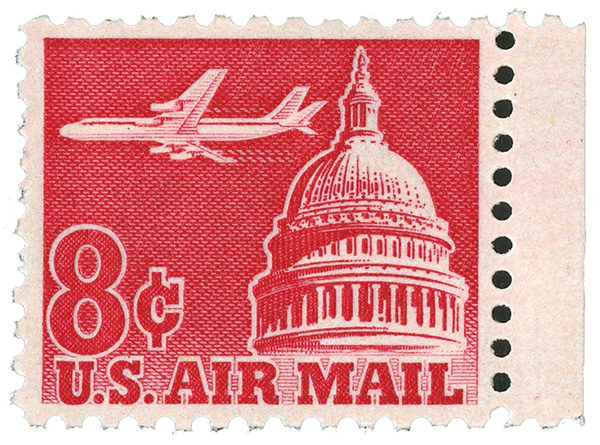 On August 1, 1963, the U.S. Post Office experimented with luminescent stamps for the first time, in an effort to speed up mail sorting and cancellation.
By the late 1950s, mail volume in the U.S. and around the world was constantly increasing. Many countries began to explore new ways to sort and postmark their stamps in quicker and more efficient ways.
Working with private sector companies such as Pitney Bowes, the U.S. Post Office worked to develop machinery that could find the stamp and flip the envelope (a process known as "facing") so the postmark would be placed in the right spot. In order to do this, the stamps needed to be able to be "seen" by the machine.
Soon planners discovered their answer – luminescence. This is a process in which stamps received an invisible coating that could only be seen under ultraviolet (UV) light. Under this light, the stamps would glow.
The Post Office then needed to test their new idea, and selected U.S. #C64 as the first stamp to implement this experiment. The stamp was issued on August 1, 1963, in Dayton, Ohio. The Post Office sent their special machinery there and overprinted the stamps with a special compound called a "taggant." Invisible to the naked eye, the taggant made the stamps glow pinkish orange under the UV light. The experiment was a success – the machine acknowledged the glow, flipped the letters, and applied the cancels in quick order.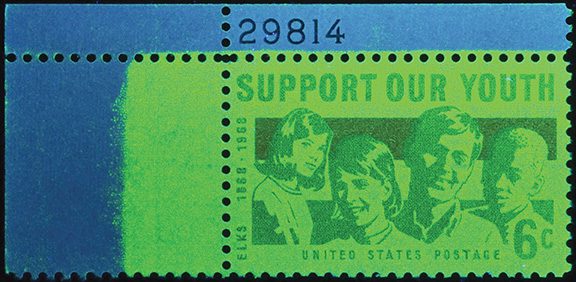 The Post Office conducted more tests and eventually adopted this "tagging" on a larger scale. After mid-1964, all airmail stamps were tagged. And after 1991, all definitive and commemorative U.S. stamps were tagged, except pre-cancels and those under 8¢ face value. Tagged low-value stamps can trigger the facer-canceler, which can't read face value and reject mail if postage is insufficient.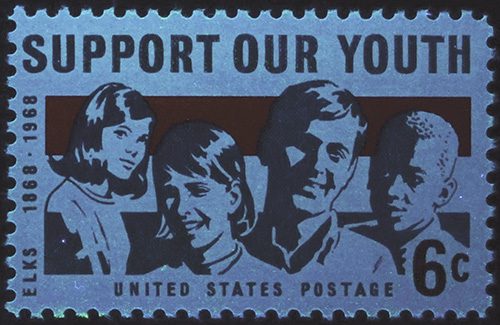 Older tagged stamps will have a reddish glow, while more modern ones will have a greenish glow. And in recent years, the U.S.P.S. has gotten creative with its tagging, making certain elements of a stamp glow, rather than the entire stamp.
Did you know…
that a stamp missing its phosphorescent tagging is considered by many to be similar to a missing color error? Mystic has a large selection of these neat "tagging omitted" stamps you can browse and order here. Many are affordably priced under $10, and all are half their Scott Catalogue values!
Click here to see what else happened on This Day in History.
Did you like this article? Click here to rate: