Birth of Peter Paul Rubens
Birth of Peter Paul Rubens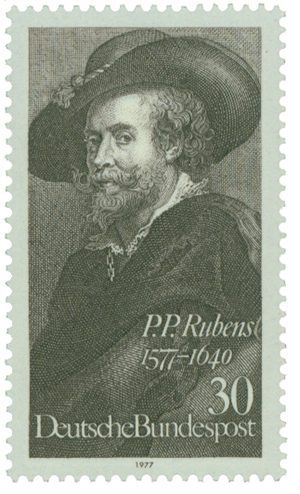 Flemish artist Peter Paul Rubens was born on June 28, 1577, in Siegen, Nassau-Dillenburg, Holy Roman Empire. 
Rubens was born to a Protestant family that had fled their home to escape religious persecution.  He later converted to Catholicism, and religion figured prominently in much of his work. 
Raised in Antwerp, Rubens studied Latin and classical literature before beginning his art training at the age of 14.  He studied under some of the city's leading painters, spending much of his first few years copying the works of famous artists. Rubens finished his education in 1598 and entered the Guild of St. Luke as an independent master.
Rubens went to Italy in 1600, where he saw the works of Titian, Veronese, and Tintoretto, which would have a noticeable impact on his art.  In Mantua, Rubens joined the court of Duke Vincenzo I Gonzaga, who sent him to Rome and Florence.  He used those trips to further study the masters.  While in Rome he also made his first altarpiece, St. Helena with the True Cross for the church of Santa Croce.
In 1603, Rubens went on the first of many diplomatic missions.  He brought gifts from the Gonzagas to the court of King Philip III.  During his time there he also studied the king's art collection.  Rubens returned to Italy in 1604 and spent a good deal of time painting portraits.  He also worked on a book picturing the city's palaces and received his most important altar commission up to that time. 
In 1608, Rubens' mother fell ill and he returned to Antwerp, though she passed away before he could arrive.  The following year Albert VII, Archduke of Austria, made him court painter.  He then designed a new house and studio, which he occupied beginning in 1610. Three years later he designed and built another home north of Antwerp.  During this time, Rubens painted several altarpieces that cemented him as one of Flanders' leading painters.  Around 1618, Rubens began exploring printmaking and was able to spread his name further by producing prints and books.
In 1621, Rubens embarked on a series of diplomatic missions.  He spent a good deal of time in France collecting information and worked to bring about a peace treaty between Spain and England.  For his role in this mission, he was knighted by Charles I and received an honorary Master of Arts Degree from Cambridge University. 
Rubens spent his final years in and around Antwerp.  He died on May 30, 1640, from heart failure.  Rubens is often considered one of the greatest painters in European history and the most influential artist in the Flemish Baroque style.  He produced over 1,400 works during his career.
Click here for more Rubens stamps.
Click here to view more of Rubens' art.
Click here to see what else happened on This Day in History.
Did you like this article? Click here to rate: