First Batman Comic Released 
Birth of Batman
Death of James Cagney
First Batman Comic Released 
On March 30, 1939, Detective Comics #27 was released, introducing the world to the caped crusader – Batman.
In April 1938, Superman first appeared in Action Comics #1. He proved popular with readers and launched what's been called the "Golden Age of Comics," a 20-year period that saw the rise of superheroes.
Witnessing Superman's popularity, National Publications (later DC Comics) asked its creative department to come up with more superheroes. Artist Bob Kane was excited by the idea and quickly created "the Bat-Man." He sketched his idea for Batman wearing a black and red costume, a small facemask, and wings. Kane shared his drawing with writer Bill Finger, who suggested he wear a bat-shaped cowl to cover his head, as well as gloves so he would not leave fingerprints.
Finger created the name Bruce Wayne from Robert Bruce, a Scottish patriot and chief of the Knights Templar, and Mad Anthony Wayne, a Revolutionary War general. They gave Batman a double identity inspired by The Scarlet Pimpernel and Zorro, playing the hero in secret and "playing the fool" in public. They also made Batman a master detective, based on Dick Tracy and Sherlock Holmes.
A week before Batman's debut, National ran a small ad announcing his adventure in the next issue. (Click here to view it.) Batman's first appearance came in the story "The Case of the Chemical Syndicate," which was published in Detective Comics #27 on March 30, 1939. The comic had a May cover date, which was actually used to signal sellers to remove the book from sale.  Click here for a synopsis of the first Batman story as well as an image of the cover.
The story was so popular that Batman had his own comic books by the following year. The introduction of the Batman T.V. series in 1966 reinvigorated the comic – and increased sales for all other comics as well. In the 77 years since his creation, Batman has appeared in over 11,300 comics plus movies, cartoons, and video games. He is consistently ranked as one of the greatest superheroes in history.
Also on This Day in History… March 30, 1986
Death of Actor James Cagney 
Academy Award-winner James Cagney died on March 30, 1986.
The son of an Irish bartender, James Francis Cagney was born on July 17, 1899. He grew up in New York City's rough Lower East Side. He held a variety of different jobs in his youth to help the family pay bills, but he also found time for extra-curricular outlets. He learned to tap dance and box. He once considered a professional boxing career, but his father had been an amateur fighter and his mother wouldn't allow it.
Cagney first got into acting while working as a scenery assistant for a local theatre where his brother acted. Once, when his brother was too ill to go on stage, James stood in for him and delivered a perfect performance. After that, he started auditioning for plays and enjoyed the experience.
He toured the vaudeville circuit in the 1920s, and appeared on Broadway. Things were not easy at first, and Cagney's initial attempt to break into the movies was a flop. It wasn't until he performed in the play Penny Arcade that he got a chance at the silver screen.
After seeing Cagney perform, popular singer and actor Al Jolson purchased the rights to the play. He sold them to Warner Brothers on the condition that both Cagney and his co-star Joan Blondell be cast in the same roles for the film version. Cagney's three-week contract with Warner Bros. soon became a seven-year contract. His successful movie career was under way.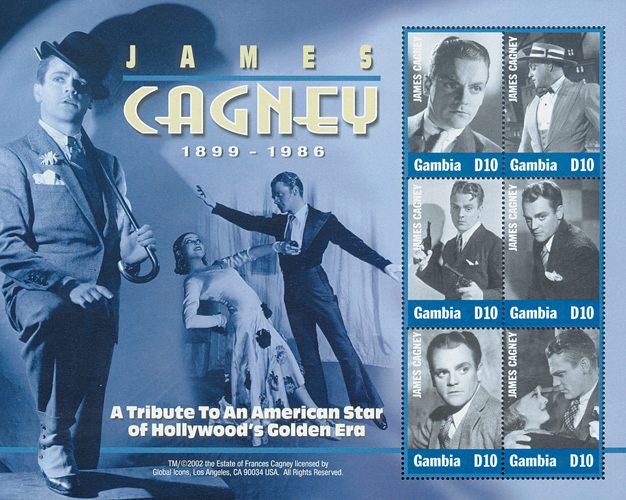 With his unique blend of conceit and charm, Cagney became Hollywood's greatest "tough guy." In 1931, he earned fame as a wisecracking criminal in The Public Enemy. The scene in which Cagney shoved a grapefruit into the face of his co-star Mae Clark was one of the film's most memorable moments.
In Angels with Dirty Faces (1938), Cagney played an arrogant gangster who was on death row for murder. He portrayed sneering, defiant criminals in many other movies including Each Dawn I Die (1939), The Roaring Twenties (1939), and White Heat (1949). Cagney once remarked, "The fact that I am supposed to be a tough guy in real life doesn't bother me in the least. It's amusing."
His portrayal of entertainer George M. Cohan in Yankee Doodle Dandy earned Cagney an Academy Award in 1942. The film allowed him to show off his spectacular dancing abilities. In 1974, James Cagney was awarded the American Film Institute's Life Achievement Award, an event that was reportedly attended by the most Hollywood stars in history. After 20 years in retirement, Cagney returned to screen for a small role in Ragtime in 1981. He made his final appearance three years later on the TV movie Terrible Joe Moran. That same year he received the U.S. Medal of Freedom.
After years of declining health, Cagney died in his New York home on Easter Sunday, March 30, 1986. Close friend President Ronald Reagan delivered the eulogy at his funeral.
Click here to see Ronald Reagan speak at Cagney's AFI Lifetime Achievement Award ceremony. And click here to see some of Cagney's greatest film moments.
Click the images to add this history to your collection.
Did you like this article? Click here to rate: