Microprinting in U.S. Stamps
Microprinting in U.S. Stamps
On October 22, 1992, the USPS issued its first stamps that incorporated microprinting in the design. These were also the first stamps to have microprinted text.
A long-standing concern for U.S. postal officials has always been combating stamp counterfeiting. Over the years, they've experimented with a number of techniques and technologies to help safeguard against this illegal practice.
Stamps are a type of "security paper" much like currency. They prepay the government for the delivery of mail, so counterfeiting or reusing postage stamps defrauds the government. So it's very important to the USPS to develop new, more advanced ways to prevent this fraud.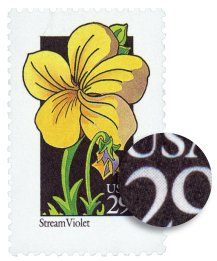 In 1992, the USPS first experimented with microprinting with the American Wildflower stamps. These were the first stamps printed entirely by offset lithography. The microprinting on these stamps was microscopic dots that created a faint shading effect in the 29¢ denomination.
Later that year, the USPS decided to take this technology a step farther with the 1992 contemporary Christmas stamps. Similar to the Wildflowers, these stamps were printed by Ashton Potter by offset lithography and without intaglio. (Previously, the USPS frequently used intaglio to combat counterfeiting.) Issued on October 22, 1992, these stamps had two different forms of microprinting.
Each of the four stamps has Microprinted magenta dots in one part of its design (in the wheels of the fire truck, train, and horseman, and in a window of the ship). Plus, each stamp also has "© 1992″ printed in tiny letters. These stamps also have another security feature – a special green metallic ink was used in the "29" denomination and the "USA." This ink would make it harder to reproduce these stamps, as it wouldn't print the same if the stamps were copied.
The 1992 contemporary Christmas stamps were also issued in booklet form and printed by the gravure process. Those stamps (#2715-18) do not have the microprinting.
In the coming years, the USPS continued to produce more and more microprinted stamps. These microprints often related to the topic, such as "POW&MIA" on the POW & MIA stamp, or more commonly, "USPS" or the year the stamps were issued.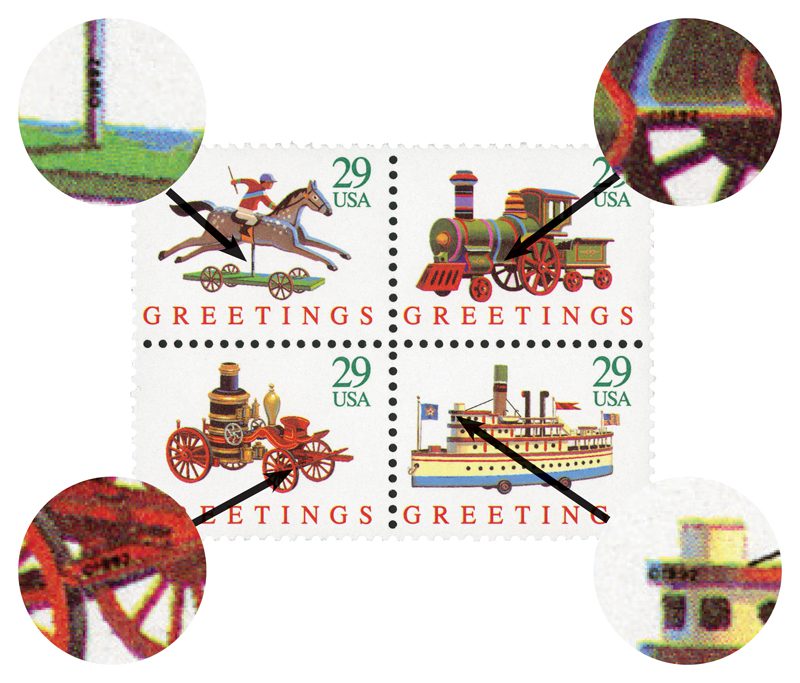 You'll need a magnifying glass with at least 4x magnification to see the microprinting on your stamps. (See our 3" acrylic dome magnifier here. Or for portable convenience and greater magnification, get our 10X folding magnifier with built in LED light offered here.)
Click here for a lengthy list of microprinted U.S. stamps and here to see several examples of microprinted stamps.
Click here to see what else happened on This Day in History.
Did you like this article? Click here to rate: