First U.S. Space Shuttle Docking to Mir 
First U.S. Space Shuttle Docking to Mir 
On June 29, 1995, the U.S. Space Shuttle Atlantis docked the Russian space station Mir for the first time.
The mission, STS-71, was the third in the U.S./Russian Shuttle-Mir program. It began on June 27, 1995, when the Atlantis launched from Kennedy Space Center in Florida. This was the 100th U.S. human space launch from Cape Canaveral.
Atlantis reached Mir two days later at 9 am on June 29, completing the first docking between a U.S. Space Shuttle and the Mir. It was also the first time U.S. and Russian spacecraft linked up in orbit since the Apollo-Soyuz test project 20 years earlier.
When the two craft were linked, they had a total mass of about 225 metric tons. Once linked, the crews met in the Mir for a welcoming ceremony. The crews then spent about 100 hours over the next five days conducting a number of operations.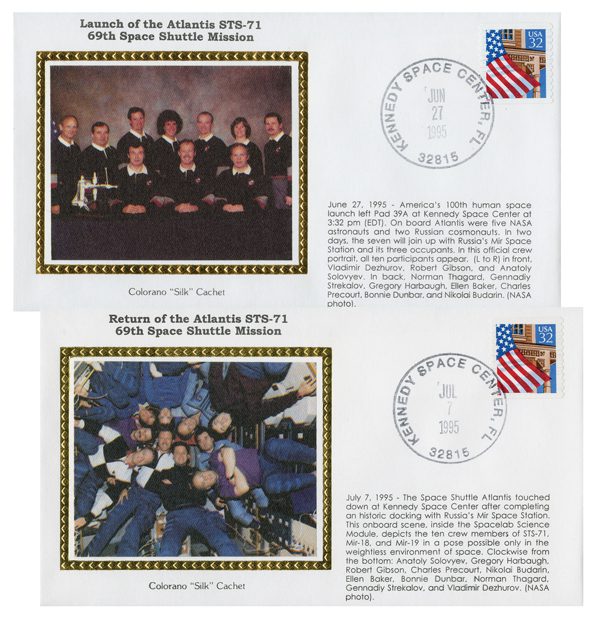 There were several objectives to the mission. One was to deliver a relief crew of two cosmonauts to the Mir. Another was to conduct on-orbit joint U.S.-Russian life sciences investigations. They were also to resupply the Mir and recover a U.S. astronaut to return home. Among the secondary objectives was filming with an IMAX camera and the Shuttle Amateur Radio Experiment-II (SAREX-II).
The mission included several more firsts. It was the first U.S. Space-Shuttle-Russian Space Station docking and joint on-orbit operations, the largest spacecraft in orbit, and the first on-orbit change of shuttle crew.
On July 4 the crews held a farewell ceremony before undocking. The returning crew of eight people was the largest in shuttle history. They landed back on Earth on July 7.
Click here for more about the mission from the NASA website.
Click here to see what else happened on This Day in History.
Did you like this article? Click here to rate: