Debut of Fantasia
On November 13, 1940, Walt Disney premiered his artistic masterpiece, Fantasia.
The story of Fantasia begins with "The Sorcerer's Apprentice."  Walt Disney expressly designed "The Sorcerer's Apprentice" to showcase his beloved Mickey, of whom he said, "I love Mickey Mouse more than any woman I've ever known."
Mickey had lost the limelight to the antics of Donald Duck and Goofy. Audiences expected Donald to misbehave and Goofy to act stupidly – but not Mickey Mouse. Thus, Mickey was starring in fewer and fewer cartoons and playing passive roles in the ones he did star in.
Disney had concluded that audiences found Mickey's squeaky voice annoying, so he wanted a cartoon that featured Mickey alone in a non-talking part. The ancient Greek tale, put to lively music by Paul Dukas, was perfect for his purposes. In "The Sorcerer's Apprentice," Mickey performed his finest role and it remains the best-loved and best-known segment of Fantasia. That it's a monument of Disney's love for Mickey Mouse is revealed in the sorcerer's name, "Yensid," which is "Disney" spelled backwards.
It's rumored that Dopey, the adorable dwarf from Snow White, was originally slated to star in "The Sorcerer's Apprentice." Those who believe the rumor point to Mickey's clothes and mannerisms, which strongly resemble Dopey's. However, Disney always denied Dopey was ever considered.
When making "The Sorcerer's Apprentice," Walt asked Leopold Stokowski, conductor of the Philadelphia Orchestra and America's most popular conductor, to conduct the Dukas scherzo (a fast-moving, humorous piece of music) with local musicians, which he did. Impressed with what Walt was doing, Stokowski suggested that Walt consider creating animation for other pieces of well-known classical music. Production of "The Sorcerer's Apprentice" had been very costly, and it was clear that it wouldn't pay for itself, if released as a short. So Disney proceeded to create the feature-length film, Fantasia, an eight-part animated musical.
When Fantasia was in production, Disney told his artists there were no limits on the colors they could use. And in truth, the leaves on a tree in one scene contain over 47 different shades of green. Fantasia, completely hand-painted, has never been surpassed for the breadth of its palette or its breathtaking purity of colors.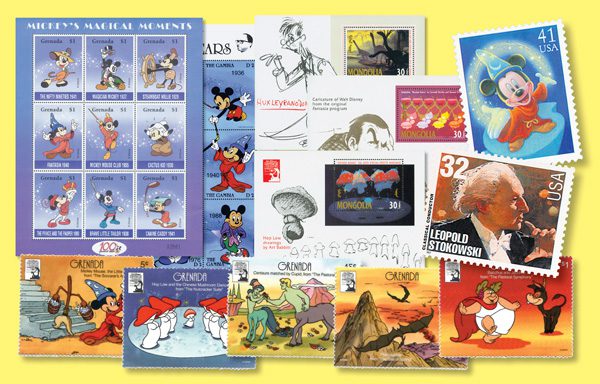 Fantasia, Disney's third animated feature film, was released on November 13, 1940.  It was a masterful, one-of-a-kind work of art and some consider it Walt Disney's finest movie. But the movie was not initially well received, for several reasons. One was that special sound systems were required to hear the stereophonic soundtrack (developed at the Disney studio), which most theaters couldn't afford. Another reason was the scathing criticism by music critics aghast at Disney's modification of original scores.
Additionally, World War II cut off the movie's distribution in the European market.  But perhaps the most significant reason Fantasia fared so poorly in 1940 was that it was a movie thirty years ahead of its time. Since the late 1960s, Fantasia has been one of the most popular Disney classics.
In spite of the movie's poor performance, Fantasia won an Academy Award Certificate for "unique achievement in the creation of a new form of visualized music."  The movie was truly a modern, never-before-seen art form.  Disney came up with many innovative ideas for Fantasia.  They included things like extra-wide screen, 3-D vision, and pumping smells into the theaters.
Click here to watch "The Sorcerer's Apprentice" portion of Fantasia.
Click here to see what else happened on This Day in History
Did you like this article? Click here to rate: