Premiere of Steamboat Willie
Premiere of Steamboat Willie
On November 18, 1928, Mickey Mouse became a household name with the release of Steamboat Willie.
In 1917 a young man dropped out of school at age 16 to join the Army and fight in World War I. Rejected by recruiters, he joined the Red Cross instead and was sent to France to drive an ambulance. There was no work to be found when he came home, until a favor from a friend got him a job in an art studio. That began the wonderful journey of Walt Disney, the cartoonist who brought joy to millions around the world.
Years later, in Walt Disney's Hollywood studio, the young cartoonists experimented with the Mickey Mouse cartoon they were working on. Mickey's first two cartoons were poorly received, but Disney refused to give up on the character. Watching the cartoon through a glass door, animator Wilfred Jackson played "Turkey in the Straw" on his harmonica while others pinged spittoons, tables, and coffee cups with pencils. To everyone's amazement, it looked like Mickey Mouse was producing the sounds! Putting everything else aside, the animators concentrated on Mickey Mouse's introductory cartoon – Steamboat Willie.
Steamboat Willie premiered on November 18, 1928, at Universal's Colony Theater (now Broadway Theater) in New York City – and was an instant hit. Days after the premier, Variety magazine stated it "represents a high order of cartoon ingenuity, cleverly combined with sound effects. The union brought laughs galore. Giggles came so fast at the Colony they were stumbling over each other."
Coupling music with animation wasn't new, though. Other moviemakers had experimented with the idea, but the Disney team was the first to synchronize action and music. It was so innovative and so spectacular that it gave Disney a gigantic jump-start on the competition. And because it was Mickey Mouse who introduced the new technology, it catapulted him to instant celebrity status.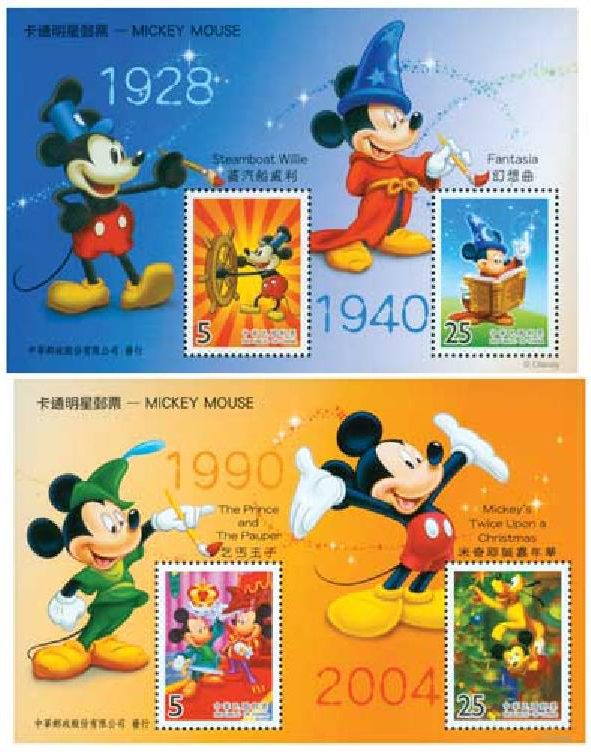 Walt and Mickey quickly became international stars. Mickey's first two films were re-released with sound in theaters around the country. Mickey got his first speaking role the following year, in The Karnival Kid, and was popular with audiences. He was plucky and romantic, and didn't always succeed at what he tried. In fact, his failures and vulnerability might have been the biggest part of his charm. That popularity from those early days has turned him into the symbol of the Walt Disney franchise.
Disney didn't stop with just Mickey, however. He made old fairy tales spring to life with classics like Snow White and the Seven Dwarfs and The Sword in the Stone. He also made spectacular movies like Fantasia, the musical masterpiece featuring Mickey as a sorcerer's apprentice.
Because of Steamboat Willie, music became an important part of animation and Disney explored the possibilities to the fullest. Carl Stalling, head of Disney's music department, produced an entire series of cartoons based on well-known musical scores. This series of thirteen fims was called Silly Symphonies. Several Silly Symphonies won Academy Awards – in fact, the Short Subject Award was added to the Academy Awards' list because of Disney's accomplishments.
Disney capitalized on the magic of music in two distinct ways. For many cartoons, he borrowed existing music and had animated characters act to it or actually play it themselves. There wasn't any instrument a Disney character couldn't play, nor was there a creature on Earth that wasn't musical in Disney's world. Over the ensuing decades, the Disney studio produced one hit song after another, significantly adding to America's store of best-loved songs. And all that success may not have happened if it weren't for Mickey.
Click here to watch Steamboat Willie on YouTube.
Click the images to add this history to your collection.
Did you like this article? Click here to rate: