Birth of Greta Garbo
The star was born Greta Gustafsson on September 18, 1905, in Stockholm, Sweden.
Garbo's family struggled financially throughout her childhood.  When her father fell ill, Garbo dropped out of school at the age of 13 to care for him.  After he died two years later, she resolved that she wouldn't suffer from financial hardships anymore.
Garbo first took a job as a salesperson in a Swedish department store.  The store then asked her to model some of the clothes for advertisements.  Her modeling work helped her gain recognition and she appeared in her first film, Peter and the Tramp, in 1922. 
Shortly after, Garbo received a scholarship from Sweden's prestigious Royal Dramatic Theater.  While there, she met leading silent film director Mauritz Stiller.  Stiller was impressed with her talent and convinced her to star in his 1924 film, The Legend of Gosta Berling.  The film was a significant success in Sweden and Germany, making Garbo an instant star.  She then left the Royal Dramatic Theater to act full time and changed her name to Garbo under Stiller's suggestion.
Garbo next starred in Streets of Sorrow, which gained the attention of MGM (Metro-Goldwyn-Mayer).  The head of the studio wanted Stiller to come and work in America, but Stiller insisted he would only come if they hired Garbo too.  Though reluctant at first, MGM gave her a film deal at just 19 years old.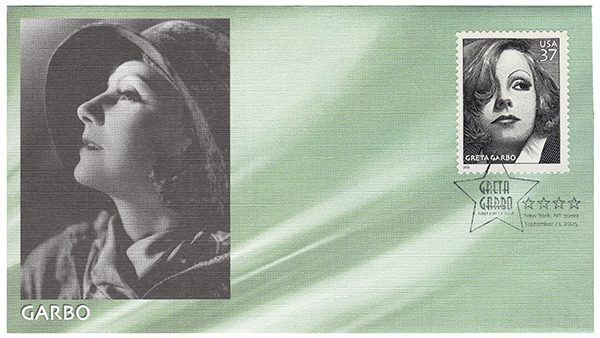 Garbo's first American film The Torrent (1926), made her an overnight sensation.  That same year she also appeared in The Temptress and Flesh and the Devil, which helped to make her an international movie star.
Garbo quickly established herself as MGM's biggest star and used her position to her advantage.  During a contract dispute, she threatened to return to Sweden.  Instead, she got a new contract that paid her a record $270,000 per movie and gave her increased control over the movies she appeared in.
MGM launched the "Garbo mystique," creating an air of mystery around the naturally quiet woman.  During most of her career, she did not grant interviews, sign autographs, attend premieres, or answer fan mail.  In fact, she gave her last American interview in 1927.  This all only helped to generate more interest in her.
During the rise of sound films, the studio executives were hesitant to put Garbo in a "talkie" – she had a strong accent and low, throaty voice.  They finally agreed to give her a chance in 1930 with Anna Christie and Romance.  She quickly proved their fears wrong, earning public praise and Academy Award nominations for both films.
Garbo went on to appear in several more hits including Grand Hotel, Queen Christina, Anna Karenina, Camille, and Conquest.   However, by the late 1930s, as the nation struggled through the Depression, she no longer connected with audiences.  She appeared in two comedies but neither achieved the success of her earlier career.  Garbo had another contract dispute with MGM and decided to retire at the age of 35 after appearing in 28 films.  She became a US citizen in 1951.
In 1955, the Academy of Motion Picture Arts and Sciences honored Greta Garbo with a special Oscar.  Characteristically, the actress did not attend the ceremony.  Garbo lived a reclusive life in retirement.  She stayed in Hollywood for a while but eventually moved to New York City.  She invested in art and real estate and was rarely seen in public.  She suffered from kidney failure and died on April 15, 1990. 
Click here to see what else happened on This Day in History.
Did you like this article? Click here to rate: